Since I aim to make this blog into a youtube channel one day, we can not escape clickbaity stuff. I am not sure if clickbait works for blogs but we sure as well might try. I always think they are nice and fun reads. For a first one let's discuss what Pokémon types I prefer raising.
Number 5: Fighting Types
The odd one out I guess would be my number five, I in general go heavy on the special attackers, those are generally less 'mother-law-like' when they evolve. Physical attackers tend to get very bulky and scary looking, much like my former mothers in law. But one of two physical types I actually really like is the fighting type. In Pokémon TCG it's my main typing and there are some fighting types I truly adore. Mega-Medicham, Lucario and it's mega Hawlucha and good old classic Hitmonchan are amongst my favorites of the type. Shiny Mega Lopunny as well..because pink! Yay! But the fighting type is such a good type, most fighting types learn elemental punches, giving them great coverage, and a lot of fighting type moves actually have quite unique mechanics. High Jumpkick for example is one of my favorite moves in the game, not just for its power but because of the high risk high reward. Moves like Low Kick, drain punch, power up punch , brick break and more result in so much possibilities with your fighting mons and you can just have so much fun with them. Easy to pick up, hard enough to master and featuring some very memorable designs this type certainly packs a punch.
Number 4: Grass Types
No starter can ever beat Bulbasaur for me it was my first back, and whenever I can pick him now, I feel bad if I don't. It gave me a big connection with the typing since I was just a sprout myself. It might be the type where I dislike the least amount of Pokémon in it's typing line.
All grass types are quite enjoyable to me, I can hardly think of one. Perhaps Pansage and Simisage but in the latter's case I quite enjoy it's pompadour design. Grass types are nice and versatile they being able to wall, status, heal, dot , weather or sweep. Their designs range widely and they often have some of the best shinies and take on nearly all secondary typings. In the Pokémon TCG, the grass type is usually widely supported with some interesting tactics as well and there are both cute and tough looking designs for everyone to enjoy. If you prefer sceptile like many or Lurantis like me? In the world of Pokémon it IS easy being green.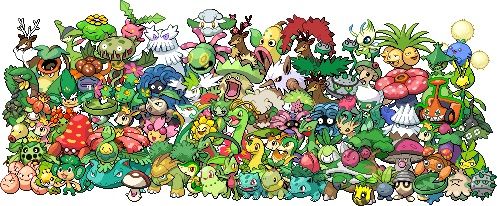 Number 3: Normal Types
'Okay Pinkie, you got to be kidding here? You actual favor the normal types? They are so lackluster, not super effective against anything and they are just soooo basic.' Well yes, you are right, the normal type does feel a bit lackluster, but they are not useless they just need a little love. I love a lot of normal types, Ambipom, Blissey, Slaking, Snorlax, Exploud and Swellow belong to my all time favorites. They are just incredibly fun to run and raise in a gam. You can get normal types in all sorts and flavors. It's not just plants and fish. From Gorillas to pink teddies, from a virtual duck to an ancient construct. Only weak to the fighting type they compensate by an immunity to the ghost type. So they are quite safe to use. Not all of them are green or yellow, like the grass and electric type for example which makes all normal types feel a bit more unique and grounded, which is a nice change from your giant steel snake with spinning disks over his head or your christmas suited bird. Most normal types are speedy enough, and with moves like Return, there is some effort you need to bond with that Pokémon, you can't just fetch it from your pc. Most normal types have a high level of a "pet" feeling I really appreciate in my mons. I also am very fond of ducks and this type holds some of the best duck with Porygon and Farfetch'd. Whitney is one of my favorite gym leaders, we both like normal types, both have pink hair , cry really easily and we both can use our Miltanks to totally destroy your team and devour your soul!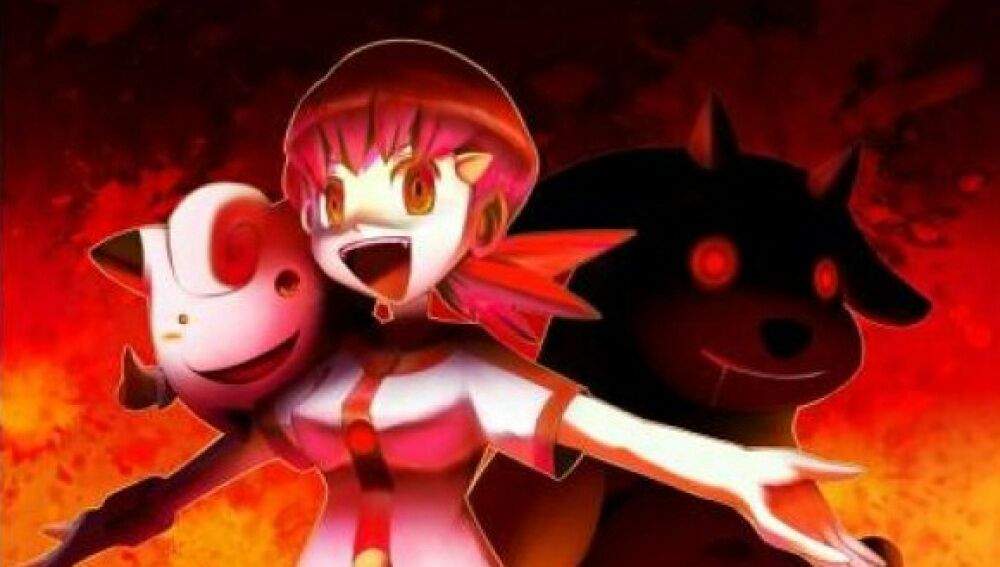 Number 2: Poison Types
While not very prevalent in any meta due to their ground and psychic weakness, the poison types have earned a place in my heart. I feel for Pokémon that are not very loved, and the poison type does not get a lot of love. Sure there is Gengar that is a crowd favorite, but no one cares about poor old Koffing and Trubbish is even hated by the community, this in itself endears it to me. I will show the world it's okay to love a stunky or even a little trash bag filled with hopes and dreams to become a strong mon one day. The poison type is all about damage over time, something only ghost and grass types can do as well, but the grass type is not as effective at it and the ghost types have to cut their hp in half for it and their hp is not their strong suit anyway. So if you go for dots, go for poison. The poison type also has some good combo possibilities in the form of Venoshock as well as being quite good hazard setters. Most poison types can learn at least some form of dark type moves which at least covers one of their weaknesses. Gen VII offered us some very interesting new poison types in the form of Salazalle , Poipole and Toxapex which I all love to bits. Besides from my obvious number 1 type it would be the only type I would ever run as a mono type game.
With some of the best designs in the game and some of my favorite moves of all times, I can happily state that the poison type is not trash!
Number 1: Fairy Types
Even if you have not read my other posts up until now , I think it's quite clear what is my favorite type. It's the only type featured on my banner, and my entire site is coloured in their defacto tint. One of the best designed typings with only Aromatise as a bit of design fail. Jigglypuff , Xerneas, Mimikyu, Alolan Ninetales and of course my pal Sylveon, every single one of them looks so amazing. I love so much of them, I genuinely think Slurpuff looks delicious and Mega Audino, despite being somewhat useless looks very huggable.
With a whopping 7 legendaries of the type it's represented well in the upper echelon of Pokémon as well, 8 if we count pixie plate Arceus. Having access to a vast array of secondary (or primary) typings, it's very easy to run an all fairy type party, with Impidimp of gen 8 only increasing its viability even further. The fairy type being super effective against fighting and dragon .. and even immune to dragon make it so good and meta viable that only the steel type is a metagame usefulness , and the latter usually is just to slow in play for me.
So really there is no comparison. I love the Tapu's , Magearna Soul Heart ability is great, Pixilate, though not very unique is so much more useful in the metagame then glaciate for example, though Aereliate is a stiff competitor , I just feel Pixilate would cause pink sparkles and those are so much better then some puffs of air…so there! The introduction of the fairy type also made no mon's worse. They all became a lot better. Where poison types weren't that common and normal types did not fare well against steel before anyway.. none of them got worse. When the steel type was introduced it kinda made magnemite worse giving it a quad weakness rather than a double. The dark type was never given to a Gen I mon, so the fairy type has been the only typing that has enhanced old Pokémon, and in case of gardevoir even made some great again. Twinkle Tackle is easily the best Z move, mostly because of the activation dance and they are all just a treat to use. Fairy type is my dream type, and in my humble opinion one of the best typings there is in the game.
If Pokemon ever become real.. I will collect them all and snuggle them forever.

Now that you know what types I favor , feel free to challenge me to a battle on Pokémon Showdown, you know what types I am most likely to use! Leave a like on the post and let me know what your favorite type is, who knows we might pit them against each other in battle one day. But before that time comes, don't hate on fairies, love the pokémon you love and most of all stay pink!
Untill we read again.