Chibi Pinkie has been wanting to talk to you all about the Pokémon Trading Card Game with you for a while now. With a new set releasing called Hidden Fates, which is a genuine treasure trove a goodness it would be nice to ramble about but since most of our readers aren't to aware we will start with a post on how to play the game first. So in the future we can let you refer to this. Not only will this post feature the basic rules but also some practical tips about them.
i WANNA BE THE VERY BEST
Hi big people monsters, Chibi Pinkie here and today , even though I am a bit sad, me and Fun the Mime Jr will teach you to play PTCG, thats short for Pokémon Trading Card Game and the official term for it. PTCG is one on one card battling games with some faint familiarities to Cardfight Vanguard and Magic The Gathering. Like in Pokémon the video games this is done by one on one Pokémon duels and you can win a match by completing one of three conditions. Be the first to claim six prize cards, clear your opponent's field of any pokémon or deck out your opponent. Although little old me doesn't really think decking out is all that viable.. as the game is relatively fast to play with little room for THAT creative tactics. Clearing the opponent's field is hard and requires some heavy RNG thingies..so think of it more as an bonus winning condition than YOUR goal. Claiming six prize cards is the way to go. You can claim prize cards for knocking out your opponents pokémon in battle. Though the game would want you to believe this is normally one per knockout but in special cases two in reality more often than not you are facing the special cards. Knocking out a plain monster will net you one price card, taking out an opponent's EX- GX-Tag Team or soon to be.. V cards equals a double dip in the price pot. Given how these cards are so much better than the regular monsters though, nearly every deck you are going to encounter while playing this game is featured around the big hitters. So to beat your opponent you just have to beat down everything he brings.
LIKE NO ONE EVER WAS

In PTCG everyone builds their own deck or buys a starter deck. No matter how you build, your deck always has to contain exactly 60 cards. Another official rule is that a card can never have more than four copies in the deck. In fact you can't run more than four cards with a single name in your deck. So you can't run 4 pikachu's from set A and use four Pikachu's from set B! You can however run 4 mewtwo's AND a MEWTWO GX. On rare items there might be a single card limit. A deck can contain several types of cards.
-Regular Pokémon Cards
-Special Pokémon Cards (EX-GX-Tag Team etc)
-Energy Cards
-Special Energy Cards
-Items
-Supporters
-Stadium's

All Pokémon Cards and Energy cards can exist in eleven different colours representing typings or a group of typings. Pokémon cards exist in three tiers as well. Basic, Stage 1 and Stage 2. Stage 1 and Stage 2 function as evolutions and can not be played right away, Pokémon have to be evolved over time. Basic Pokémon can be played once in your hand.
Energy cards are comparable to mana in magic but rather than playing them on the field they are attached to a pokémon and thus much more a limited resource. But more on the rules in later parts. Special Energies can only be attached to a Pokémon whose card colour is equal to that energy colour(except for colourless) and you are limited to having four of them in your deck. Special Energy however do activate special effects to power up your Pokémon's offence or defence.
Item cards are comparable to magic cards in Yu-Gi-oh, you can activate them from your hand allowing various weaker effects to incur like switching a pokémon or preforming a deck search. Supporters are themed like people in the Pokémon world and are powered up versions of items, they will allow you to search for better cards or more cards. allow you to influence your opponent in a way you pick rather than himself etc. Basically everything items do, they can do better. As a drawback you can only play these once per turn while items have no such limitations. Stadiums are very much like field spells in Yugioh, they determine the battlefield only one stadium can be active and a newly played one destroys the old one.Using these tools you build yourself a deck. Usually you want to run either a single colour deck or two colours.
Most starting decks are two coloured decks but every starter deck is pretty much useless against someone who at least had one or two lucky pack pulls. Starter decks are insanely lackluster. So if you just want to buy a deck, buy one of the world championship decks , each year they release a few special decks based on the competitive meta. Not tournament viable but if you want to play against some friends with actual decks this would be the way to start.
However a big portion of the fun is creating your own unique deck in this game. It really is a collectible card game in that aspect. Unfortunately to properly play means to properly invest. What to use and not to use as well as aspect ratios for energy to pokémon vastly differs per deck. Is your deck hero a Tag Team Card (whose mechanics work on excess energy) you'll run an energy heavy deck. Does your deck hero revolve around certain effects you might want to run more items to keep it healthy or take it off the field to retrigger it's effect. It is however important to build your deck around the mechanics of your cards they have to be a team. It generally is a bad idea to run a deck with multiple strategies. Commit to one and build support around it.
TO CATCH THEM IS MY REAL TEST
Now that you know how to build a deck it is time to discuss how to set up the game. A game usually starts with a coin flip oftenly replaced by a dice roll (odds and evens) . The winner determines who starts the game. Speaking of dice, it is generally a good idea to keep a set of about 10d6 as you play for damage calculations before you play. Some decks work better when starting first (but this player can not attack on their first turn) some decks work better if they can come out swinging right off the gates. After the turn order is determined players shuffle their decks and draw 7 cards. If the player draws at least one basic Pokémon they can select which one they make their active Pokémon and put it face down in front of them.
Should a player have no basics, they are forced to reveal their hand and mulligan. Reshuffling and drawing seven cards, repeating this process until you have one basic at least. Each time you mulligan your opponent gets the choice to draw an extra card.
After the active Pokémon has been set both players can choose to play other basic Pokémon to the bench. This is your back row of Pokémon which can contain up to five monsters at the same time. When facing a serious deck it is wise to at least play one or two on your bench if you have the option, as long as these cards have over 30 hp. A few cards allow your opponent to send back one of your monsters allowing for a turn one knockout if you only play an active pokémon. Keep in mind your effects though, abilities that trigger when played to the bench do not trigger turn 0.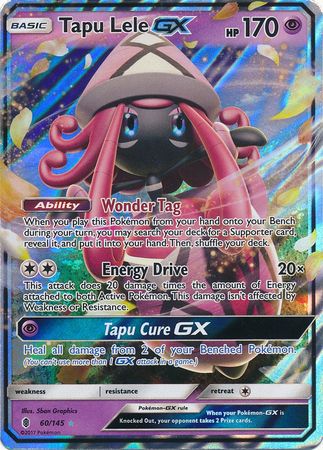 After both have at least an active Pokémon, both players place the top six cards of their deck face down separated on the upper left side of your playing field (your deck generally would be on your lower right side and discard pile just above it. These are your prize cards. You can only obtain them by knocking out your opponents pokémon. Which brings me to our next deck building tip. NEVER build your deck around a deck hero you only have a single copy off. The way PTCG is played, you usually have on champion in your deck.. the pokémon that ties everything together.Because the price-pile is a thing there is a 10% chance of your deck hero being locked off from you if you run a single copy. So even if your deck is build around drawing it from your deck (which anyone should) there still is a fair chance your strategy is sealed away from the start. Since price cards are face down coming back from this mistake would be very hard to do and would rely on a lot of luck After the price pile has been formed players flip open their active pokémon (and bench if you played those face down) and the first player takes their turn.
TO TRAIN THEM IS MY CAUSE
So now that we have your field setup its FINALLY time to get into the action. Each and every turn begins with a draw and ends with a pokémon attack or the turn being passed around. As soon as your active Pokémon attacks.. the fat lady sings …at least for that turn.
As soon as you have drawn you have a few possible actions.
You have a few 'limitless' possibilities. These actions you can take as often as you want.. or more likely as often as you have the cards for it. These include:
-Playing item cards
-Use a Pokemon's abilities
-Playing new basic Pokémon to your bench.
-Evolve a pokémon that has at least sat on the bench for one turn. -Withdrawing Pokémon.
-Playing a Stadium
As long as you have the proper cards you can take these actions. Item cards basically tell you what they do on the card art and you can play them as long as you hold cards in your hands. Upon activation of an item it is either equipped to a pokémon or sent to the discard pile to release it's effect.. like the special pokéballs that let you search your deck for pokémon. Items are very important to every pokémon deck and are key in keeping it consistent. They improve your card cycle , offence or defence in a quick way. Crucial in all three of my decks you want to feature them in your deck plentifully.
Using a pokémon's abilities isn't THAT important depending on your build , there are only a few cards that have an active ability. Though two decks of mine rely on this most meta decks don't rely on active abilities to much. Though in the 2018 season it was a staple with Tapu Lele GX being a play it to grap a supporter card. That has since faded into obscurity a bit. It generally is smart to use pokémon with abilities though, PTCG does not have any trap cards like yu-gi-oh does and these pokemon abilities are probably what comes closest to that, allowing you to redirect attacks, negate damage at times or draw. Every single deck of mine relies very heavy around the abilities of pokémon, though there s plenty more straight forward sweeping decks as well.. starter decks tend to have no or few pokemon ability cards. Just like I said, abilities you have to activate like my sweet Ariados One punch deck, are rare, abilities themselves are not.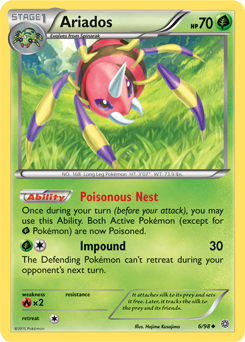 Pokémon come in few varieties. Basic, Stage 1 , Stage 2 and Mega Evolutions. Basic Pokémon are the ones you can play directly to your bench as long as you have one of your 5 bench slots available that is. You can not play a basic from your hand into the active pokémon zone. As soon as a pokémon leaves the active zone you have to immediately replace it with something that is already is on your bench. If you can't .. you lose the game. As long as you have slots you can play basic Pokémon.
On a basic pokémon you can play either a stage 1 evolution or a mega evolution.. play a stage 1 or a mega evolution on a basic is allowed if the pokémon has at least spend 1 turn on the field (bench or active) For player 2.. turn 0 counts towards this as well.. for player 1 it does not. Meaning player 2 can evolve in their first turn. A stage 2 can be played on any stage 1 that has been on the field for at least one turn. There are items that bypass stage 1..but those are far and few in between and only reliable in certain decks (like my fighting one). Playing a Mega evolution generally leads to your turn ending unless a specific item is equipped to that pokémon. Mega evolutions are however not really viable cards anymore. I just thought I'd tell you about them as their card design is really cool and older sets are often quite a bit cheaper to construct decks with.
Each Pokémon has a retreat cost depicted in the lower right of the card , this is the amount of energy you have to discard to move your active pokémon back to the bench (you can not move it to your hand without items) as long as you can pay the cost you can technically do this as much as you need to. A pokémon that is under status conditions is harder to retreat if not impossible. You can not withdraw your pokemon if you don't have anything on your bench to replace it with.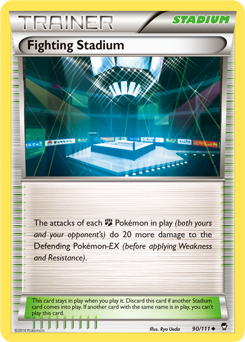 Placing a stadium card is free as well.. should you have a hand filled with stadiums in theory you can play them all in rapid succession.. it's stupid but you can…Stadium cards are almost like field abiltiies. Some allow certian pokémon to heal.. other change how status works and yet again others improve damage. Only one field can exist at the same time and you and your opponent share the same statdium card slot on the field.. meaning your opponents new card sends your old one to the discard pile and vice versa.
Then you have a few actions you can only use once per turn.
-Play A Supporter Card
-Attach an Energy card
-Attack
Suporter Cards make the world go round.. this is the big reason why many of the starter decks fail so hard. They lack ANY good supporter so they are very unreliable. Pitting starter decks against each other is very unfun in my opinion due to how slow and clunky everything feels. Like any card game PTCG relies on luck of the draw.. but items and even more so supporters mitigate that problem.. you build your deck to draw or search.. but not in starter decks.. they offer you the bottom of the barrel supporters to heal damage counters or give you lackluster effects. A proper deck needs proper supporters. Throughout these you gain your momentum.. and thusly you are also only allowed to play one. If your opponent plays three supporters by the time you have played one.. you will notice there is a shift in power.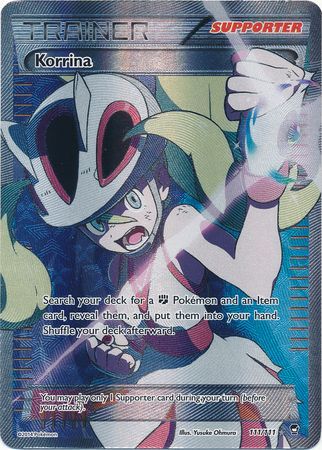 Attaching Energy and Attacking I will discuss in a single paragraph because to attack you need energy .. and the use of energy is to be able to attack, so in a way they are two sides of the same amulet coin. Once per turn you play an energy card (special energy counts towards this as much as normal energy)  and equip it to a pokémon. Each Pokémon card holds one or more attacks it can do depicting an energy cost. As long as this cost is equipped to this pokémon they can attack. White energy can be replaced by ANY form of energy Attacking does not consume the energy unless the attack effect mentions cards have to be removed. So think of it more like training up your pokémon for battle. Attacks cause either an xx amount of damage (always a tenfold..unless REALLY old and useless) which is then placed on the opposing pokémon as damage counters (usually we use dices where each dot on the dice represents 10 damage) when the damage counters exceed the hp that is depicted on the pokémon card, that monster is knocked out and you take the appropriate amount of prize cards.  Prize cards are added from your price pile to your hand, but as soon as your attack is finished your turn ends so you can not play those cards you obtain that turn anymore. Claim all six of your prizes to win the game. 
The Power that's Inside
And basically that is how you play Pokémon the Trading Card Game. Now a lot of these rules have some slack because of the many abilities, special status conditions enhancements and much more. For example there are a few status conditions like sleep, confusion, paralysis, burn and poison. These are either dots or stuns of varying degrees. 
However since these are very situational and their effect can vary depending on fields items and even the pokémon themselves i'd recommend reading up on these if applicable. They are feature that you do not find in every single deck with burn being virtually useless and confusion and sleep being RNG heavy. What I do want to discuss here is HOW to start your PTCG adventure .. because if you haven't noticed.. I am NOT a big fan of starting decks.
So I am giving you a few options on how to get into it.
Option 1 : I have no friends interested in playing and I do not want to spend a lot of money.
Way to play:  Download PTCG the online game. It's basically free to play with packs a fairly easily in game grindable currency. It can be a bit of a slog to get a proper deck to start with but there is an online market for cards to ease your burden a bit.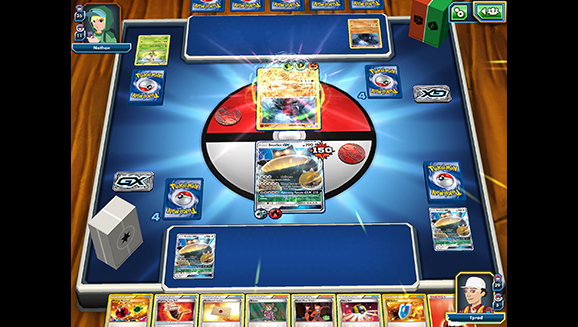 Option 2:  I have no friends interested but I might play at cons or just collect it and I have a bit of money to burn
Way to Play:
Download PTCG the online game and learn how to play with a starter deck, find out what card series of recent you like in online matchups and then go out and buy an IRL Elite trainer box.  These boxes cost you around 50 dollars for 8 packs ,which would be too expensive, but these boxes feature 60 fancy (but very sticky) card sleeves , a set of dice and energy of all kinds. Which makes it a good starting position. Usually a box like this has one or two GX cards in them.. and using your pulled ace you construct a nice deck around it.
With little money to burn you want to look up your staple cards and buy them online directly. Most cards can be bought form a few cents up to a few dollars. Make deck recipes in the online game and use it as a shopping list, a few of the latest sets have had VERY bad pull rates or  huge card pulls meaning the chances you draw what you need is slim. By far the most homeworky way too create a deck but at least you get all your supplies + code cards to enforce your online account as well. Each Pokémon card pack irl has a code you can redeem in the online game to get a pack as well.  Giving them perfect synergy for a somewhat adventures starter. Do keep in mind though that prices of cards are mostly based on nostalgia and emotion. Good cards can cost a fair bit.. like Tapu Lele GX running up 40 dollars back in the days it saw a lot of play. However cards like special Charizards or classic starters sell for a lot more for no other reason than populairity. Try to stay away from building around such cards as it will cost a LOT.
Option 3: I have friends who are interested in playing it with me but we wish to have fun in playing each other, not be the one who spends most wins.
Way to play:
You may have to omit the type advantage rule for this one (which I tend to do as well cause I play with friends). I hate this rule.. pokemon cards have a resisted type (depicted on the left lower half of the card)  from which they negate 20 damage, and an advantaged type.. from which they take double damage. This rule is stupid and unbalanced as 20 damage in the current meta game is nothing and double damage basically means a win for your opponent if you play a mono type deck. Basically it forces you to remove synergy from your deck for safety and it just feels very busted. If you play with friends DO NOT use this rule, it will only result in you type countering each other. If you do not want to break any rules.. create decks that aren't super effective or resistant against each other.  With that established pick up as much world championship decks as you can . There's usually three per year..but don't go back more than one year. So right now 2019's and 2018's championship decks are still fun to pit against each other.. older than that and it would be under powered. A championship deck usually runs around 25 dollars. These decks are fast smart and fun to play unlike the starter decks.. they are how pokémon should be played and if you happen to go to a convention, people are usually willing to square of against these decks in non official tourneys even if they aren't officially tournament legal.
The art usually is pretty and you get a good time capsule of pokémon in that day and age.
Option 4: Shut up and take my money! I wanna pull cards from packs!
Way to play:
Do NOT buy booster boxes, elite trainer boxes or single packs.  Focus on buying blister packs. The Elite Trainer Box has the worst pull rates of the entire series.. they just offer you a nice series of supplies to get started with and a great way to keep all those cards sorted neatly.  Booster Boxes are oftenly the cheapest way to get packs and tend to feature a set number of good pulls. So you will never come out robbed. Downside being that in an entire set of 36 cards you will never get more than 1 rainbow rare.. sometimes 2 in a good set, and never more than X.. Gx's cards.. averaging at about one  in five point something packs being hot. The three pack blister card is king of the pulls, though these aren't officially documented the pull rates. From what I have seem and pulled these are astronomically better. With a hot pack in something very close to one in three packs. These blisters aren't THAT more expensive.. just somewhat limited in availability. A booster box will have a single pack cost you about 3,50 (european prices ..cheapest source) while a blister a single pack equals about 4,60. A notable difference yet when we but adding quantum discounts on more sets .. of the blisters online we can more or less purchase 10 blisters equaling 30 cards to one booster box.  The 36 packs will give you 7 hits while with the blister cards you are somewhere in between 9 and 10 hits. So if you collecting is your style..go blisters.
Speaking of blisters his article has become so long I am starting to get blisters from typing. We will go deeper into the subject of the card game in the near future when I fix my PTCG online launcher and start getting back into the game now.  Have you ever played the PTCG? Let me know in the comments. Next week I just might play the Pokemon TCG gameboy colour game for a review..or talk a bit about online battle simulator of pokémon showdown! Let me know which one you'd like to see more.
Remember I am not weird, just very pink!

XO
Chibi Pinkie