Five september 2019 will be mostly remembered as the day Sans got into Smash. Although he wasn't exactly a character he's still there. Along with Terry Bogard from Fatal Fury it will be fun new faces to welcome to the smash family. Yet of course to this reporter and her other personalities that was not the most interesting announcement of the day. We got mesmerized by the new Pokémon Announcements and here's what's new. 
Camping
Pokémon games are often filled with silly features you use once or twice in your playthroughs and on first glance.. camping might be one of them. Yet for those who played Let's Go Pikachu/Eevee  know there might be more to this than meets the eye. In Pokémon Sword and Shield we can put up our little tent in the Wild Area. The Wild Area quickly seems to become the hot spot for all Pokémon Sword and Shield features. Basically everything online that isn't versus takes place here. Max Raids were already announcement and now there is camps.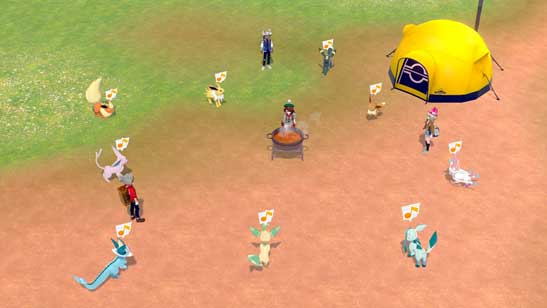 In your camp you can play with your Pokémon and let them bond with your team. While fan reception so far seems a bit lackluster I truly believe that this is our new Pokémon Amie or Pokémon Grooming. Not everyone is a fan ot this, but the bonus experience a max affectionate pokémon provides as well as the ability to break free from status is well worth the effort on story playthrough. The way you can play with your Pokémon so far looks absolutely adorable. You'll gain access to a few Pokémon toys they can interact with.. like one of those cat rod thinges.. not sure how to name it as cats hate me in real life so I avoid those playthings as in my hand it drives them mad.  There also is a bouncy ball you can toss and your pokémon will go and fetch it.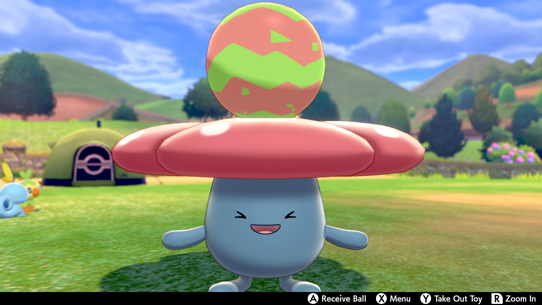 It's absolutely and utterly adorable I melted as soon as I saw the trailer of Vileplume bring back the ball. Now I want to run it on my team .. and that's already so full! I'll need several teams already! Now I want a vileplume just so I can toss a ball towards it. I am already inspired to catch them all now, because I feel like there is something I can do with my less offensive pokémon.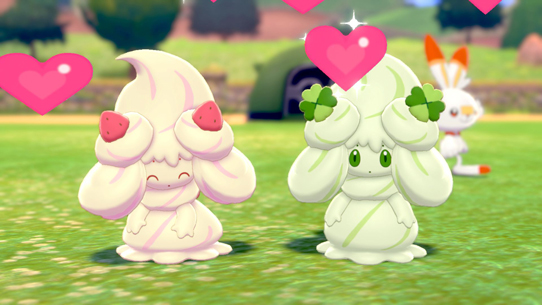 I can check out their play animations, I can train up some support pokémon for raids and keep it fun to alternate. Now your own camp is not the only camp that is available for you in pokémon sword and shield.  While in the Wild Area you can encounter tents of others players and interact with them to access THEIR camp (as longs as you pay to be able to go online with your Switch) you can take along one pokémon to play with everyone you can find at the camp to all gain some benefits. You can even cook together, which brings us to the second announcement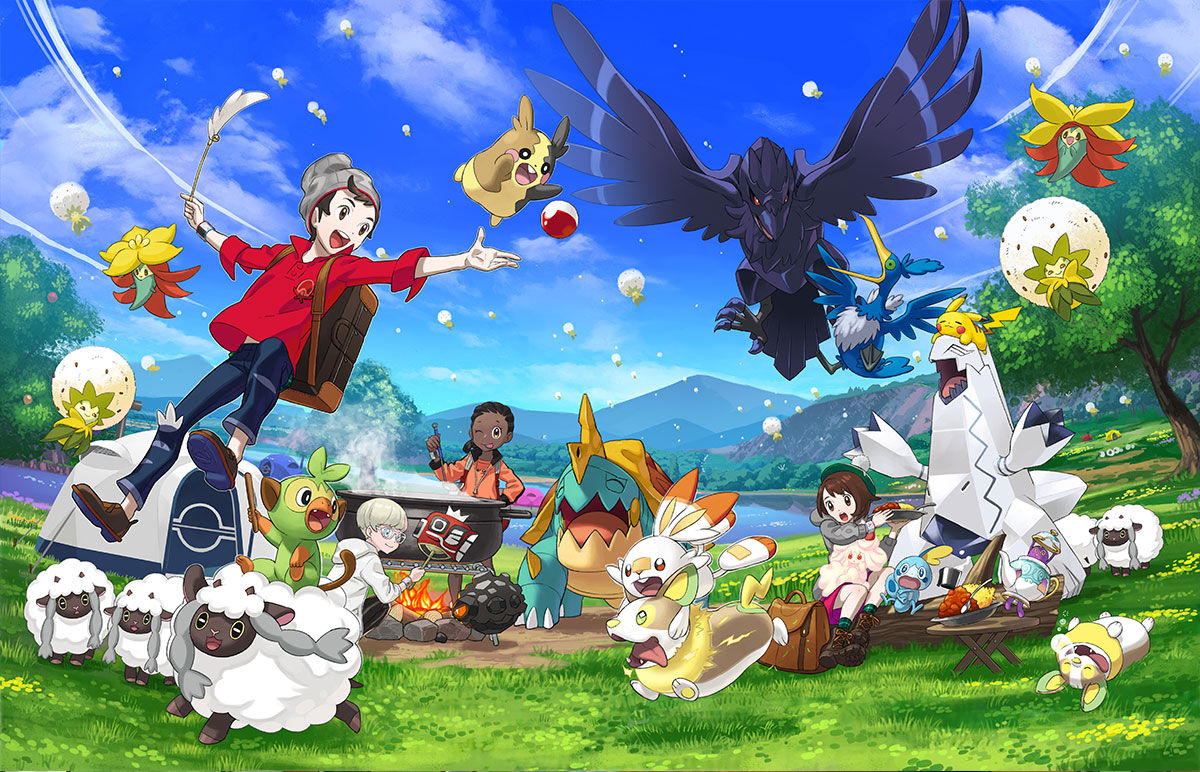 Cooking
In order to gain more affection from your pokémon and quite possibly gain some stat boosts making food is going to be a requirement. There is only one type of food in the Galar region and thank ARCEUS it's not malasada! In Galar we make curry, now let's hope that Hop isn't as big of a curry fanboy as Hau was of the malasda. Cooking happens in a minigame similar to making poffins like in generation 4. Controlling the fire and stirring the pot. You can do this alone or a bunch of friends, with the latter allowing for better ranked dishes.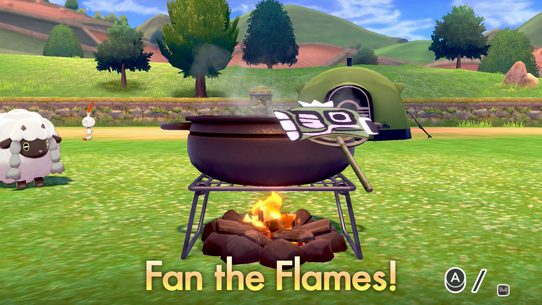 However curry-crafting goes a lot further than just that. There are ample curry-dishes to make ..so much so that there even is a curry-dex for you to complete. From Sausage Curry to Fried Food Curry to Tofu Curry and beyond. You can use your berries to add the classic flavors like, dry , sweet , bitter and spicy and depending on what nature your pokémon have .. they will really like one and hate another so much like a long time ago, you'll have to know your pokémon and its nature a bit if you want to optimise your synergy.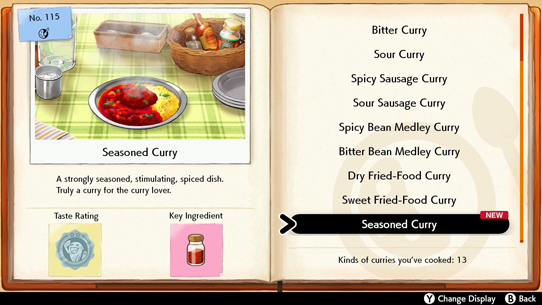 A great choice and alongside camping to me this feels like a much more natural way to farm your pokémon's affection. It makes you feel much more like a traveller and good food is available to everyone. Magic balls of yarn and magic fruit trees or picture puzzles like in Kalos aren't available to everyone. While you are deep inside a frosted cavern it feels weird that you could suddenly blowdry your eevee in Pokémon Sun and Moon. This is how it should be done and this is what I will feel happy about.. and I can look pretty darn good doing it.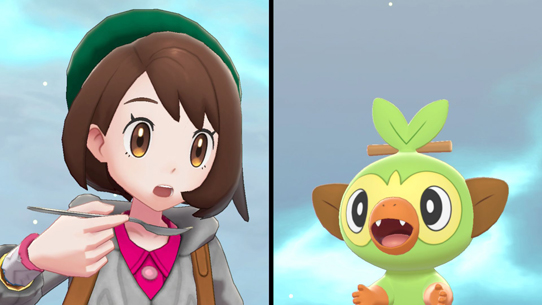 Trainer Customisation

Yaaay we can go shopping again! When Gen VI revealed shopping for clothes had become a thing I nearly wet myself in excitement, finally I could make the trainer I wanted to make. Even though the options were fairly limited I had great fun into making a character feel like me. Alola and Gen VII improved this a bit for me… because i was a female trainer. As a boy in Alola you did not really have to splurge on vanity items. In this game though. Customisation looks very neat. In the past we could only play wearing a very natural hair colour.. which made NO sense at all given that there were SO many gym leaders with extreme hair colours. Now a lot more will be available to us.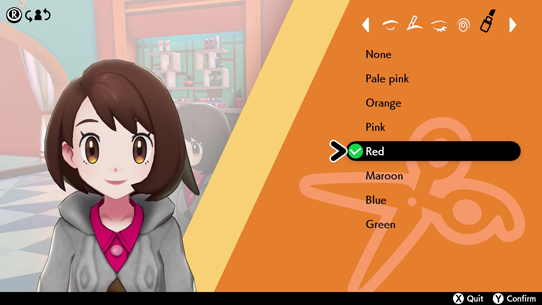 We can finally feel like an anime character having access to shades of green, blue and…. *drumroll* pink! There is plenty of outfits that look cute and unique. In Alola you had three options with other skin variations from.. tank top with short skirt or hot pants to sundress. Here it seems you can dress both formal, casual , though or even hippie like. If there is a pink dress i'll be one happy camper!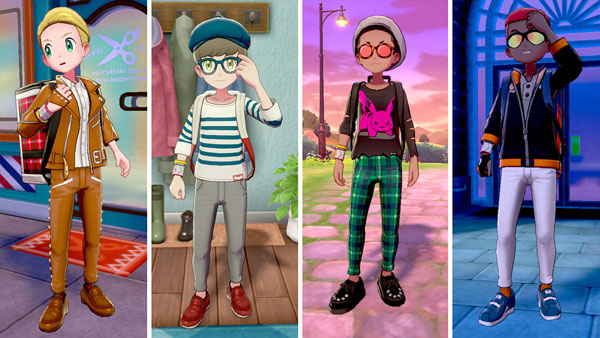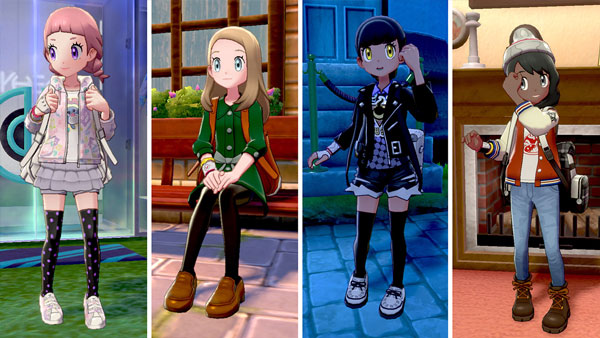 New to features is the ability to have some detailed make-up and you can epilate your eyebrows.  Neat! Your brand new look can feature on your customisable trainer card. This trainer card allows you to pose and add your backgrounds add cute little details etc.
This card will be displayed at your important matches (i'd reckon online as well) . Trainer cards can also be handed out and collected like it's own little trading card game. If there actually is a trading card game remains to be seen but it's cute nonetheless and your trainer has never felt more like your own character than is this game.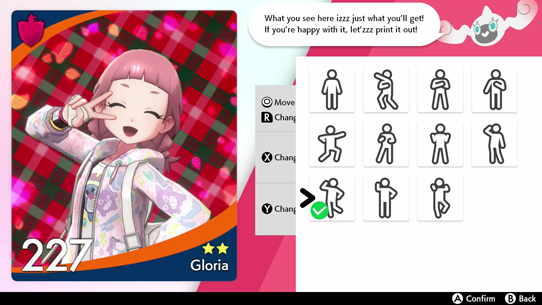 Two or maybe three new Pokemon. 
Alright Gamefreak I'll give you ONE more trailer to reveal my sweet little Impidimp!  Yet again the devilishly pink pokémon was not revealed in the new trailer but we got two pokémon announced by name .. and maybe one other .. but we are quite unsure about it. However let's not cross that bridge until we get to it shall we?  The first pokémon that was announced was Polteageist, the black tea pokemon.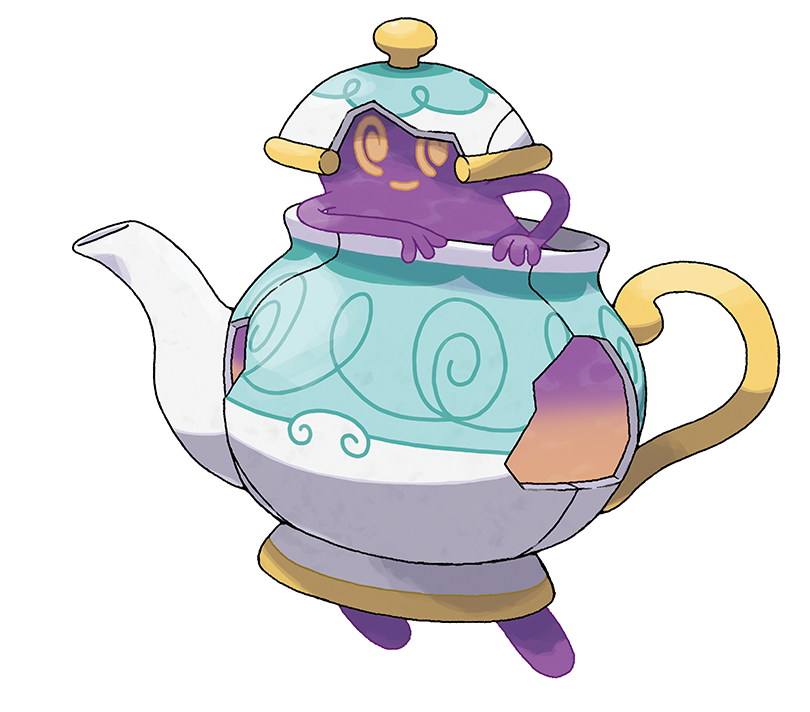 A cute little teapot embodied by a little ghosty boy. Only 20 centimeters high and weighing 400 grams this pokémon is a perfect ornament in your daily life. You can drink it's tea, but drinking to much of it will give you a stomachache.They can mostly be found at hotels and castles and the likes where they are oftenly be treated as pests. If a Polteageist sees a teapot with some tea remains in them it can pour some of it's essence into those remains and another of it's kind wil be born in the new teapot. This leads to them being somewhat of a plague and pest in hotels and restaurants. It is a pure ghost type.. being only the 10th pokémon ever of that typing.  It's ability is weak armor, when it is hit with a physical move it's defence stat is lowered but it's speed is boosted. A nice way to simulate a cracking teapot but with a lot of priority physical moves out there, the strongest being it's greatest weakness it remains to be seem if this pokémon can make it in to competitive play. It would need to have some solid speed stat to be begin with and some creative moveset to get around sucker punch.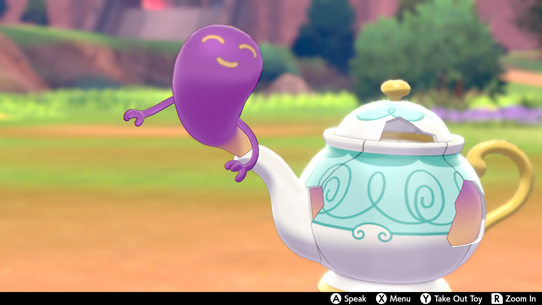 The second pokémon that has been announcement was Cramorant. This Pokémon was part of the big leak that has nearly predicted everything right so far. I love it!  I am a big fan of ducks and though this isn't really a duck it sure is part of the duck family. It's super blue!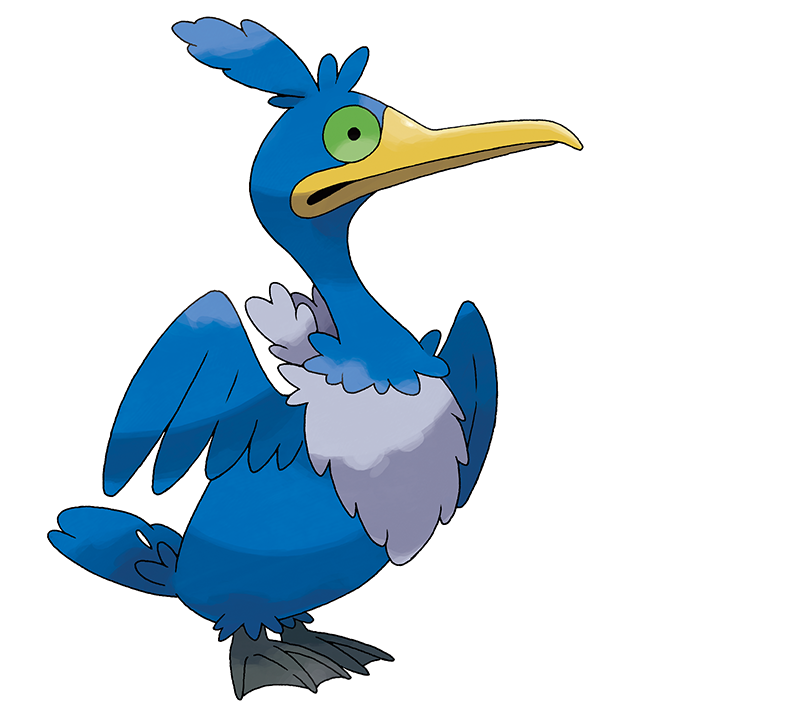 Smurfs were less blue than this derpy looking boy. It brings back memories of psyduck for me which is good.. because I also loved that one. It's a flying water type which isn't particularly unique but with electric types not being ran THAT much in both the games as well as in versus it's solid enough of a typing to help you deal with a lot of obstacles on your way. Cramorant is described to a loyal but mostly hungry pokémon.. there seem to be a lot of hungry pokémon in the Glar region.  It will eat just about anything it can fit.. or even cant fit in its beak. While it is a scatterbrain it is said never to forget the bond with it's trainers but don't you dare steal it's food. The waterbird is said to even ferociously attack it's own trainer if they steal or take away the pokemon's food. It's most interesting feature however is it's special ability. Gulp Missile allows the pokemon to scoop up a fishy after it uses surf or dive.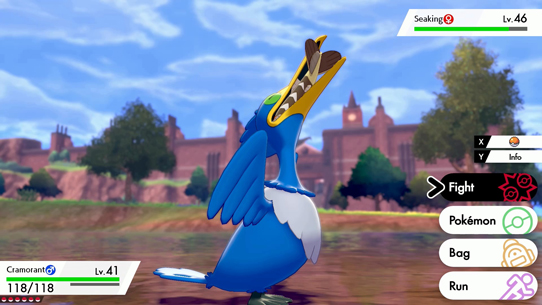 This little creature remains in it's mouth after. This is called its Gulping Form, unable to swallow it whole Cramorant tries to eat..until it's hit in combat after which it spits the sea creature at it's opponent like a little projectile. This could be really fun.. and given that it works on dive AND surf it seems like Cramorant can work as both a physical or a special attacker. I am a fan of this duck-thing and I will find a shiny one!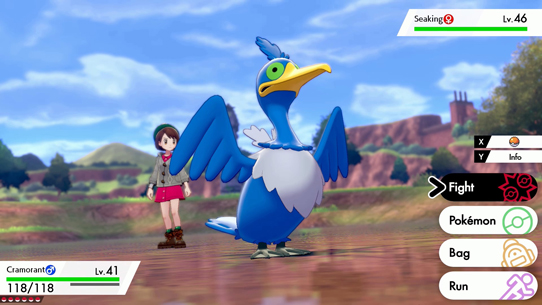 Now this was all that was announced in the Nintendo direct. 'But Pinke you told us there might be a third Pokémon'.  Well yes! Pokémon doesn't really have much 'classic' animals in their ecosystems.. there's hints some might be left.. but I do belief that little fishy is it's own Pokémon. We saw pokémon eating other before. The toxapex evolution line preys on corsola so perhaps this little fishy can be the prey of my already beloved ducklike. Is Fishy an entirely new pokémon? Or could it perhaps be a Galarian Wishiwashi ? Due to how small it is I am inclined to say the latter, it would also make sense in a way as it's a schooling Pokémon. It's all speculation so it's to early to tell.. but mark my words we will see more of Fishy in the future… lets just hope Impidimp goes first.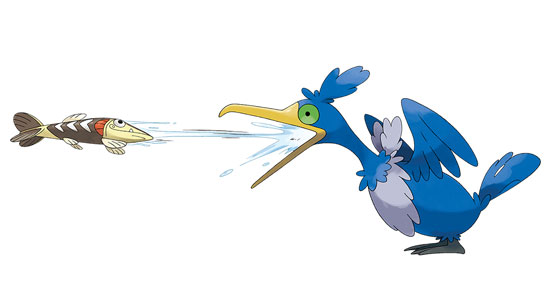 So we conclude the this post of what is to come. Currently I am having some issues with my muscles which is vastly distracting from writing. This may result in a post or two missing near the weekend but I will try to be here and do my regular thing. Just as a precaution I would like to warn you all. Leave a comment or a like and make my day happier!

Until we read again! Hopefully sooner than later.

XO
Pinkie