So people are very pissy about the National Dex not coming to Galar, though I understand the sentiment I do not think there is reason for concern just yet.
I have my own theory on why the Galar region won't have a national dex, and the reason can be found in the system it's being launched on. For the first time it's a main title on a home console.. that is also portable… but what did the home consoles bring us before?

Some trust please
First of all, let's get this out in the open. I do NOT think this is the end for Pokémon and I do not think missing the national dex is of much concern to be, in all honesty I am not that much of a dedicated battler, because IV and EV training to be honest is just to much of a hassle for me. So, what will the National Dex not being there for me change? Not that much..sure I cant bring some old favorites that I brought time and time again on some old adventures, but let's be honest I haven't used those in the main game part anyway, because they are to high level. It's nice to collect them all, but honestly in preparation of a new gen, once we did it in Gen VII where would be the challenge to do so in Gen VIII anyway it's just a transfer circus. So I do not get what the fuss is all about. Nintendo already told you , you will be able to use your old friends in future games. So why should we all do the salty internet thing where we destroy something we love, just because we cant have it exactly the way we want it? I will not boycott this game ,if I want to battle them all, I will most likely be able to on Pokémon Showdown anyway. So big meh. Do we really think Nintendo will just turn it's back on the competitive battling scene? As if! People make mistakes. Todd Howard made Fallout 76, Blizzard made Diablo Infinite.. or whatever it's called, EA…… yeah well those are soul sucking evil leeches who do not understand whats gaming about anymore, but let's be honest that also applies to a lot of gamers. Times change, decisions will be made and even if we do not always agree with them it doesn't mean we have to storm or burn our favourite studio after one slip up.
The Return of an old friend
Now I trust Nintendo, they have made nothing but good decisions in my book, I trust the Pokémon company too, aside from the Detective Pikachu game I haven't played a bad Pokémon game…well the minecraft thing sucked pretty hard.
Pokémon from the get go was always several games in one, there was the pet based RPG, where you train your pets and level them up to defeat the final boss. An element that is still very much intact. There was this almost collectable card game, where you had to trade with each other to collect them all, national dex or not .. that is still something we can do, albeit a bit more limited, and then there is large online battle community that uses the whole pool of Pokémon to battle each other. That one right now is damaged, we can not play that the way we want anymore, and sure competitive battlers can be salty about that… but for everyone else..big friggin whoop. Now , how can we fix the battle problem… if only the main consoles had a franchise of their own that would allow is to transfer all our captured pokémons to pit them each other in an arena without the whole leveling thing and the RPG…..wait a minute!
Didn't that console with the weird ass ufo controller do this type of thing in 1998?
Yes it did, would it make sense to make a dedicated battler game without bogging it down with an adventure you have to complete to get acces to your z-moves and mega evolutions.. or soon dynamax?. I think it would.I think it's time for Pokémon Stadium Switch.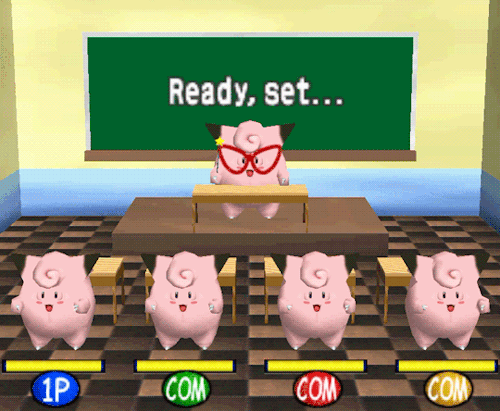 Just battling
Sure it sucks having to pay for most likely another full priced game for something that used to be included in the older games, but think about it this way, how much more awesome can they make battle animations when they don't also have to render an entire world. How much more smooth will servers run if the battling happens on different ones then the new raids and trading? It makes perfect sense to me. We are living in a world where you have to pay for certain extra elements in games and where DLC is almost a requirement. So why not split a game of many elements into smaller more containable segments, it gives you much cleaner results for your analytics. How many people prefer the RPG? How many like battling more, in creating diversification and segregation , there is just so much more room for improvement without polarising the other side. 'We want harder battles!' Well making Pokémon harder will make it less likely to be bought by kids, thats a big part of the demographic, making it to easy the exact same thing happens. But rather than mediate between the two.. why not satisfy both by creating two games. We don't need story hybrids like Pokémon Coliseum anymore now that we got the main game on the console..we can go back to good old Pokémon Stadium, with variable difficulties and not a world filled with cheaty items and such.. just you and your Pokémon against other online players or stronger NPC's then you'd encounter in the adventure.
Competitive battling will be "behind a paywall" but on the other side in the future those who do not care about the RPG element and just wanna battle can also do so, but let's be honest the real competitive battlers are the ones who buy all the games anyway, and there is virtually no competitive game left anymore that is as cheap to play as it is for the casual player. In fighting games you will need to buy all DLC chars to understand them enough, shooter games without vanity items are very sparse, and in racers you basically HAVE to buy the new tracks if you ever want to be able to find a match at all. So I truly feel that around november up to early 2020 we will get the announcement about the Pokémon Stadium format returning with ALL pokémon, being in a game where it will be actually relevant. Hopefully adding in some resources to make raising a competitive mon a bit easier, as in my opinion there should be no need to hatch 400 eggs to get a decent Pokémon.It would allow us to focus on the new mons for just a while, like Nintendo said, it would make sense with the new Pokémon Home being a thing and it would also mean that what Nintendo said about your Pokémon being usable in future games would be true. I for one would love to see a dedicated battling game that doesn't rely on weird mechanics like the festival plaza but just straight up connects you and yours friends for a battle. I will at least be cheering as loudly as if I was 'some guy' at a Bethesda E3 presentation if they do.
So I might be alone in this but I trust the Big N and the Pokemon Company, I would definitely buy Pokémon Stadium 3. I hope the franchise will make a lot of money in the futre and that the Switch Pokémon games will be very successful. After all I would really like a Gen IV remake that isn't as slow as the original and if Stadium 3 ever becomes a thing, it might even rekindle my hope for Pokémon Snap 2! But before that day comes to pass , I ask you all to be nice to our Nintendo Overlord, be nice to your Pokémon you put in Home and most of all stay pink!
Untill we read Again.