Greetings little monsters, it is time to go theorycrafting again. Though this is the category I seem I will struggle with most to keep up, mostly because I weave all sorts of theories together, I do think we have a good one today. We will take a deeper look into pokémon evolutions and mythos. This just might be a tricky one.
The Rumor
Pokémon is filled with the most horrible stories you can ever imagine. From cute balloons stealing children's souls, to children starving in the woods and their spirits merging with the trees, wandering around as phantump forever. Death is ever present in the world of Pokémon. One death in particular is known by both fans and casual followers alike. The death of Cubone's mother. A narrative that was explored in the original GEN I , Red and Blue , games and which was heartbreakingly recaptured in Let's Go Eevee and Let's Go Pikachu. In the latter we literally saw cubone chasing after the departing spirit of Marowak.Yet some believe that Cubone's mother wasn't a Marowak at all. It was a Kangaskhan.With cutscenes already proving us wrong, why would we even discuss this theory? Both Nintendo and Game Freak employees keep hinting that there still might be truth to this rumor.
'How can this be Pinkie! You just told us Marowak was in the cutscene and there even is a pic below… BAD PINKIE!' Hold on now before you make me cry by shouting at me…*snif*… it's thursday ..so that means I got a theory.' To present some evidence I need to jump forward to the sixth generation and a mechanic we learned about there. Mega-Evolution.
Proof: Mega Evolution
By now we all know Cubone is donning the skull of it's dead mother. If you didn't… here you go.. another wonderful titbit of pokémon lore that is absolutely canon and confirmed. The quick theory was that Kangaskhan baby fell out of it's pouch as it's mother was killed then worre her skull as a mask. However this would invalidate game canon so as a theory it just doesn't work for me. Mega Evolution kinda proved something I was suspecting all along , which is massively important to this theory. Gen VI allowed us to use a piece of jewelry and an empowering stone to alter the forms of final evolution empowering them for the entire duration of the battle, as long as they carried that stone. To many's dismay when Kangaskhan got it was just the baby getting out of the pouch to fight side by side next to its mother. People nagged and complained that this was not an evolution. Yet maybe…it was? What if Kangaskhan could not separate from her baby. What if they are in fact on Pokémon with two minds. We've seen the existence of two separate thinking entities in a single pokémon before, Slowbro and Girafarig just to name some. Dodrio is even known for those minds arguing with another. The fact that the beloved mother pokémon needs the power of mega evolution of separate from the baby, validates this theory. The suspicion had always been there since gen II where Kangaskhan would hatch as both mother and offspring already nor do we see any of the two ever wandering alone.
Possible anime episodes were the baby gets stolen we will exclude because in my eyes those DO contradict what the game provides us. The anime would after all be compelled to write interesting narratives, and concerning a mother and baby bond pokémon those storylines come very easily.Back to what has been more or less established in the game. The two being quite inseparable We now can begin to wonder, if Mega Evolution is the right way of separating them could there be a wrong way?.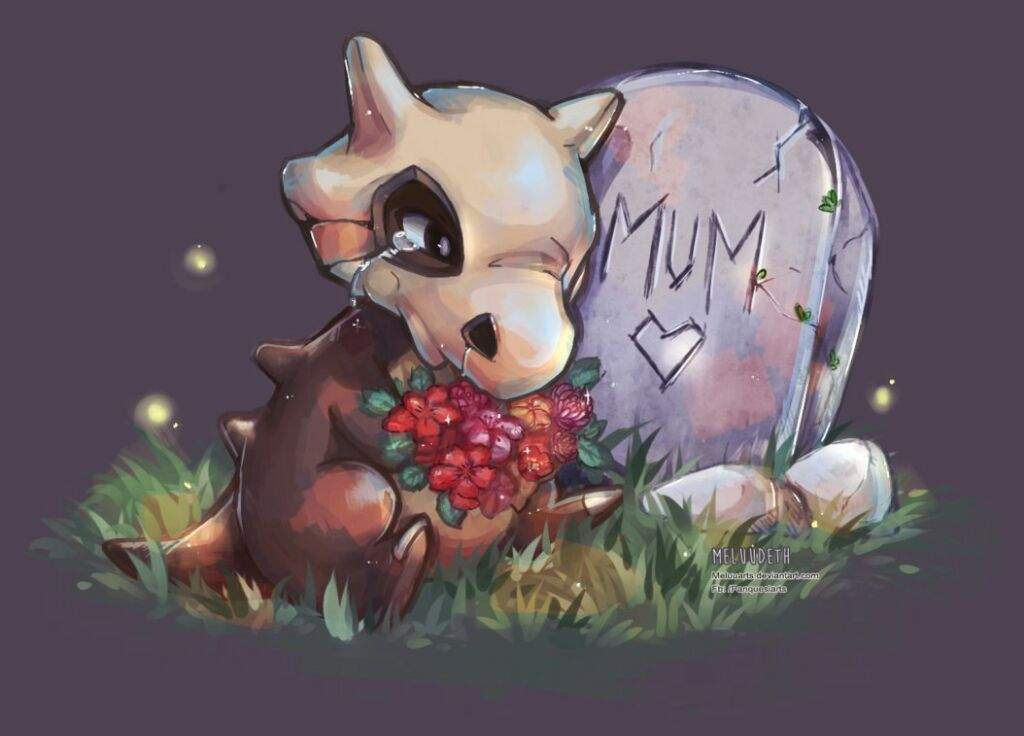 Hypothesis: The Nincada method
Could Kangaskhan really be related to Cubone? How was Marowak cubone's mother, yet Nintendo keeps putting the family pokémon and the lonely pokemon together in the same fields. Why can Kangaskhan show up in Pokémon Sun and Moon as an S.O.S. call for Cubone? S.O.S calls with a few exceptions (like Mareanie who shows up to eat wounded, calling for help, Corsola) only monsters from the same evolutionary line show up. Could there actually be a link? We have seen pokémon evolve before when they merge with other pokémon, but can the opposite also be true? What if Kangaskhan in fact could evolve into Marowak by separating their child from them in an attempt to protect them? This could make sense were it not that Marowak only has a base stat total of 420 and Kangaskhan has one of 490. Where does the baby go? Let's consider a single pokémon, evolving into two? Unheard of you say? That's not right, in Generation 3 we have seen this before, when the bug Pokémon Nincada evolves, as long as you have a free slot on your team, it evolves into two seperate pokémon being Shedinja and Ninjask. Shedinja being the byproduct terribly weak with only 1hp but a very special ability. Now let's see if it even remotely makes sense, say Kangaskhan can separate when it's panicked and fears for it''s child which causes it to evolve. Not only do we see Marowak we also get a "new" pokémon, that for this blog we will give a placeholder name for the species. In this blog it shall be known as a Beybiroo. Beybiroo would be a baby pokémon, like budew, smoochum, pichu and the likes. It moveset would be moves like Tearful Look, Curse and maybe Round. Not a great Pokémon but it allows you to bring Curse onto Marowak or Kangaskhan later on. "Hold on Pinkie, before we talk about movesets, lets see if Kangaskhan evolving into Marowak even makes sense? You said it's base stat total drops, even if we get a baby pokémon with it ? Why would it evolve in Marowak then if it was stronger before?' Well my sweet little monsters, there is one stat that firmly increases if Kangaskhan would evolve into Marowak. It's defence!
Completing the circle
Woah… the defence rising of a Pokémon defending her child that actually kinda makes sense! But what about Beybiroo then? How does it evolve? Well we have known about item evolutions already and then I don't mean the evolutionary stones. I am talking about items like your Metal Coat, Dragonn Scale, Magmarizer and so on. How about making an item based around a skull and when Beybiroo holds it while leveling, it will evolve into a cubone? It would fit in the lore after. Yet of course it still needs to be implemented in the game. How could we do that? First we need to give Kangaskhan a move to seperate Beybiroo from her. Gameplay wise it makes the most sense to make this a learned move, akin to self destruct and explosion, but as a ground type move instead. A name like Mothers-Love would probably be preferable over Baby-Toss. Once used Kangaskhan faints and directly after the battle it used that move, it evolves. If you have a free slot , you also get the Beybiroo added to your team. A Marowak who is evolved this way (and thus always is female) can get a new ability as well. This ability would allow it to get the skull item you need once it faints and it has an item slot available. The item works in essence like a focus-sash, that would your pokémon take a one hit knockout attack Marowak is switched in to take the hit (with its own defences instead, consuming the item) However when Beybiroo levels up with it..it can evolve into cubone. At level 28 if your Cubone is male, it will evolve in a Marowak like normally. If Cubone is female AND you have a Beybiroo in your party, Cubone evolves into Kangaskhan at the same level, without the baby it will transform into a Marrowak like normal. Thus completing the Marowak family circle.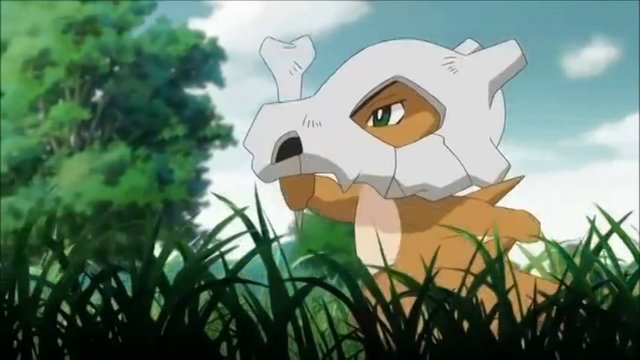 Good and Bad Separation
I think by doing it this way, the theory of them being related could actually work very well. The themes of orphan and parent would create a synergy between the paring and with Alolan Marowak being a thing this life cycle could create a very interesting bond between your Pokémon, where you can use Beybiroo, alongside the move tutor as a method of getting better moves onto your Kangaskhan or Marowak. Having an alternate method of obtaining a baby-mon is also something that could be very nice, without us having to find a new form of incense. The mother pokémon being the origin of the story. Will you go for good separation and use the mega stone only, or will you separate the pair to gain the better abilities and useful items? A moral dilemma that when executed right could be tremendously fun to play around with adhering to the duality Pokémon has had since the beginning.
Having the cycle work this way also mean we finally have an explanation for the link, without harming any of the cutscenes. Saying goodbye to Marowak would remain intact, yet the story of a loving mother giving up her live to save her child would never have been more powerful.
Thus ends today's theory. It was nice to add my own spin to an older theory, trying to make it work. I hope you enjoyed as well. What theory would YOU like me to shine my light on?
Give my day a little bright powder and leave a like or a comment.
Stay pink my little monsters!

X

P.S.
Have a happy drumming Cubone cause it deserves a smile too!