Welcome to another post my little Monsters. Since 1996, 1998 or 1999, depending where in the world you are from, we have been referring to 'the wonderful world' of pokemon. Yet in today's Thursday's Theory we will be taking a look at a contemplation of mine, which is shared by some on the net. However I decided not to take a look at these. So all evidence I bring for this theory is the ones I found by simply playing the original games and the original anime.

Some reservations before getting started
Alola in both anime and game has been shown to be fairly utopian, Kalos was quite decadent and nice as well so over time the vision on how the world of Pokémon should be has changed quite a bit. So the theory we will be addressing today isn't really based on it's modern intentions. Much of the Pokémon world were decisions due to its large success. Spin-off games and the explosive growth of the franchise would always have led to create a much more moldable world, a continuation of the rules established in Kanto would have driven the franchise against a creative wall. So for the purposes of this post, we will only look at the original games and the first 'season' of the series. Rather than asking if the pokemon world IS post apocalyptic, we focus more on the question if it was ever meant to be.
Evidence: No government
The 'wonderful' world of pokémon, doesn't seem to possess any form of government. The rules of the region seem to be established by the pokémon organisation. If that even is a thing. Though in Galar we can see a stricter hierarchy, in the original games and in the anime we never really see those who have decided that 10 year olds can travel the land with their pokémon. We see some chairmen around the time Ash participates in the pokemon league but that is about it. Charles-Louis de Secondat, Baron de La Brède et de Montesquieu argued that a government should exist with three separate forms of power. The legislative, the executive and the judiciary power.
The first and the second barely seem present, if anything there is only the laws leading up to the Pokémon League and its organisation. Even if that is what goes for those powers, they are controlled by the same organ, the league organization, which is a no no. However there seem to be no laws, except for some very basic criminal ones when it comes to non trainers. Everyone can open their own stores, there doesn't appear to be any fines on polluting and trespassing etc, no gambling age or any sort of systems for civic control. The only law that does seem to exist is criminal law, and even that seems to mostly based on the common moral and values rather than hard written laws. All in all, the legislative force's presence is neglectable in Kanto. Their judiciary force is up next, which quite honestly is a joke. In the anime, there basically only is Jenny who has to do it all. Yet like the lawmakers, there is little to no real influence. Though later in the series we are introduced to Looker and his organisation that try to prevent crime, which is a basic task of those who need to enforce justice, the Jennies seem to function reactively only. Their capabilities far beneath sub par, where in basically every instance we see them they do require some aid from our protagonist. To me it feels more like the officers are actually renegades trying to do the right thing, or something else I will talk about later. The executive force, why would it surprise anyone is also sorely missing. Schools, for non trainers aren't a thing, like at all 10 year olds can travel the world using their Pokémon but later throughout the anime , and also in the game it's revealed that there are even younger ones drifting on the road. There is educational tv and that's about it.
In the games we at least have a trainer passport, showing some kind of governing agency to hand those out, but in the first game.. not so much, in the anime Ash just pins the badges to his vest and carries no form of ID what so ever. In no gyms do you actually have to identify yourself as a legit trainer and in the anime, Ash discovers the Pokémon League challenge by accident , seeing a poster, never it being his true goal. All in all it's pretty solid proof that there is no government so at least there is something wrong with this world..
Rumor: The War
Fact, Kanto has recently seen a war at the beginning of Red and Blue, and though people theorise Red is Ash's father, I do not believe that theory for in the japanese game Red and Ash are both named Satoshi. No that is not a last name, he is named after Satoshi Tajiri the creator of Pokémon, Tajiri being his family name/ last name. (In Japanese he is called Tajiri Satoshi) Since Red and Ash are thusly established as the same person it's safe to say he would have seen the war as well. Lieutenant Surge is the one who talks about using his Pokémon in the war to zap his enemies into paralysis, yet it would be a war that did not do Kanto any favours. Perhaps Surge even belongs to those who 'took over' or deleted the Kantonian government. Making the Pokémon Organisation a potential antagonist. Evidence of this war is found throughout the entire game, evidence which would not fly nowadays cause it might not be totally PC. Kanto has a severe lack of adults, mostly of mature men above the age of 25 and below the age of 65. Given Lieutenant Surge's age being mid 30's at best, quite possibly younger this war could not have happened over 20 years ago. Since Ash father is nowhere to be seen, it would make very much sense if he was drafted, yet killed after he at least made Delia pregnant, meaning this war at least ended a little less than 11 years ago.
Whatever this war was about, it left deep wounds onto Kanto. Gyms are oftenly entrusted to kids, males are sparse and are often either extremely capable, like Koga and his ninja's , beefy bulky sailors, or soldiers, warriors and the likes. Scientists are still there, but their role in a war would have probably put them out of harm's way, But are these even kantonians? Could it be that the scientists are the ones that took over, because Mew was in Kanto? It is no secret that Professor Oak would have a boss battle at the end of the game. Maybe Team Rocket are actually old world kantionian rebels fighting to regain their independence from the Pokémon company. It would explain why they steal Pokémon from the government, because they do want to topple the system. It would also explain why the want Mewtwo.. to prevent the government from abusing it. This might just seem like wild speculation, but let's look at Team Rocket's motto for a bit shall we? To protect the world from devastation! To unite all peoples within our nation! To denounce the evils of truth and love!. These are the three lines that speak mostly about their intentions. Their original writing not a lot different except for the last line. In japanese they say' To prevent the destruction of the world! To protect the peace of the world! To stand by the evils of love and truth!'
Rather than denouncing truth, they stand by it.So these people seem to fight for peace and against the furthering of the apocalypse. They also wish to let you know the truth!. Truth doesn't sound evil.. but it IS evil if a lying organisation took over, which prevent the world from knowing the truth. So perhaps in this war, the League organisations took over, wiped out Kanto as it was before and Rockets are the (R)ebels to fight
The technology
Pokémon has always felt a little odd in the technical aspect, on the one hand, there is a company that is capable of dematerialising throwable pocket dimensions in your hand and store them in their grand database, as well as healing tables that seem to radiate healing energy inside those pocket dimensions. The common folk however have technology that seems miles and miles away from this. Your overruling company can send Pokémon through time, people rarely even have TV's. Roads are barely being maintained, while the company is able to make life.
Cloning clearly is a thing, no matter what the Joys and Jennies say, they aren't sisters. It has been ESTABLISHED in the world, that the Pokémon Company, which they work for have cloning technology as Mewtwo was a Mew clone and Ditto basically a failed mew clone.. manmade. To test it first on the legendary Pokémon that created all Pokemon live makes no sense, they must have test it on others first. 'We are sisters' has never really been proven in the series.
Technically even if cloned they would not even be lying coming from the same parent.. the Joy factory or whatever. Common sense would say that the likelihood of all Joy's being 100% the same, would all end up in the same job but at different cities would be extremely flimsy at best. But no one notices.. because no one goes to school anymore to learn some common sense!If it was an anime only thing I could understand it being a running joke, but the same joke twice odd. Joy is funny because it could work due to sprites, but the same logic is not applied to anything else, hikers all look different in the anime. Jenny even is barely a thing in the game so why?!Because they are clones thats why! Just because a character says something, it doesn't mean they have to speak truthfully. When Rose tells Jack she would never let him go, she was just saying something. When Ash in the first episode of the series told he would swear he would become a pokemon master, he was kinda full of garbodor. Clones working for the evil company.. sounds pretty messed up and post apocalyptic to me, after all , all the other nurses and health care has gone away.
Much like in fallout, there is plenty of drugs that are commonly available as well. Steroids for your pokemon? No problem have some X attack, pretty much what Psycho is in Fallout, how about a PP up? Well that's just some jet! What utopian world would allow you to alter your Pokémon's core by pumping it full of medicine? How about forcing it to learn moves it would not naturally learn by using training discs. Yet this is all technology that is readily available. However lights in a well traveled cave, roads to drive, no investment is made in that because it has nothing to do with Pokémon, so the company can't do it therefore doesn't care. Besides Gary's car, we rarely see any technology that isn't owned by the company.
No matter how you twist or turn things, something doesn't add up in the difference in tech, the power balance shifted to an extreme, Gary proves that exist(ted) but he again is linked to the company, for the power balance to tip so far in one direction, some big event must have happened. Where did all that normal tech go? Why is the gap that big? It doesn't match with the utopian theme. Something bad must have happened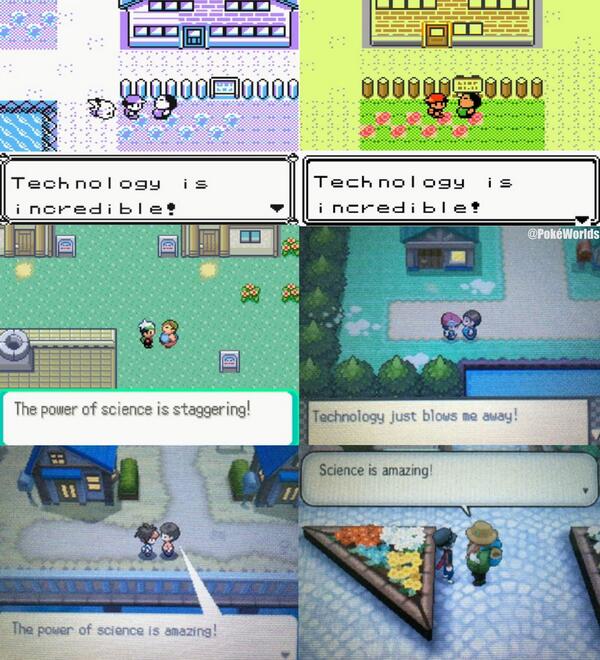 Closing thoughts
Nowadays it seems unlikely that the organisation behind Pokémon is evil, look at how chill professor Kukui is, elegant stuff went in Kalos. Lance became a great hero, though all he ever did was face Rocket, which may have just been a resistance. Lorelei helps you in let's go, but only to stop team Rocket. But there is not a snowball's chance in hell that gym leaders and elite four could be evil right? No one ever intended that?! …. Well if we follow the manga , they are all pretty darn evil. World ending and "I'd have to murder your pokemon to stop you" evil.
However there is no way the company destroyed the world of Kanto and rebuild it in their image so they can just earn money and experiment with Pokémon right? There is no way professor Oak would ever be evil? Well he might have been, there was this boss battle… and he didn't look too friendly with the sprite. So yes I do think it is entirely plausible that at some point in the development of at least Red and Blue , it was designed with a different vision than it has now. Ideas that seeped into the world, however the project had been adapted because the game took on more hype then expected and might have been better than expected. Now i'll finish this up, if iI have to think of a peaceful post apocalyptic world that is kind of nice to have fun in as a young boy…I would depict that in one scene. Four boys, walking on a railroad.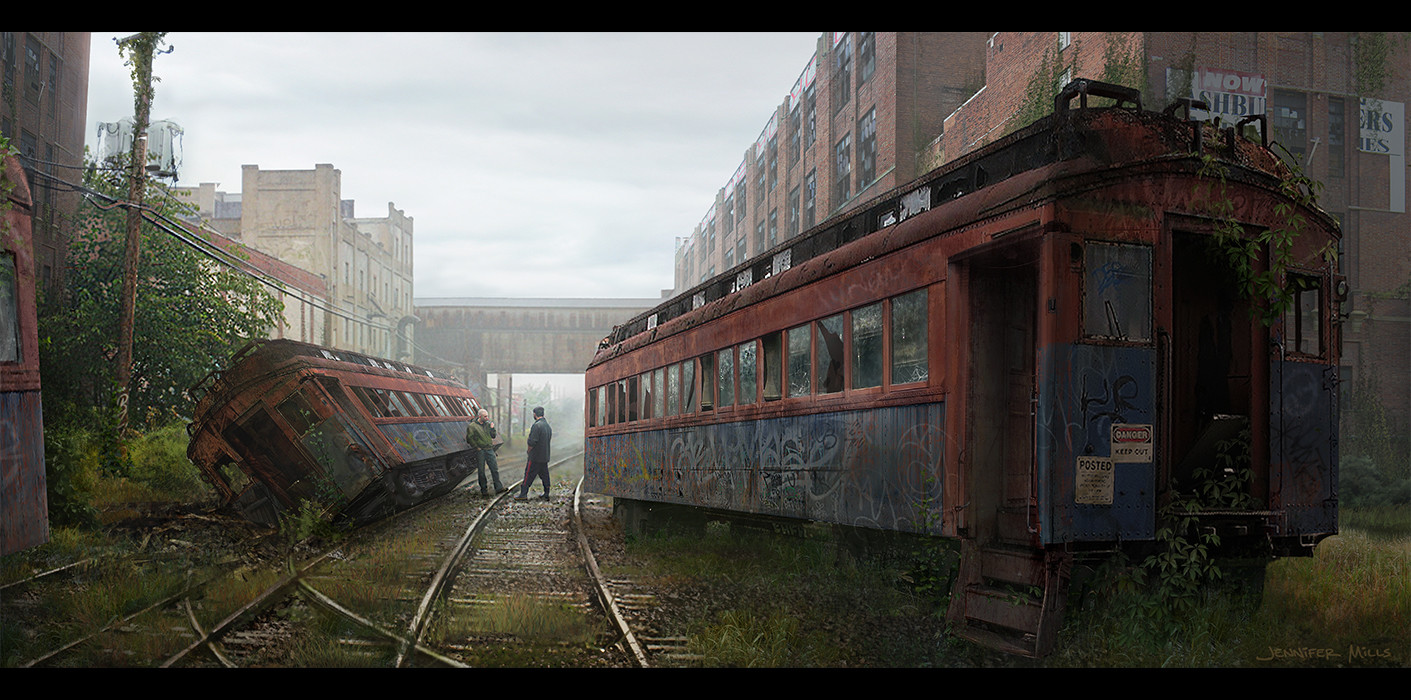 So my little monsters, that ends yet another blog on the subject of Pokémon. I really like dedicating myself to a subject , it may be niche but I do hope you enjoy some of my content.
Please keep reading in the future, catch them all and most of all stay pink! Also let me know why you think Montesquieu evolves from a cat please!
X