Hear Ye Hear Ye Princess Pinkie is here with her first Vtuber post!
Salutations loyal subjects and sweet Island Guests. Today we open a new category of blog topic, something I have become very endeared to! VTubers.  So I came up with a plan to review VTubers.. but that is tricky!  Some I enjoy more in clip format, while others I watch streams after the fact that they have streamed and yet others I do enjoy interacting with… so how can I review them all in a fair and funny way?!  By bringing back an old format I could not keep up with back then!  I may have staff, I may have knights.. but I do not have a real waifu! Well Sayaka is my waifu..but well ..that's a real person to me.. how about Verson/VTuber/Vblogger me?! She needs a Waifu as well… So let's look at how weddable these lovely VTubers are while telling you something about you! Today we start with the first VTuber I became aware of! Inugami Korone.
<Disclaimer>
This post will feature many clip and videos! Which sometimes do not show up in WordPress reader, so the ideal way to read these posts is on the actual Paradise Website
<End of Disclaimer>
Who is Korone
To be fair, the first VTuber I was aware of wasn't really Korone, it was Kizuna AI,  but back then it was not really called Vtuber! When she actually began doing sponsored mobile games a lot, I kind of fell off the AI-chan bandwagon! I missed the good old days where she played games like Limbo… Korone is the one that brought me back into the world.. and really hooked me to it!  When I saw AI I had a dream to be like this one day .. but she was too technologically advanced to ever live up too. Korone.. was a more reachable goal and while I am far from getting there as well..mostly due to money issues.. she became a big inspiration.
Inugami Korone is a japanese VTuber , she is a dog who works in a bakery, with her first name Korone being derived from the word Coronet and Inugami meaning "Dog God ". She  is part of the most well known VTuber group, HoloLive. She joined the group in 2019 and after a series of announcements, sneak peaks and teases she had her debut on April 14th.  While it took Korone a while to find her style, she nowadays is best known… to me at least, for playing mostly retro games. Which was a big appeal to me!  Her on screen persona is oftenly highly energetic and erratic. Korone has shown to be very emotional during many streams which vary from.. hyper-enthusiasm.. too  crying so hard she had to end/pause a stream. She also often gets "mad" at her chat! Which has led to numerous memes! Because she tells she would punch chat in the face if she could and she made it possible for her to do so even.
Her fanbase is called Koronesuki, which is depicted as a bald man, drawn in photoshop paint. The avatar of chat is known as Listener-Kun. Often Korone's dog mascot is seen on top of Listener-Kun.. but Korone has several versions of Listener kun.. including one with his face being punched in.. by Korone's first. Her name is being used as a pun for donations, which she only picked up on after streaming for two years! Many clip moments of Korone revolve around her interaction with chat,
The upsites on dating Korone
I am a dog person
Vtubers almost exclusively are demi humans, we have ducks, reapers, pirates, demons, alpaca's nymphs.. and Korone is a dog! She is 92 years old in dog years..or at least her avatar is and I get along with dogs really really well! I have this tranquil energy or something that makes dogs always vibe with me. My sister's former toy poodle for example was such a restless spirit.. but around me it totally calmed down and would just take naps in my lap! Even when I just met it.. it just wanted to lay down close to me.. and that's a reaction I often have with dogs! I think having a Waifu that wants to lay down next to me is a pretty good trait to have a solid relationship!
We have similar styles
So Korone manifests as quite the sugary little thing! Despite being a finger collecting, fan punching maniac! I do like them crazy, especially with some sugar on top! Korone totally fits that brief! She might just be Yandere enough.. and I do like them cute with rough edges. I have evil tendencies as well at times so.. we'd be a good fit! Her original song Wonderful World is basically how I would produce a song if I had the vocal cords, the money , and the musicality to do it! The only thing I can really do is write the song and come up with the concept.. but it would be something very very similar to this. I love how she mixes retro gaming tunes with a powerful idol girl song! Most of it is about cutting of fingers and Korone herself as well, using all the memes and iconic things about her! I think that is great… brand yourself.. I try to do that too! You don't need to do the thing everyone likes… just be you and she is totally doing that in this song, so we match in style as well. If I look at the direction it basically and the images used in this clip it is basically how I do my Sunshine Blogger posts! So.. yeah once again we quite match!
We can play Retro Games together.
In VTuber terms, even though I am 21….NO!  I KNOW WHAT YOU ARE THINKING!  BUT I AM NOT!! 34!!!  I AM 21! Let's try that again, so even though I am 21 I am considered a boomer in the Vtubing community!  I really love retro games the most!  I find a lot of modern day.. (Triple A)   games are generic. Why does a game have to have 2000 genres.. why do I have to humiliate other people? There are plenty of Indie games I still like, but mostly because they emulate the experience of the past!  Luckily Korone agrees with me!  I really hate games like Fortnite, Roblox or Apex so if I had a Vtuber wife who would just play those kinds of games, we would be such a poor match. But original Mario, Metal Slug or Spider Man 2000?! I am a game!  I could even protect Korone from some creepy worm-like enemies which she seems to be very afraid of! If she can save  me from wasps, or the B enemies in Donkey Kong Country 1 and 2 we'd be a great retro gaming pair!
We both bond with our game companions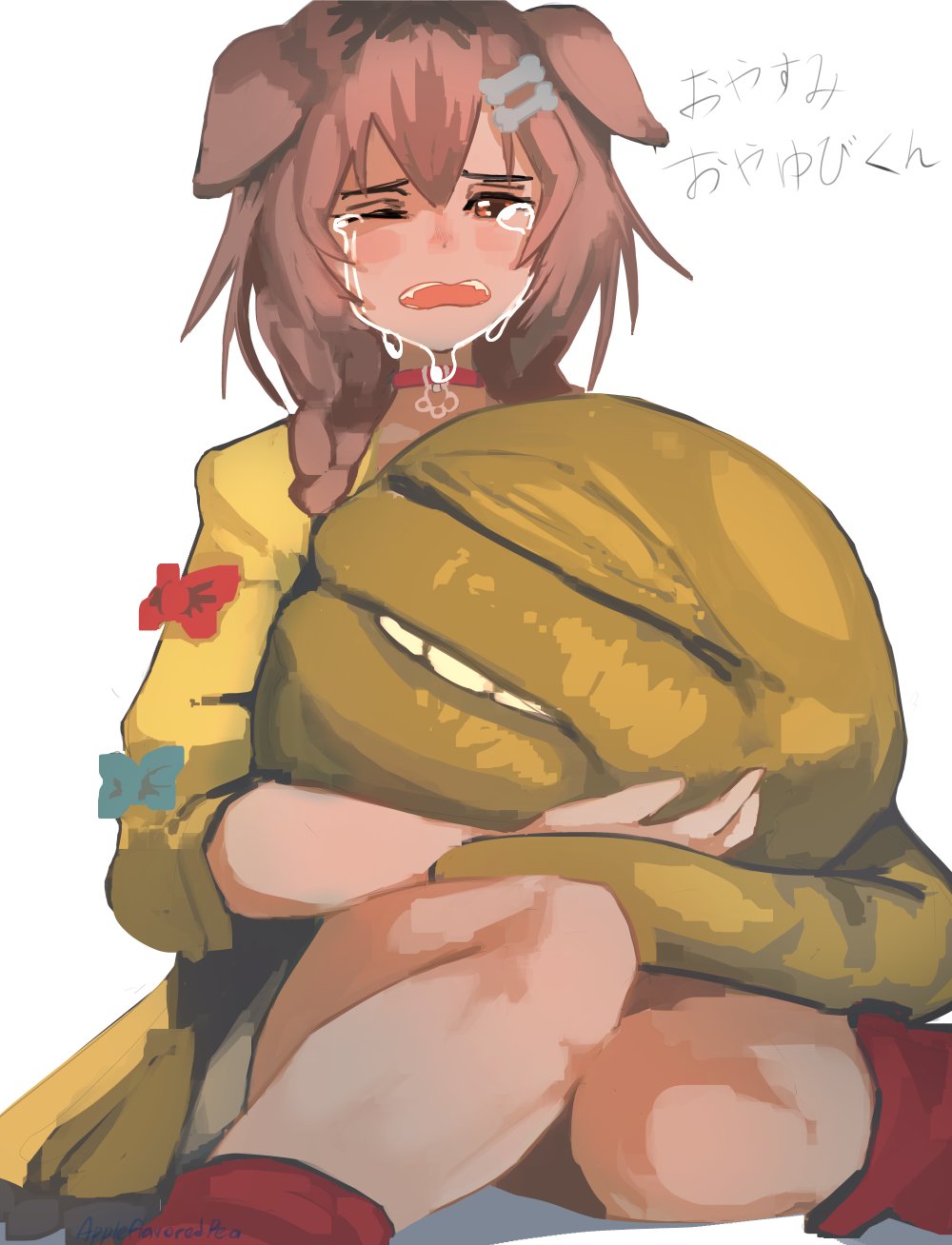 The best clip to show the beauty of Korone's soul.. and how amazing her community is.. comes from a time when she played Monster Rancher 2, she did her voice a bit differently from what she does now as the video is over a year old… but this made me cry so hard. I legit cried for an hour or so.. because I shared the pain that Korone experiences in this video! I play an occasional Nuzlocke and such, yet most of the time when my favourite pokémon dies, I can't bring myself to play anymore. I will be honest, I do not bond with every Pokémon .. but if I get a nickname just right.. and it develops in the right way and our bond is legit…. I am devastated when they die. I've heard Jaiden goes through something similar, I know a pokétuber called MandJTv says he goes through something similar.. but never did I experience their pain.. like when I saw Korone play this game. It shows me that she can bond with something virtual.. which is kinda important considering that my princess self is virtual as well! So now I know we can have a real connection
The Downsides on Dating Korone
She WILL punch me for backseat gaming
Imagine Korone and I are having a date!  We are playing a retro game together and things are going well!  I am sitting on her couch and it's her turn! I want to support her and cheer her on! I accidentally get caught up in the hype of seeing my doggo girlfriend/date play the game and cheer for her….with some directions here and there!  Well Korone doesn't really like that very much!  I do agree that backseat gaming is annoying..but her chat has driven her to a point that she will now inflict violence upon those who tell her stuff about the game!  I like my face… well at least my virtual face! I would rather not have my face punched.. That looks quite painful!
There are plenty of memes out there of Korone murdering people in Minecraft as well, she even has said the Iconic words Falcon Punch! And if you ever played Smash Bros, you know how painful it is to be hit by one of those!
She is a cat person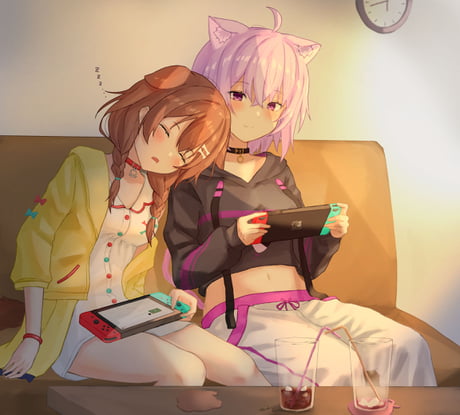 VTubers flirt with each other a lot, so it is no surprise that Korone does something like this as well , the object of her affection is called Okayu, a cat girl VTuber, whom I may or may not review in the future of this series, right now she is not in my field of interest. I will be honest I am NOT a cat person, at all. I would not go as far as to say I HATE cats, but I just can't bond with them at all. Even in Pokémon I pretty much never end up using cat pokémon.. even if Skitty is pink!    Either way Korone is VERY affectionate about Okayu , the two hang out in real life and Korone throws tamper tantrums when she thinks Okayu is about to leave for home because she doesn't want her to leave! She wants to be kissed by her and she totally adores the girl.. it's shown in pretty much every stream they share!
While I do not believe in traditional monogamy, the reason to engage in a relationship for me is to experience being so important to someone while having that person be so important to you as well. In a way that feels great to be a fan of something… but mutual I guess.  If I know she places  Okayu above me.. that reason to make her my Waifu would kinda vanish! I'd like to be the number one of her affection.. and I am not sure if I'd ever get that, and even if I do I would hear cat stories all day long and I do not like hearing cat stories!  I love it if you show you got a cat and introduce them to me through cute photos.. but I mean those stories like "Oh my cat wants pats… oh my cat is grumpy " .. they are the same every day!  So stop it Korone! 
She wants my fingers
Like I said before Korone is a bit of a psychopath,  she loves taking peoples fingers. The origins of this quirk is odd, she started collecting fingers because she needed an original opening. Among HoloLive Gamers she was the only one who did not have her own little intro and she asked chat if it was okay if she asked chat to give them their fingers. Chat replied Yubi Yubi, and so Korone assumed it was okay!  Nowadays it is a commonly known meme!   And while we can easily dismiss it as just that.. There have been several sessions of gaming where Korone seems super delighted to collect a finger or more!  Not just once.. she seems delighted every time!  Now she can cut off my legs if she wants.. I am not using those a lot … but my fingers I very much need to game. She seems to take index fingers mostly and that is my most used finger, it's my typing finger!  Or fingers. I hardly ever type with other fingers!  So I would lose the ability to blog and would become much worse in gaming… and over all I would really not want that!  I just am afraid that if she tries to put a ring on my finger.. it won't be attached to my body!
We are gonna have language problems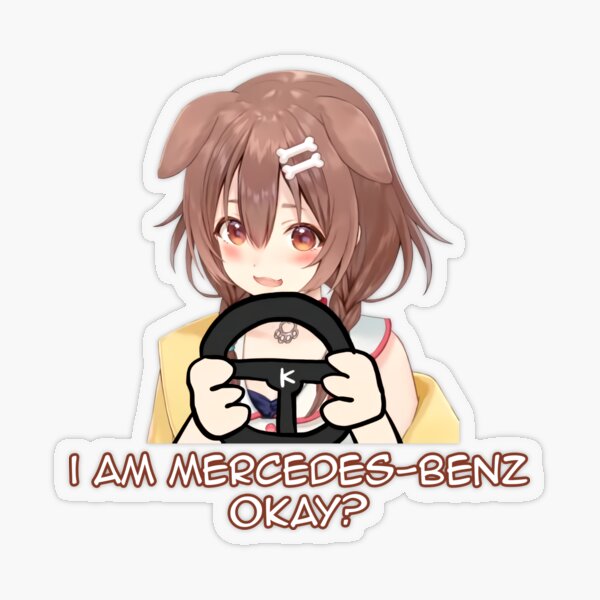 Like many Japanese Vtubers Korone doesn't exactly speak english and I don't speak Japanese.  Maybe if I tried very hard… VERY hard, I could be as good in Japanese as she is in English… but before you scold me, I already speak Dutch, local dialect, english and german and I can't help myself a tiny bit in french and spanish! Not that it will help me talk to Korone of course.  The difference between Korone and most english Vtubers is that Korone is easily one of the most memed ones for her bad understanding of english! She has english only streams as a sort of gag. She says some pretty strange things! For example, she claims to be Mercedes Benz!  She is also Volkswagon!  I am not into cars!  I can't even drive one!. If she takes a shower in the morning and our pipes are clogged.. I'd have to probably understand something along the lines of.  Water..in shower..inversion!  Peepay no hole! Okay?  She is very bad with adjectives.. and I use a lot of those!  Since I am not looking for that much of a physical relation with a Waifu.. I do think communication is a big thing! In fairness I think it would be pretty cute if we tried though.. kind of like that time she tried to defuse a bomb with a shinigami!
How eligible is Korone?
Do we have a future together? Probably not! Okayu is too much of a factor for me to overcome! The two make a great couple and I do not like to rip-up couples! Separations DO happen though in the HoloLive canon, so who knows maybe in the future! I am not even fully a model yet! So there is hope! She hasn't ever threatened to take Okayu's fingers as far as I am aware so if she can leave my limbs alone we'd be good!  In fact, since we are talking about a bride for my virtual self.. I think my unicorn magic would allow me to regenerate lost limbs anyway.. and she can have my pinky…ironically!  In the end I think we would be a cute couple to look at BUT it might be a bit of a superficial mariage! I'd pretend to understand what she likes about Eating Mike Tyson's ass… but deep down I can't understand.. I just can't explain that to her..so we will pretend everything is alright! WoooWoooWooo! In the end I give Korone a wedding score off 7 yubi's and a fingernail out of 10.
Do you know about Korone?! What is your favourite Vtuber?! Are there any Vtubers you'd like me to review in this series? Let me know! I am looking forward to do more of these! I have a lot of fun plans! So let's talk about Vtubers in the comments.. or let's talk about something else in the next post! Untill then! Stay random! *Quack*