Fairy-type tales time my sweet little monsters! When you read  this you will most likely be celebrating that you made it through another week of work. So to unwind we will retell a story that was first published in 1812. Written by the brothers Grimm, adapted by Disney in a classic we all love and requested by Raist, a loyal little monster who has been following this blog for a while now! Click on his name to go to his very own blog where he talks about some amazing geek stuff! But without further ado, today we have converted the tale of Snow White and the seven dwarfs. Today Pinkie Cherryblossom presents you: Snowy and the Seven Spoink Part 1 This one will be split into two parts because there is a lot to tell!
Chapter 1: The best value
in a realm very different than ours there lived a king named Ditto!. He was a good and noble king, who had many wives over his life.. Many Maaaaany wives! Yet none he loved so much as his second to last Ninetales. They loved playing together all the time and then one day an egg had suddenly appeared. From this egg came a little Vulpix, whose fur was white as snow, her eyes a mesmerising cobalt blue and when she would sing joyfully a aurora veil would appear dyeing any room she would appear in with beautiful lights. Because she was so different from her mother, and all the other vulpix they decided to name her Snowy. Disaster struck through when Snowy's mother disappeared. The kings sibling Ditto, informed him of some grave news. It saw the queen get captured by a human. The king and Snowy alike were devastated by this loss. In an attempt to give Snowy a good home King Ditto remarried. He managed to find a Ninetales that looked exactly like her mother exactly like his beloved wife. Yet Snowy always knew, the new ninetales was cold and mean and did not really seem to love the king. She spent most of her time in her own room looking and admiring herself. She was never there for the king, not even when he got sick. Even the best Audino and Chansey in the land could not heal the king, until eventually he fainted. Snowy was all alone now, her stepmother shed but a single tear at the funeral.. and even that one looked fake. The queen withdrew into her quarters again.
The private quarters of the queen were very different than the rest of King Ditto's palace, it was dark and gloomy, a cauldron bubbling in the back, a very odd somewhat drafty bookcase and stack of pillows where Ninetales slept without her husband. Yet none of these where the items the queen had come here for today. She came here for the item she always came for, the item hanging on her wall. It was an LED display, framed by red plastic. rectangular in shape. Yet the red plastic had a downward crescent shape at the top, and in the middle of its highest point a single red spike would arise. Right above the display it had two closed eyelids. Two protrusions on the either side formed what looked like arms both having a button at the end. This was the queen's most cherished secret and prized possession as she scraped her throat and addressed it. Magic Rotom Dex on the wall, who is the most valuable pokémon of them all?! The Rotom would open its eyes and spoke. Alolan Vulpix has some great individual values, while Decidueye scores great on effort values, but none have them so well combined as you my queen! You are the best pokémon out there now that King Ditto is gone'. Ninetales saw her own picture appear on the Rotom Dex and grinned menacing.
Chapter 2: Snowy and the Huntsman
A year would pass since the death of the king and much like Ash Ketchum, Snowy did not seem to have aged a day. She was playing on the castle grounds after she was done with all her chores. She wanted to go discover new places of the castle to play in. She discovered some stairs down, it was guarded by Decidueye. An owl like pokémon that had seen many battles and was very strong through experience. He worked for her step-mother but they always good along. 'Hi huntsman can I go play down there' Snowy would ask cheerfully' The Pokémon looked at her from trough red glasses, his leafed cowl would shake telling her no. He straightened his tall white body and puffed up his beige feathered wings he could use as bows , to look a bit more intimidating. ' No Snowy you can not, has your mother never told you? This used to be a place called the dungeons, though there were a lot of mysteries in there to explore before, we had a cave in.. just before former queen Ninetales disappeared. We suspect it was the humans! They must have set traps which destroyed those subterranean levels, and your mother told me to guard this area and not even let you in' Snowy puffed up her cheeks and said 'she's not my mother' The owl gave Snowy a headpat before winking at her. 'But you know they say somewhere in the castle there is a palace that still leads into the dungeons, if you are really brave' Snowy got all excited 'Do you know where it HM?' she said while bucking in excitement. HM was a her way of addressing the huntsman, it felt more personal that way. The huntsman laughed and said 'I do not ..but tell you what if you are a good girl and go play outside, I will keep my EYE out for you'. Snowy nodded excited and dashed of to go play outside. The huntsman chuckled, while wondering if it had actually been a good idea to tell her about this, he hated to see her sad though she had been through so much already.
While playing outside Vulpix wandered of into the wilds, she went to her favorite spot in the woods. For some reason there was an opening in the forest where huge wooden constructions would rest. Large wooden X shapes with a wooden surface on top.  To the side of each of these X'es would aos be to lower smaller wooden surfaces. HM once told me they were called "picnic tables' She liked it because sometimes, food wood randomly appear on this spot. This time as well. A brown container lay on the ground holding some pallets that smelled like Nanab berries  lay on the floor. It was labeled C-A-L-C-I-U-M. Vulpix had no idea what it was but she would eat it anyway..it smelled really good and as she ate the Calcium pallets she felt herself being more healthy and even a bit stronger then before.
The queen was ready for her ritual again, having entered her room again a wailing on the wind can be heard from her bookcase. She ignored this and went straight to the item she cherished so much, that what would confirm she was still the most valuable  pokémon. 'Magic Rotom Dex on the wall, who is the most valuable of us all?' she said once more.
Rotom Dex awoke a bit grumpy. 'Like I told you before your huntsman has great EV's ..but you are…… wait…… Alolan Vulpix has gotten a fair bit of effort values and now is the strongest of you all. She outclasses you in both Individual as Effort values and…'  the rom was interrupted as the queen sent a powerful hex towards it causing it to flicker for a bit!|
'Huntsman I need to speak to you now! I got a job for' the queen said while storming towards the throne room.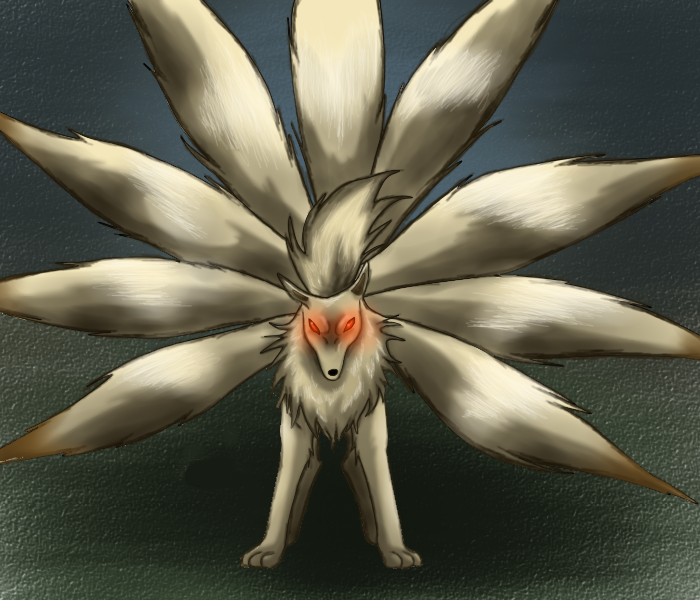 Chapter 3: A bad day to be a swinub!
''HUNTSMAN!!!!'  The queen stormed into the throneroom seeing the decidueye bow to her. 'I have a job for you'  she hissed coldly. 'Anything for my queen' was the answer she got prompting a cruel smirk from her mouth. 'You need to kill Snowy.. that brat has become an eyesore I need her gone… bring her into the woods tonight and bring me her heart so I may devour it'.  The huntsman went silent , cold sweat appearing on his face. After a while he began to stammer. 'M–m-my q-q-queen she's s young… i am sure' 'I AM A FIRE TYPE with ghost moves .. fail me.. and you will die… and I will show your wife your fainted corpse'. Decidueye seemed to mostly scare of the last part.  'Y-You wouldn't .. please my queen' Ninetales laughed cruelly 'she will not mourn you after I show her… she will hate you' 'I…I…I shall do as you wish my queen'.  With a flourish of his wings the huntsman went out standing at the drawbridge waiting for Snowy to return.
The alolan vulpix was on her way back to the castle, she wasn't allowed to play outside at dark, well her father never allowed her too, stepmother couldn't care less, but Snowy would honour her father's rules. Seeing HM standing at the drawbridge she bucked a bit in joy to tell him about her adventure today.  She ran towards him 'Hi HM … I found some really tasty pellets today, they were super jummy and i feel super excited' . The owl looked to the ground. 'Snowy.. I … need you .. to show me where they were…. I'm….eager… to see… if there is more'. The vulpix tilted her head 'you sound sad.. is everything alright?' The bird shivered 'Just do what I ask'.  Snowy a bit scared by his sadness figured some pellets would cheer him up however so she ran in front of him singingly. A small little aurora veil would appear. Reaching the picnic tables again, Decidueye flew up and set on one's ledge. 'I am sorry Snowy… the queen has ordered you to die' said the owl while nooking one of his arrows and pointing it at Snowy.
Tears began to brim from her eyes. 'But I don't wanna die.. please HM.. we are friends right… don't do this?' Vulpix was frozen in fear she could not go anywhere, by now the moonlight was bouncing of the huntsman giving him a very intimidating look … teared up eyes staring at her and the point of his arrow glimmering when suddenly the arrow began to shake heavily. "I …. I can't do it, but your moth……the queen she will come after you….. I will distract her Snowy… but you have to run and never come back… leave now… run'! Decidueye shot an arrow  close to her paws to scare her away. the vulpix crazed by fear dashed of crying big tears of fear and feeling betrayed, he was her friend , he just tried to kill her, but he helped her as well. Her thoughts raced through her heads.. Maybe the queen killed her father as well, that is a very scary tree, where will she go… would she die?
With this storm of thoughts while constantly moving she had no idea where she was going, the only thing she knew was it was away from the castle. 
Decidueye collapsed to the ground, he would die now.. the queen would certainly kill him. His wife would know his terrible secret. He had to come up with a plan of sorts, a way to make sure the queen doesn't find snowy, a way that she doesnt find out. He would have to find a way to trick her. Suddenly there was some rustling in the bushes.  A swinub came out to greet him. ' Hello friend, who are you? My name is Swinub… OINK… I saw you fell of that mighty hight thing there and thought you might need help! OiNK! How about some berries OINK! I do not mind sharing mine with a new friend'. The little pig had a bit of an annoyingly high pitched voice it seemed very excited at the sight of a new pokemon though. The decidueye looked at it and sighed 'You can help me,  you are an ice type right?'
The pig jumped in excitement! 'Oink! That is correct friend! I know I might be super effective against your grass type.. but I have no desire to fight my new best friend! OINK!' The decidueye spread his wings and looked at the Swinub with a sad look. "I need you to give me something, I need to present my queen'
That is where we leave part one. In the next one Snowy will  reach our other titular friends and we can hopefully conclude this story! What secrets do the Queen and Decidueye have, will our little heroine get her happily ever after or will the Queen's type advantage let her regain the best IV's and EV's?  Find out next week! Leave a like or a comment on what other Fairy-Type Tales you would like to see and remember,
I am not  weird, just very pink!
Until we read again.