Hear Ye , Hear Ye! Princess Pinkie has returned with a gaming post!
Salutations my loyal subjects and sweet island guests. This video game review might be the last normal one I play in a while. I got something new planned that I am really excited about! Something very random! Yet today I want to talk to you about a very fun game I played with some friends. Mario Party! Except it's not Mario Party. It IS ..but also it isn't! The game I am talking about is called Pummel Party!
A Rebuilt Game
Pummel Party is created by a studio called Rebuilt Games who offer their fantastic game for just 13 euros on steam, so I 'd estimate about $15 dollar or so. In this game you play a coloured dude hidden in some sort of customisable morph suit! You play against 1 to 7 other guys dressed in a coloured Morphsuit and that's it. How do you do that?! Well you walk across a board game by rolling a ten sided dice, which can land you on all sorts of tiles that make the overworld react with you, you either get a currency, in this case keys, you can make a ghost steal other's people's keys…or rip them apart, and you can gather items or make random things in the world happen.. like the water level rising. You all do this so you can reach a specific spot at a board where you can exchange your currency for a chalice! The one who owns the most chalices at the end is the winner. At the end of every round you play a minigame.. and at the end of the game you are awarded bonus chalices that can totally change the game.. you must not just try to play for yourself but also hinder other players from winning …and …. wait… this is THE EXACT gameplay of Mario Party?!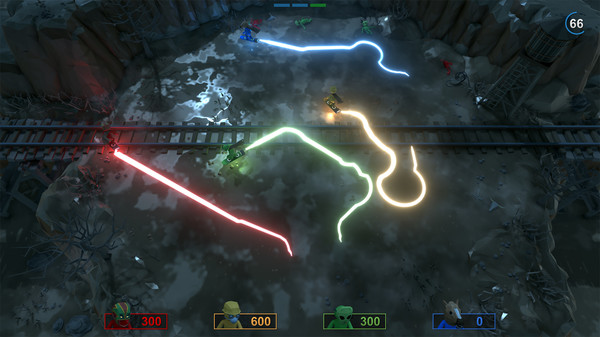 Yes let's get this thing out of the way first, this game is Mario Party without the nintendo license. Instead of 20 (or 10) coins you need 40 keys . Instead of a toad, there is just a chest you open.. instead of Boo, it's the Grim Reaper, but nearly everything you can do in this game is just based on Mario Party. The way the map branches of in all sorts of routes, the way you can earn currency trough minigames. Even the bonus stars are copied. If you like Mario Party as a concept but never had a Nintendo console, this is the game that emulates the sensation quite well! Extremely well even.. during the game all my friends and me kept using super mario terms for words because we just felt this was Mario Party.. yet at the end I had to draw a conclusion. I liked Pummel Party more than I like Super Mario Party.. by a fair margin! At least compared to the newer Mario Parties. This game feels more like a modern take on Mario Party 1.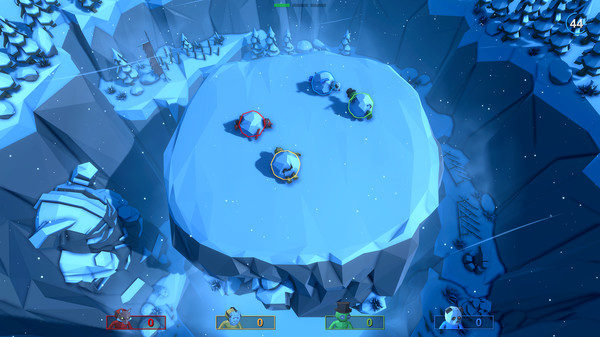 A party for everyone

To a lot of people, the Mario flavour is what makes Mario Party games so fun! It's great to play as Mario or Peach and humiliate your friends! Pummel Party has no such sentiment, you play a blank character in some general stages. To many that will mean this game already is deemed inferior. Yet I like to argue that Mario Party has a bit of confusing flavouring. Suddenly Peach is as physically strong as Donkey Kong and Bowser, suddenly Mushrooms and Stars work very differently and while the characters are super iconic their motivations and story changed quite hard. That is not a problem, it is a perfectly fine solution ..but it DOES show that the "Mario" Part in the party is strictly a cosmetic one. There isn't anything intrinsically Mario that makes the party better. It's just Mario being there that makes it fun and easier to fall in love with characters or stages to those who love mario. If for a moment we would strip all recognisable features away.. I think Pummel Party is the stronger of the two titles, because it knows it is a more generic game and caters to it.
Pummel Party needs an angle.. it needs to have it's angle in gameplay, rather than esthetics and that it does. You see where in the more known series you can screw each other over a fair bit, this game takes that much further. You do not just steal coins from each other. You shoot each other in the face. Toss Nuclear Waste on others and can actually murder characters on the overworld map.. which resets them to a more disadvantageous position. Even in the minigames, you do not just win currency; those who do well get rewarded with items to mess each other up a bit. Another great idea is that turn order is based on how you performed in Minigames. This makes it so that someone can dash for a chalice if they do well at Minigames, but also allows the later players to mess them up a lot more as they are oftenly in the more reactive slots. The items in Pummel Party are less "cryptic" .. A boxing Glove punches someone in the keister, while a disintegration death ray does exactly what it says on the box. My favourite item is the nuclear waste, which causes extreme swellings and damage over time.. but that same swelling prevents the affected player to use items. Either way of battling you can enjoy it if your not a big Mario fan.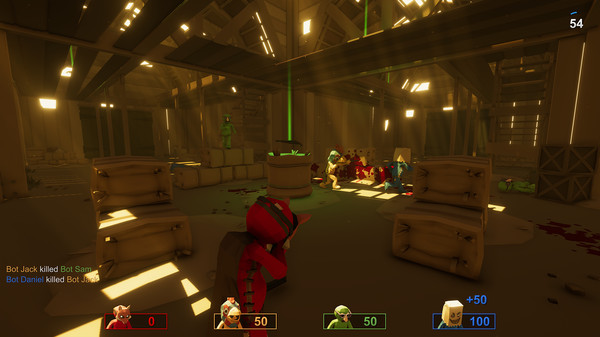 The same thing happens with the minigames of this game. The first Mario Party and maybe the second one, were simple enough. Bounce each other platforms, hit stuff with a hammer to get as many coins as possible! Yet as Mario Party moved on, these minigames became less user friendly. Mario Party 10 brought it back to normal a bit, but a lot of their minigames tend to feel gimmicky. "Where do you detect the most rumble, water a flower in the distance, using balloons and stuff. It's all okay and simple enough to understand but some games tend to really farfetched. Pummel Party goes for a much simpler approach in 90% of their minigames. Play a game of "King of the Hill" , play a short round of a third person competitive shooter, play a short bit of air combat game and play 3 rounds of slither.io/snake. It feels much more as if you are playing actual video games that have been scaled down, rather than play gimmicks with a mechanic to beat it fast. As a result most games feel much more instinctive with a bigger focus on direct competition which increases their fun.
Hushed Game
One thing where Mario Party has Pummel Party beat is at it's sound design. Pummel Party has a very quiet feel to it. There is no loud background music and there is not really any memorable music in the games. It all is very far away. Even when you pick up keys on the maps you don't hear clingely sounds or something very satisfying. You do hear each other's bones cracking and the weapons firing as you go around, but other than that it's a bit boring in the audio department…. then again I think this is a good thing as well. You will play this online with friends, perhaps stream the game or whatever people do these days. The music is so silent it will never get copyright claimed, if it would even do so at all! The game even partnered with Twitch, having some Twitch inspired costumes and even a stage based on Twitch! It was perfectly mixed to hear my friends on my headset while still knowing what is going on in the game! Yet the sound design does reveal a secondary flaw compared to Mario Party.
While you CAN technically play this game by yourself against AI , it is not very fun to do so. The AI is a lot more competent than it's Nintendo counterpart but because everything is so quite, when no one is talking to you, the game is quite boring. It just does not feel satisfying to use that disintegration laser on an undeserving AI, while it feels hilarious on an undeserving player, just so you can get an achievement out of it! Mario Party has things talking to you, a more upbeat soundtrack and other things that can really make a game, this game unfortunately can't do the same! No story mode, no mini game island, no single player content at all. It really is made to play with your friends! The game has a chat feature so even if you are shy to talk, you can communicate, which is an option I very much appreciate, even even if just chatting the game is pretty fun.. but the motivations to use the cool items are much more personal So playing this by yourself is pretty much a no go.
The game isn't too ambitious with it's unlocks either, you can unlock some cloaks for your character but that's about it! The game does seem to receive some updates every now and again so that is a plus, but again in it's design it just feels a tad bit tinier than the well known franchise. Maybe it's a tad more humble?! The game doesn't have that many stages, though still more than the most recent Mario Party and one of the stages has a random layout so in terms of repeatability this game will go far! As long as you have friends to enjoy this game with!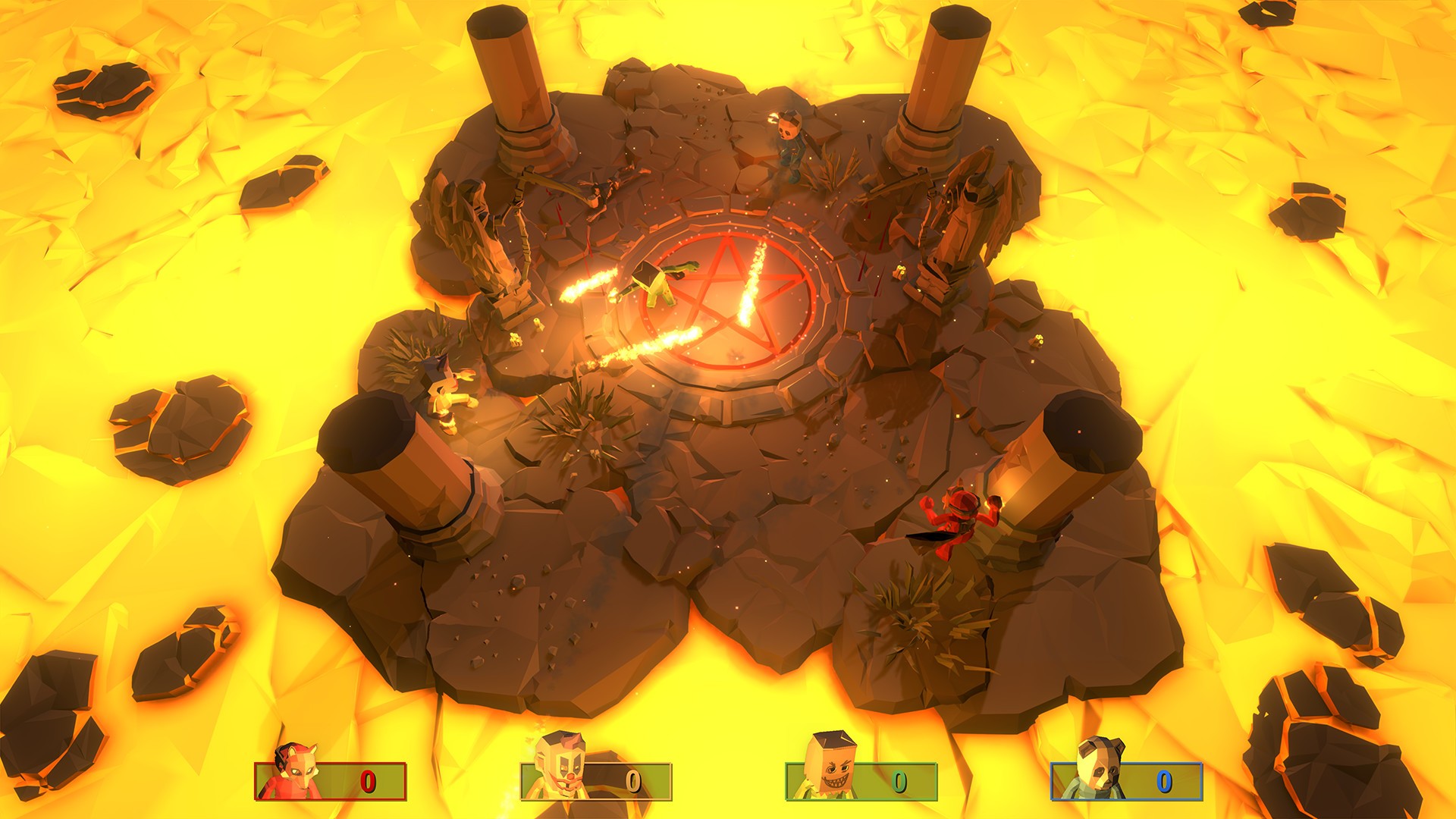 The game also has a slightly higher pace than the title I mentioned many times already! There is less dialogue due to it's quiet nature and every dialogue pops up faster and is handled with a single button press. We don't get shouty pop ups for every turn, we do not have two random characters making bets on who is going to win and there is no huge stage exposition! The game kind of expects you to know how this game works from just looking at it.. or by experimenting and reading descriptions and for that I do really love it again. It has a much better pacing and drops silly things like having a minigame on the last turn, as earning keys no longer matters; it can simply be cut! It does a great job!
I genuinely believe that this game is in many ways better than it's bigger more famous inspiration. It feels more accessible and more for gamers, at the same time making it something I truly could get on board with. It cuts the clutter and doesn't beat around the bush as much and honestly I really do like dressing up as a Pink Morphsuit Ragdoll with a unicorn hat and a rainbow cape more than dressing as an iconic character. It is hard to explain the feeling but because the drop of famous characters you can punish each other in more satisfying ways, you can be more build and visual and it results in more satisfying minigames. Mario can't be cut in half with a lightsaber but a pummel buddy can! It triggers these primal instincts and I just end up feeling more satisfied with this one! I really love a game of Pummel Party!
Have you played Pummel Party?! What did you think about the game? Have you always wanted to shoot a death beam of doom at your friends? Let me know in the comments and if you want me to find more party game gems like these please consider supporting my Kofi! Kofi for content! Stay Random!