Hello again my little monsters, each monday I will talk about a specific Pokémon, of course when kicking off this blog I just need to make one post for everything so it might not be monday.. but meh! Anyway talking about my favorite Pokémon off al time seemed like a good place to start. You have read the title..most likely, so you already know its Sylveon.
Design:
Let's break down why I love this Pokémon so much. Step one it's design. In my humble opinion it's the best looking Eeveelution by far. Of course it helps vastly that it is made in my favorite colour and its absolutely cute as a button but there are so many design choices that work for it as well. Putting it leagues above the likes of Glaceon Jolteon and Leafeon, and putting it still quite a bit above Flareon, Espeon and Vaporeon. It's only rival in my opinion is Umbreon. They even help each other boost to new levels. Eevee to me is kind of like the ultimate "pet" Pokémon and I prefer the Eeveelutions that keep that quality.
Jolteon Vaporeon and Leafeon kinda drop the ball in this category in my opinion. Jolteon looks to "rough" for a pet, while Vaporeon gets too "weird" to be a pet, it's fishtail and that big collar make me think it's kinda slimy and not as huggable. Leafeon becomes too skinny and frail looking, giving it a much more "wildlife" vibe to it. The others all keep the "pet' feeling quite intact. Next on the agenda,does it read like it's typing. Umbreon Sylveon, Vaporeon Flareon and Leafeon read incredibly well as their types. Imagine watching them in black and white, for all of those you can still pretty much tell what type they would represent.
Espeon's readability doesn't directly scream psychic.. it's mostly the colour that gives it away, the split tail or gemmed head might remind of us psychic by referring it to other things and legends and the likes it doesn't scream it out to me. Jolteon in black and white would be just a spikey dog, something I if I wasn't aware might rather class as a bug type like look. Glaceon just looks sharp, there is nothing that would give away it's ice type accept for its colour, if I saw it in black and white I might think it's a steel type or so instead, it just has it's colour going for it really.
Now why does Sylveon's design work so much for me? It represents the Pokemon perfectly, much like Umbreon. Where Umbreon is very sparingly decorated to represent the emptiness of the night with their only being the moonlight to keep you company Sylveon is in many ways the polar opposite. Sylveon becomes what it is by showering it with love and presents ( sweets or games etc) and that is captured in its design very well. It feels lavish, it feels like it's been groomed. The ribbons representing all the stuff you deck your pet out with, giving it a much needed departure from the very basic peers of it. It feels more colourful than the others, yet it doesn't actually use more kinds of colours then most.
Most of the family is made up out of four colours, with some minor intensity changes. Though some only use three. Sylveon is made up out of just four colours as well.
The slightly pinked white, the bright pink, a light blue and a dark blue. Yet with Sylveon you feel like there is more, I for one distinctly and always remember there being a softish yellow on it's ribbons as well as the four earlier mentioned colours, and it's eyes just are more sparkly for me. When it's out of the pokeball and the ribbons wave around it just feels so alive and vibrant to me that I just think … I would love that to bits… and that is exactly what Sylveon has to be about.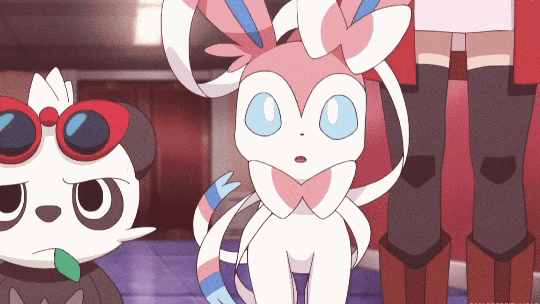 In game
Now if a great design automatically meant a great Pokémon, I would always run Swanna and Alolan Ninetales in my team, but unfort, I don't particularly enjoy battling with either. Alolan Ninetales really felt lackluster when I ran it on my team..partially due to how terrible the ice typing is. Most of the Eeve's are not very usable in battle. Flareon, Leafeon (kinda) Umbreon and Sylveon being the exceptions. Leafeon being bogged down by needing a lot of set up unfortunately can't compete with the other three. In fact the fire dark and fairy trio are pretty much the only eeveelutions you get during Random Battles at Pokémon showdown.. a good way of telegraphing what they are capable off. Sylveon being the only one of the three, that can fulfill a more versatile role. Umbreon will always be your toxic stalling wall. Flareon you run with an Toxic Orb and Guts and the whole physical sweeper shabang, that Swellow and Talonflame do better. Sylveon can function as a toxic staller, as a team healer, with Pixilate-Hypervoice it can adequately damage as well and it's one of three Eevee's that has an immunity, the others being Umbreon and Eevee itself, for safe swapping. The fact that it can safely be swapped into a subbed (behind a substitute) outrager makes it nice to use in some friendly battles. During the regular game its bulky enough to take some hits and strong enough to deal some damage, making it a delight for your team in that aspect as well.
Here is where Umbreon falls a bit flat for me, as toxic stalling mostly shines in Nuzlockes, which I don't like cause I will cry if my Pokémon dies. So another point for Sylveon.I also feel I encounter more fighting, dragon and dark types then I would encounter psychic or ghost types so yet another point where Sylveon has what the japanese call "Blacky" beat.
Appeal
'Okay great Pinkie, yes Sylveon might be on of the better Eevee's but why use that overused troper, there are so many cool Pokémon, why would you keep going to Sylveon?'
That is a good question actually, whenever I do a run without a Sylveon in my team… I feel naked. I feel like I am actually lacking something. Poke-Amie isn't exactly my favorite thing to do in the games, but the feedback when a pokemon hangs on for you, or when it looks at you when it landed a big hit, it does do something for me. I care more for such Pokémon, and because I can't escape that with Sylveon, even when I rush through a game otherwise, it will be the one I care about most. I've bonded with this Pokémon in a way like I never did to a Pokémon before. Not even the follower Pokémon in Heart Gold and Silver not even the Pixelgoop, I mean Pikachu from Yellow, felt as close to me… and as loving to me as Sylveon does. Though I love Pokémon very much, the idea of creating a Pokémon that actually loves you back I'd say was a stroke of sheer brilliance. Sylveon doesn't love you because it walked enough steps or murdered enough of Joey's rattata to max the damage on return? No you have to earn it's love to draw out it's potential, you have to make it love you, and when it finally does it always will. Sylveon might not have been my first Pokémon, it was my first Pokémon companion, dramatically increasing how much I like it.
The very way it is designed, the way you evolve it and interact with it, I have never felt a Pokémon to be as much of a pal to me before Sylveon.
Of course Let's Go Eevee and Pikachu blow it out of the water now, but hey, I might have nicknamed my Eevee " Sylveon" and when it uses Sparkly Swirl… it channels the spirit of its inner Sylveon…not because I love it .. but because it loves ME! No other Pokémon can do it like my pink little adorable ribbon floof. No matter the design, no matter the mechanics. Sylveon loves me…and I love it because of it.
Well then my little monsters, I could go on about Sylveon's cute anime moments, and how I love it's cry, and its Gijnaka's but I figured it's time to leave the floor to you.
What is your favorite Pokémon? Leave a comment to tell me! Leave a like to farm some affection from me.. so one day I may turn into a real life Sylveon as well.
But before that day has come, be good to your Pokémon , make them love you but love them back and stay pink!
Until we read again.