Hiya my little monsters!  Happy wednesday! Five weeks ago we started this blog, just like four weeks ago Ash started his journey through Kanto again. This time however he did not get a Pikachu, he got a very timid Eevee. We saw Ash struggle with his cowardly Pokémon as both fell in battle against some spearow. Revived by Ho-Oh's  sacred ash they caught the attention of three onlookers from the sky as Ash held a rainbow feather he found on his person. Accompanied by Misty they decided to head for a Pokémon Center to check out if Eevee is and Ash are alright, even though they don't seem to have any injuries at all. You can brush up on part 1 by clicking here.
Chapter 6: A Run-In with the law
Ash and Misty are walking towards Viridian City when they hear an announcement through a city wide PA speaker. 'Attention! A group of mysterious strangers have been spotted. They are allegedly pokémon thieves, everyone be on the look-out for  strangers.' The message ends when suddenly a dapper looking woman runs towards the group. 'Hey you Halt' The woman has shoulder length hair which fans out all across her shoulders, The hair is a rather unique turquoise like colour. Wearing a short skirt police outfit that is mostly indigo coloured with a large cyan triangle shape following her chest line. Donned with Red and golden details the outfit is quite official looking as she looks at Ash and Misty sternly.
"You two what is your business here in the city' the woman says. Misty takes the lead being a bit more familiar in the environment. 'My name is Misty Waterflower from Cerulean City and this is Ash Ketchum from Pallet Town, Eevee and Ash got attacked by a group of Spearow and we want to have them checked out at the Center.'  the policewoman frowns. 'Eevee doesn't look injured at all nor does that boy..though his clothes are tattered.. please follow me inside the police station for interrogation.. my name is officer Jenny' Jenny waves the couple to follow her inside a small round building.
While Ash and Misty take a seat Eevee hops onto Ash's head.  "Why isn't Eevee inside it's pokéball? You aren't those pokémon thieves everyone is talking about would you?' Ash looks startled and insulted. 'No I would never steal a pokémon, and Eevee doesn't want to be in his pokéball'he takes out the pokéball to demonstrate. Eevee flees at the sight of the pokéball, crawling under officer Jenny's desk looking at her a bit defiantly for causing this traumatic situation.  Jenny chuckles a bit at this warming up to the strangers a bit. 'Well why are you covered in ash Ash? How are your clothes so damaged but you don't have a single bruise?'
Ash looks to the floor 'I don't know… I felt so much pain… than everything went black.. I thought I was going to die but then I just woke up with this' Ash shows the officer his rainbow feather who looks intrigued. 'Well I need to see some ID and then you can be on your way for now!'. Jenny smiles , her years as an officer has shown her to judge characters properly and these two are definitely no criminals, but very weird. 'I don't have any ID" Ash says embarrassed. Jenny frowns once more 'Well.. that's gonna give some trouble' From above… they can suddenly hear some laughter as two Pokéballs fall through the little skylight in the police building. A dandy male voice speaks 'and make it double' just as the pokéballs burst open. 
Chapter 7: Koffing up!

From  one of the pokeball a small purple rattlesnake , with yellow rattles on its tail and equally yellow eyes. Justb below it's head it's purple scales transition into a collar shaped yellow scale, before returning to purple through the rest of the body emerges. Dashing forward it destroys Jenny's computer and sends her back onto a wall. A female icy voice from above seems to command it. "Ekans Attack'
From the second  pokéball a spherical pokémon appears. Covered with geyser like protrusions that release a mustard coloured gas it's body is about as purple as the snakes. A big dopey grin rests on it's large eyes are fixated on Ash. A skull and crossbone on it's lower body reveal that the mustard coloured gas is most likely poisonous A dandy voice from above confirms this when he shouts "Koffing use Poison Gas'. The orb begins to fill the room with a noxious gas.
'Everyone outside' Jenny shouts while finding the way to the exit herself. As they make their way outside  coughing and dazed from the gas they are cut off by two figures sliding down a rope from their balloon. Alongide a cat Pokémon. They begin to do some sort of rhyme.

To protect the world from devastation

To unite the people within our nation

To Denounce the evils of truth and love.

To extend our reach to the stars above

Jessie!
James
Team Rocket blasts off at the speed of light!
Surrender now or begin to fight
Meowth! That's right!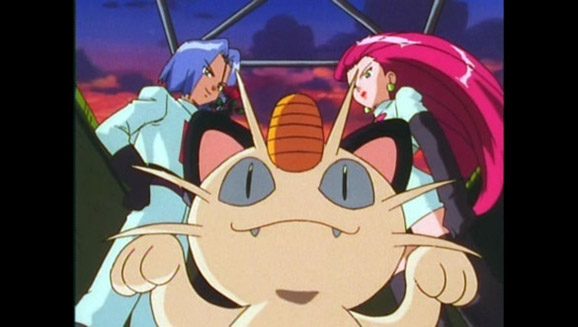 'So you are the Pokémon Thieves' Jenny says. "Meowth That's Right' is her answer. The man who introduced himself as James looks at Ash and Eevee. 'We have come for that boys Eevee and that mysterious item that made them rise from the dead' 'We died?" Ash asks. 'Meowth! That's Right' would once more be the answer. 'Well I am not handing you my Eevee' Ash says while stepping in front of his pokémon. The crimson haired woman laughs  and says 'We do not expect you to give it to use twerp so we will just take it instead' Her white short top features the letter R quite prominently as she waves her black gloved hand towards the boy and commands her Ekans to attack him. Jenny wanting to intervene is cut off by another cloud of poison gas. The man commanding the koffing wears a white overall with the same letter R. His hair is shoulder length and the most glossy and soft you have ever seen. It's tinted in a purplish blue. As Ash flinches in front of Eevee the little pokémon runs between it's owners legs and tackles the Ekans keeping it away from Ash.  James immediately sends Koffing in with another cloud of poisonous smoke enveloping the pair. Ash and Eevee begins coughing as their sight is blurring. They would have to finish this fight fast! 

Chapter 8: Phone Home
With Ash and Eevee struggling for breath they were saved by the young tomboyish companion that had escorted them into town 'Staryu..blow that smoke away using your rapid spin'' Misty skilfully commanded her brownish sea star pokémon donned with a red gem in the middle. set in a golden ornate circle. The Starfish began to rapidly spin around creating a big gust of wind that send back the noxious clouds to the two criminals and their pokémon. Jenny who was quick on her feet used this moment  call for her growlithe. An adorable yet intimidating fire tiger dog. 'Growlithe ignite that gas with your ember' The orange pup obeyed and fired a little bolt of fire towards Koffing smoke which ignited and caused a large explosion blasting the criminals away from them.. as well as making them hit the wall of the police station. When the smoke cleared, the criminals were gone.. shouting from their balloon in the sky. 'We will get that revived Eevee and that item the next time.. just you wait' Then their ballon ruptured making Team Rocket fly away. 
'Is everyone okay' Jenny asked while checking around. 'Yes we are unharmed' Ash said with Eevee sitting on his head again. 'Staryu and I are fine as well' Misty added.  Jenny looking at the boy and his eevee scratched her head. 'What did they mean when they said you had risen from the dead' Jenny asks Ash. 'I do not know Officer Jenny I just woke up covered in ash and with this feather in my hair' the ten year old boy showed the rainbow feather again. A silence descended across the group with  this mystery. Had Ash and Eevee indeed died Ash knew those criminals were speaking the truth somehow, he remembered his life slipping away when those spearows attacked but he was too scared to admit it. Maybe he was a zombie?
Maybe he was a vampire?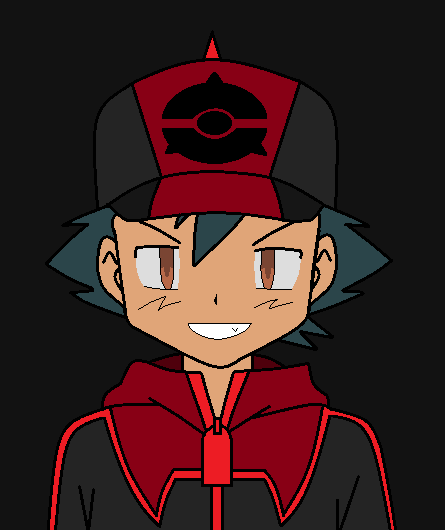 A bonk on the head brought him back to the real world. Ash I asked , could you not call the professor that send you  on your journey for advise' Misty said while twisting her knuckles on his cranium. "Ooouucch, y–y-eah I can ask.. please stop that' Ash said while making the call using a payphone Jenny guided him too.  The phones here having pictures displayed the greyed pokémon professor. "Ah Ash I was just about to call you… or try to see if you have arrived in the Pokémon center with all the other trainers having arrived hours ago I began to worry'  Ash, kinda upset he was last, frowned. 'You were really worried about me?' he asked. Samuel Oak nodded. 'I bet my grandson 1 million poké that you would arrive before the end of the day with at least one pokémon'.  Gary said you'd probably arrive dead and without any pokémon caught. Ash stomach twisted. 'Well professor I got something to tell you'. Oak took the following conversation really well for someone who just lost a million especially when Ash showed him the feather.
Chapter 9:  Sacred Secrets
'Magnificent, A pokémon  with the power to revive the dead? First hand experience? You must allow me to examine you two. I shall not ask you to come back.. don't be afraid… why don't we meet at the Pewter city museum, they have a lot of scientific tools I could use and we might shed some light on what pokémon this could be with their historians as well .. . oh and Ash.. do not tell Delia you died, she would try to make you come home, but you my boy have discovered something truly amazing, I mean you are the first trainer ever to die on route one… but to return from the dead is something truly spectacular'  Professor Oak sounded giddy and excited, not even noticing he hurt Ash's feelings by mentioning how he died on route 1. However Ash sat through this , he wanted to know what happened himself. Even with all the events of the day he felt energetic and eager to set out. 'Oh Ash I will send you some money for a new outfit.. don't clean this one of any further I want samples from that strange dust, replace your clothes.. the girl can help you please let Officer Jenny seal your old clothes in an evidence bag.' After a bit of smalltalk the phone call concluded with Misty seeming very eager to go shop. 'Come on Ash it will be fun! It's kinda like a date when you think about it?!' Ash blushed a bit for  'I- I don't date girls I am going to be a Pokémon Master' he retorted much to Misty's bemusement.
'I was only kidding but come one it will be fun and your old clothes are ruined anyway so we might as well!' Ash looked at his clothes who were more rags than anything else right now and nodded. He could not face his mother's phone call like this so he would have to shop anyway. Misty, Ash and Eevee thanked Jenny and left while Jenny sealed the old outfit away. Ash still had some spare pants and shirts but his cap and jacket were gone. As the three explored the mall in Viridian City Misty spotted a new outfit for ash. A crimson/red jacket with a matching cap with a white arch on the top of the headwear.  Using the money that was left they also bought him a slightly larger backpack.. yellow instead of the green one. 'This is a much more slimming look' Misty smiled at Ash and took a selfie with her new project in the background.
'Say how about I help you and your Pokémon get through the forest and to pewter city? ' she asked with a slight blush when the evening was nearing its end. 'I have to go that way myself anyway and with those horrible criminals after you and your poor pokémon skills you could use someone who is actually capable. ' Misty said this half jokingly half seriously concerned about Ssh his Pokémon and boy himself as well. He had a good heart but was wildly incompetent. Ash objected against being called weak. 'I know you are not weak Ash but you know very little of Pokémon and with two criminals after you.. including three Pokémon, you'd always be outnumbered. You may be a very important person now and I can not allow you to fall into the hands of those criminals' Misty said. "Now how about we get some ice cream and head to the pokémon center to rest for the night?' Misty proposed. 'We can sleep in Pokémon Centers?' Ash asked.  See this is why you need me… treat me to an icecream and I will be your mentor on this journey' the orange headed girl spoke with a lot of pride in her voice. Ash considered his options for a moment before agreeing.  Ordering three cups of ice, handing Misty one, as well as one for Eevee and himself. Quite hungry they all dug in to the sweet delight. Misty made a whiney sound as she grabbed her head. 'Uuurgh Brainfreeze. As he looked to his new companion grab her head in pain, seeing Eevee devour it's ice cream and seeing his own half eaten cup he realised something was off. Even though he was eating faster than Misty he did not feel any effect at all. Neither did Eevee.
And with their day coming to a close we will leave this story once. Next week our heroes will travel through Viridian Forest where Ash will begin his real training as a Pokémon trainer. What did the revival do to Ash though.. what is happening to him?  Eevee clearly being weaker than Pikachu is already coming into play, with Misty taking a much more capable role revealing her talents early, how will Ash grow? Find out in the next installments!. if you have a suggestion for a what if let me know in the comments. What do you think will happen in Viridian Forest? Leave a like or a comment and remember!
I am not weird! Just very pink!
Until we read again.

X
Pinkie.