Week 32 has ended and with some amazing news for Pokémon this time! We have absolutely gotten some amazing pokémon news. We updated you earlier about most of it in a breaking news post. Today while I am actually spending a day at the zoo with my friends, we will look at the other news this week as well as briefly discuss the big announcement and the after effects. This is Pinkie Cherryblossom and this is Pink-Poké-News! (Insert standard news-jingle)
New Pokemon toys starting to appear.
The interest for Pokémon peeked this week, showing in a lot of tiny announcements. Pokémon Crystal has shown again on the Nintendo EShop charts and everywhere little snippets of pokémon goodies are being released. Nanoblock has for example released three new building kits. In the form of Charizard Gyarados and Venusaur. Nanoblock is a lego like building set which has released a fair number of Pokémon so far and now as easily as visiting Amazon.com you and I can expand our sets with these new toys. The Pokémon center has released a new adorable Psyduck figure We see psyduck using a confusion attack white stuck on some rocks! It's cute and it's tiny and it's cheap! With being only 8 centimeters high (3.3 inches) and 5 centimeters wide (2.3 inches) this one is easy to display and even easier to buy, only costing $15,- this one is something I will definitely look out for once it comes here overseas. Speaking of Psyduck, there has been an entire line of backpacks shirts and other printables released featuring this adorably bewildered duck. Yet again for now in pokécenters only, but that usually means it will become available for us in Europe as well! Not only psyduck received the love treatment, the waifu pokemon gardevoir also got a new figure at the center. Gardevoir DX is slightly larger than the Psyduck gallery figure (about 11 by 9 centimeters or 5 by 4 inch). The display she attacks is moonblast which is depicted as a bright silver orb while she is surrounded by a silvery blue aura. Though the reporter loves this pokémon the action post of the figure is one of the lesser ones she has seen so far.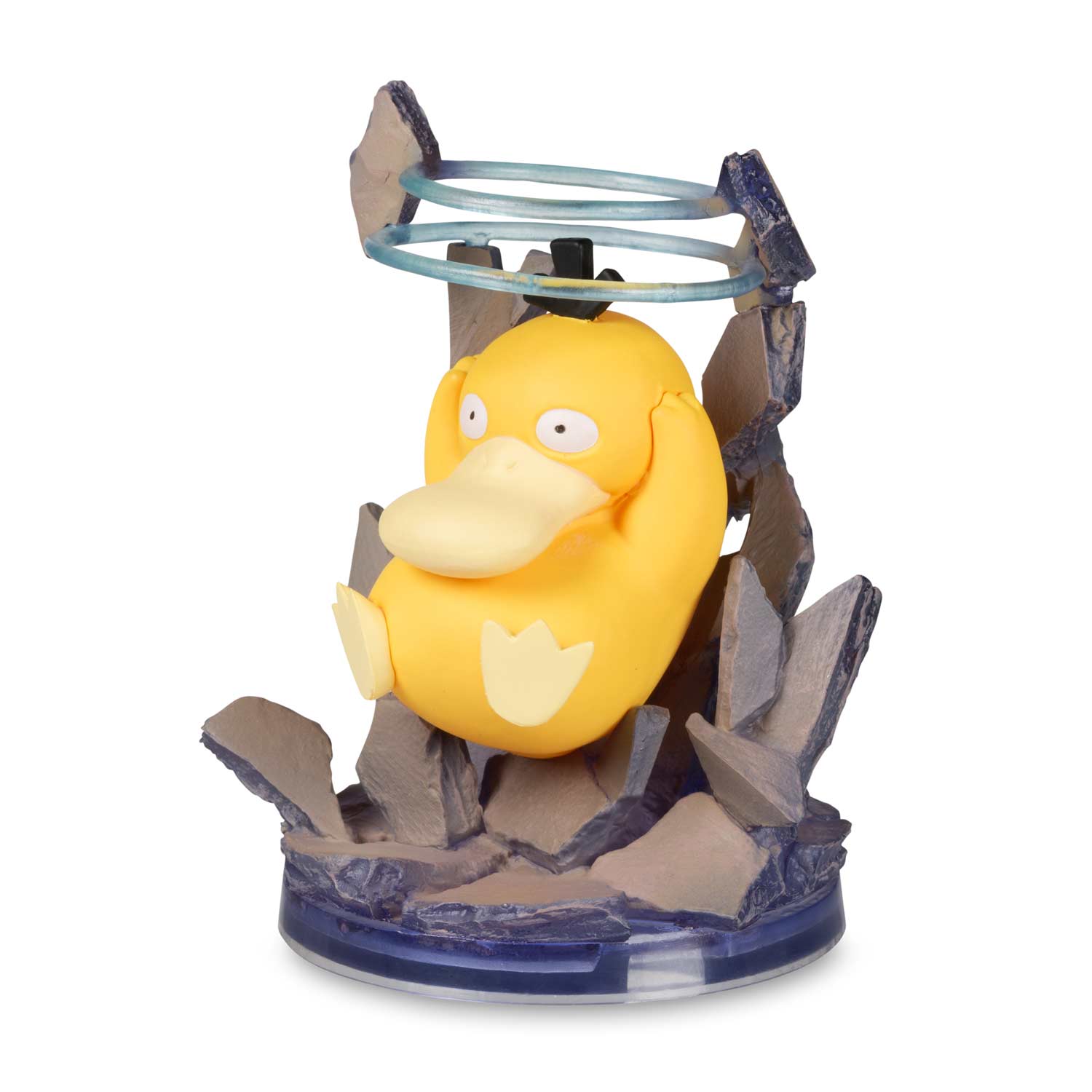 Shiny Turtwig to be the new community day shiny
Following their trend, Pokémon Go has unsurprisingly announced shiny Turtwig to be the next shiny to collect. The slightly darker green snapping turtle can be found on september 15th from 11:00 AM to 2:00 PM stardust earned will be tripled. Though this reporter does like Turtwig as a pokemon, she doesn't think it's a particularly good shiny. Her usual hunting friends will be out on a vacation then, thus leaving her to hunt alone. The way Pokémon Go has recently been releasing content, which only seems to be based on filling box space with the same pokémon has caused this reporter many doubts if she should not just delete the entire application. However for now we shall continue to endure and see if anything good can come our way after this horrible team rocket expansion. We wish fans of the game the best in these times of barren and unfair content and hope the games soul can return soon.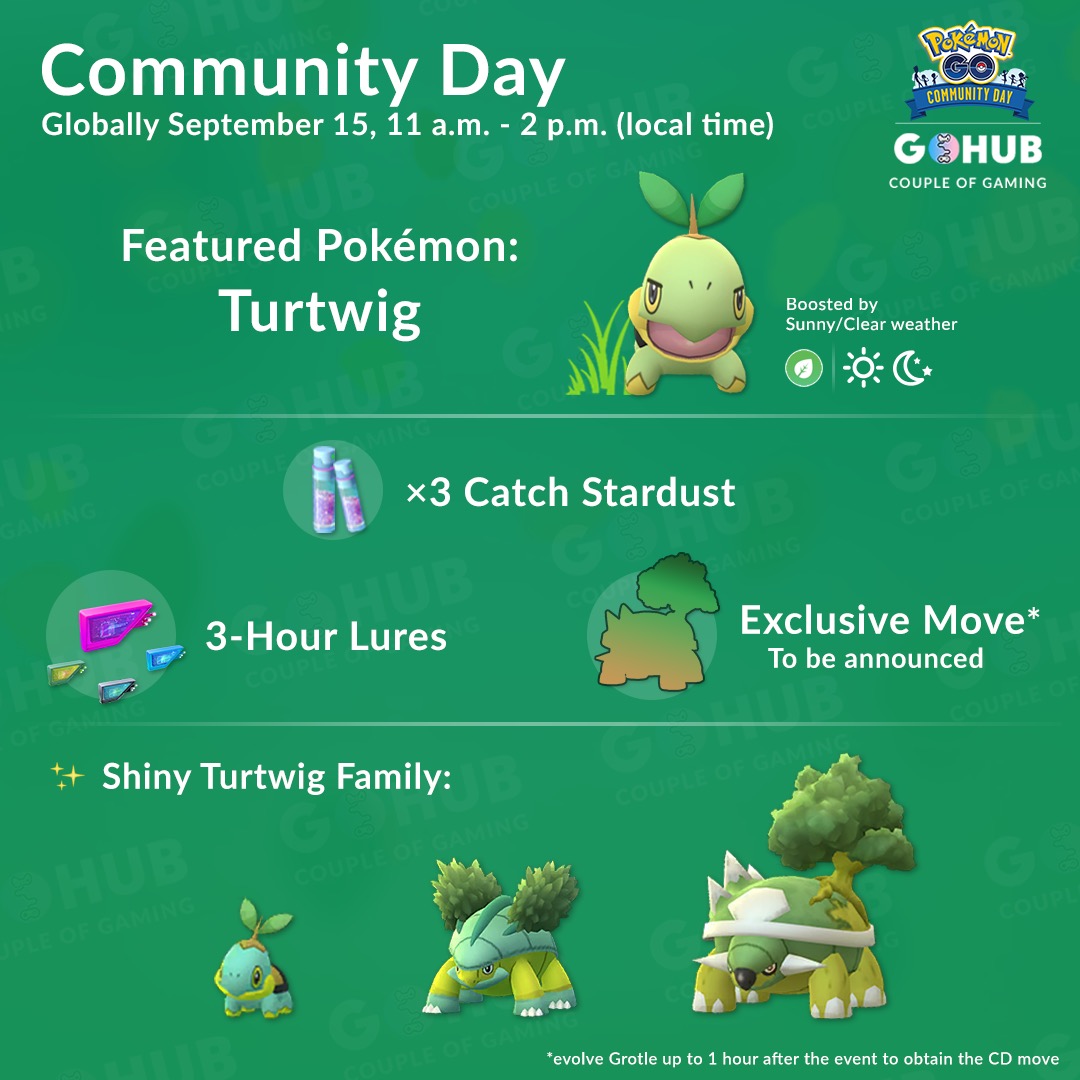 Positive youtube buzz for Sword and Shield
The new Pokémon Sword and Shield trailer as we discussed it earlier is getting an enthusiastic response from the youtube community. With all the negativity surrounding the No-National-dex and Dexit debacles, it is nice to see that the pokemon community can still enjoy the announcement of new things for their beloved franchise. While people are calling for a boycott because not every pokémon will be in, most youtubers seem to be moving on beyond the hate. Both the announced Galarian form have been quite positively received by the slew of youtubers ths reporter follows on the topic. Though some find Galarian weezing to silly, and others find Galarian zigzagoon to lazy everyone seems to at least enjoy one of two at least. Linoone new evolution has been receiving the most flack. Obstagoon is being compared to Gene Simmons a lot and rightfully so. This pokémon does seem truly inspired by him, to some people's annoyance. The reporter herself is actually not all that bothered and thinks the pokémon does look kind of cool lifting it from a standard badger. Even better than that Gene Simmons , in an interview with Newsweek, told he felt flattered by the game paying homage to KISS. HE acknowledged Pokémon has become a part of our culture ever since kids first discovered it. He felt flattered and honoured that pokemon would pay such a tribute to his band. So let's take this as a win for the pokémon fanbdom shall we?
Pokémon Masters, officially live in Canada and Singapore
Easily this reporters most anticipated mobile launch of the year Pokémon Masters is now officially live in Canada and Singapore. Pre-registration for others countries will become available as time passes by. With the game coming officially life, it will not be long until we will be starting seeing some reviews So far the game seems to be received quite well. The sharpest critique we heard so far is the fact that you aren't able to use your daily discount summons, (a single trainer recruitment at a reduced cost) with free coins. The game tracks your stacks of cash separately, in game earned cash and paid cash. This seems a bit harsh but can also help greatly for parents to have some oversight in their kids spendings. We will be eagerly awaiting the critical reviews to see if this game will actually be any good. Reader can expect Chibi Pinkie to put in a review of the game as well as soon as it becomes available in her playstore.
Pinkie's Pokémon nominated for a sunshine blogger award.
In week 32 Pinkie's Pokémon has gained about 6 new followers, to which this reporter extends her warmest of welcomes and eternal gratitude, putting is well on course to make our target of 50 followers around the middle of November. The website A GIRL & HER ANIME has provided us with a nomination for a sunshine blogger award. We are very happy to receive such a nomination and will tro to place the post in the coming week.
Thank you for this wonderful thing! For this post I am to answer 11 questions, and nominate 11 other bloggers on the medium.
After which I have to ask them 11 different questions. The 11 question am answering for you guys will be :

If you were a Pokémon, what sort of Pokémon would you be?
Do you play video games? If so, what game have you been playing recently?
What's your favourite colour? Any particular reason why it's your favourite?
What's your favourite thing to do during summer?
Ghibli is obviously very popular, but which movie do you think is the most overrated?
If you could travel back in time, when would you travel to and why?
As the new leader of a country, what is the first law you introduce?
Have you been reading anything recently?
Tell us about your favourite film.
Put your music on shuffle. What are the first three songs to play?
If you were to suggest an anime I had to watch, what would you recommend?
Now I am going to bend the rules here a little bit because of the large amount of overlap in invitations, as most of the geeky bloggers follow each other, i'd have a hard time nominating people. So I would like to ask my readers if you would like to receive a nomination and answer my 11 questions. (which will be different and sometimes maybe a bit hard).
Though I feel you all deserve a nomination I would think some of you would rather focus on their own content and some might be really eager to sink their teeth into this. I do have my own picks which I will use but I would also like people to step up and say! Hey I like a nomination. I'd feel sad if I nominated someone who'd rather not do it and overlook someone who really wanted this. After all everyone deserves a chance to shine!
Are we ready for week 33? Would you like to be nominated for the sunshine blogger award? Do you have a question you would like to see added to those 11 as a form of bonus content Let me know in the comments and if I am not eaten by lions, beaten to a pulp by goraliisas or gored by penguins, I will get back to you! Enjoy the rest of your weekends my little monsters and remember,
I am not weird just very pink!
Until we read again.