Hear ye hear ye! Princess Pinkie has returned with a new Pokémon Post
Salutations my loyal subjects and island guests. Today I bring good tidings, I feel enamoured, I feel buzzed… and I also cried a bit when it was over! For the past two weeks or so I have been playing a Pokémon fan game that is SO GOOD, that it without a shadow of doubt in my head is now my favourite Pokémon fan game EVER. Yet keeping it at that would be an understatement, this game might be one of my favourite Pokémon games ever…and I just might get some more after game in the future. Today I introduce you to the second item in my treasury (Phantom Menace being the first one) today I introduce you to Pokémon Xenoverse.
Story
Did you know that the Italian word for Download…. is Download?! With this knowledge I was able to downloaded the greatest Pokémon Fan game… the very best like nothing ever was. I stumbled around an Italian website and found the download button. After fumbeling around for a bit I got the game downloaded for free. This game has rose to prominence in the Pokétubing community recently being picked up by more and more english people. What caused this strange event, I do not know. Perhaps it was the game being finished, perhaps it was the english version being fully available and kitted out. I do not know nor do I care. I got to play this game spearheaded by a man calling himself weedle.. and his team of italian geniuses. Spending over 70 levels with my Pokémon and almost every moment with them was great. It even began with a cool anime style opening and would feature a much more fleshed out story than regular pokémon games.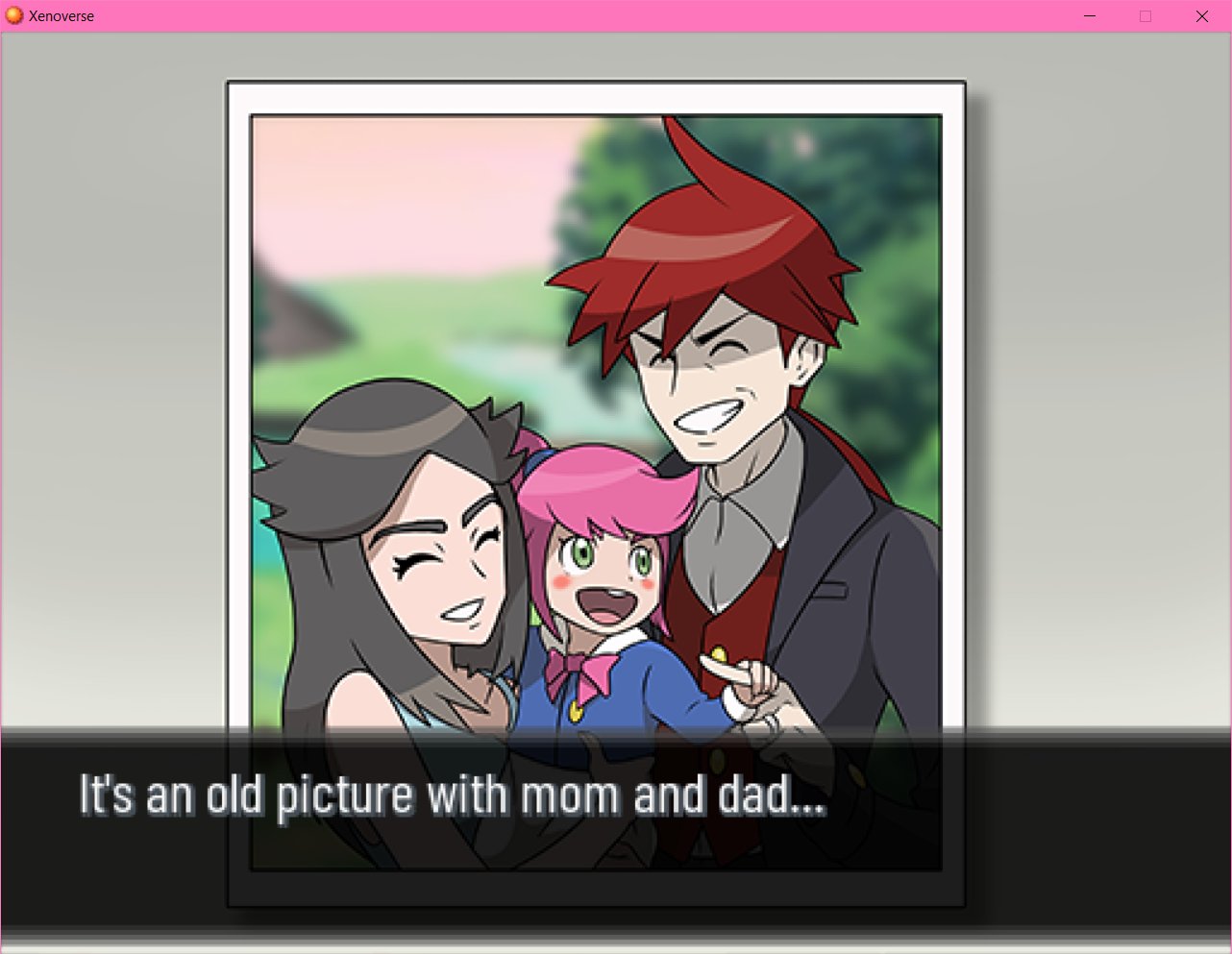 The game begins showing a red haired man walking nervously in a hospital. This is the happiest day of his life.. but his heart is burdened with a secret.  None of it matters though when the nurse calls him to the bedside of his wife.  She asks her husband by the name of Versil to guess the gender of the baby. The player picks the gender.. so I chose a girl.  He guesses it's a girl.. and Clover smiles. "Just like we always dreamed off"  she then asks Versil what he thinks is a good name for the baby. I can type in a name, and he says Pinkie.  Clover thanks her husband for coming up with such a wonderful name and we skip four years ahead in time.  Versil is playing with his daughter showing her around the area of her house that really lies in the middle of nowhere.  It is beautiful and serene, the visit the grave of Pinkie's grandfather. Versil does not tell her a lot about him as it is not the time.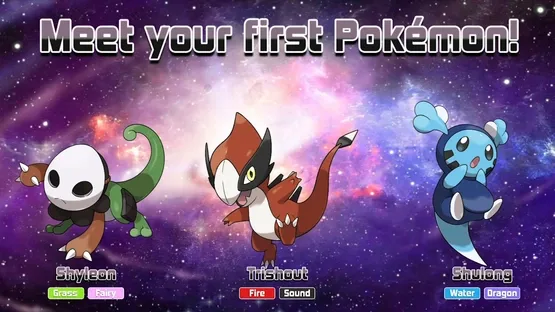 In the distance a sound can be heard and Versil goes out to investigate , his daughter tagging along. It did not sound dangerous so it was fine for her to tag along. Three pokéballs can be found abandoned by the road. A lizard with a mask, a cheeky fire lizard and an adorable blue baby dragon.  Versil tells his daughter to grab one.. just in case something dangerous is along. Of course his daughter would grab the blue cutey called Shulong…it has an adorable cry!  After she had chosen it, an ominous voice can be heard.  A man stands in the shadow addressing Versil.  They talk about something little Pinkie would not yet understand..but very quickly the man orders his Tyranitar to use a Hyper Beam on Pinkie.. Versil steps in front of the blast and everything goes white.
Pinkie wakes up…. that was a horrible dream. But it felt kind of different. Today is her 15th birthday. It has been years since her father left on a business trip… did she just dream up of a way to say goodbye to him? Walking downstairs her mother wishes her a happy birthday, gives her some gifts but as they start talking about the dream Clover goes silent. It was not a dream, it seems Pinkie has finally remembered what really happened. The Pink haired girl wants to go find her dad! Her mother sends her to her room angrily! "You are not going anywhere young lady". Pinkie is upset in her room as her Shulong tries to comfort her. She named him Mooch! .. When Mooch finds out he can not comfort her he suddenly acts all brave and makes noises gesturing the two should flee trough her bedroom window. As Pinkie picks up Mooch Pokéball , something he never been inside of much before.. the two set out on the greatest journey of their live to find Pinkie's dad!
Design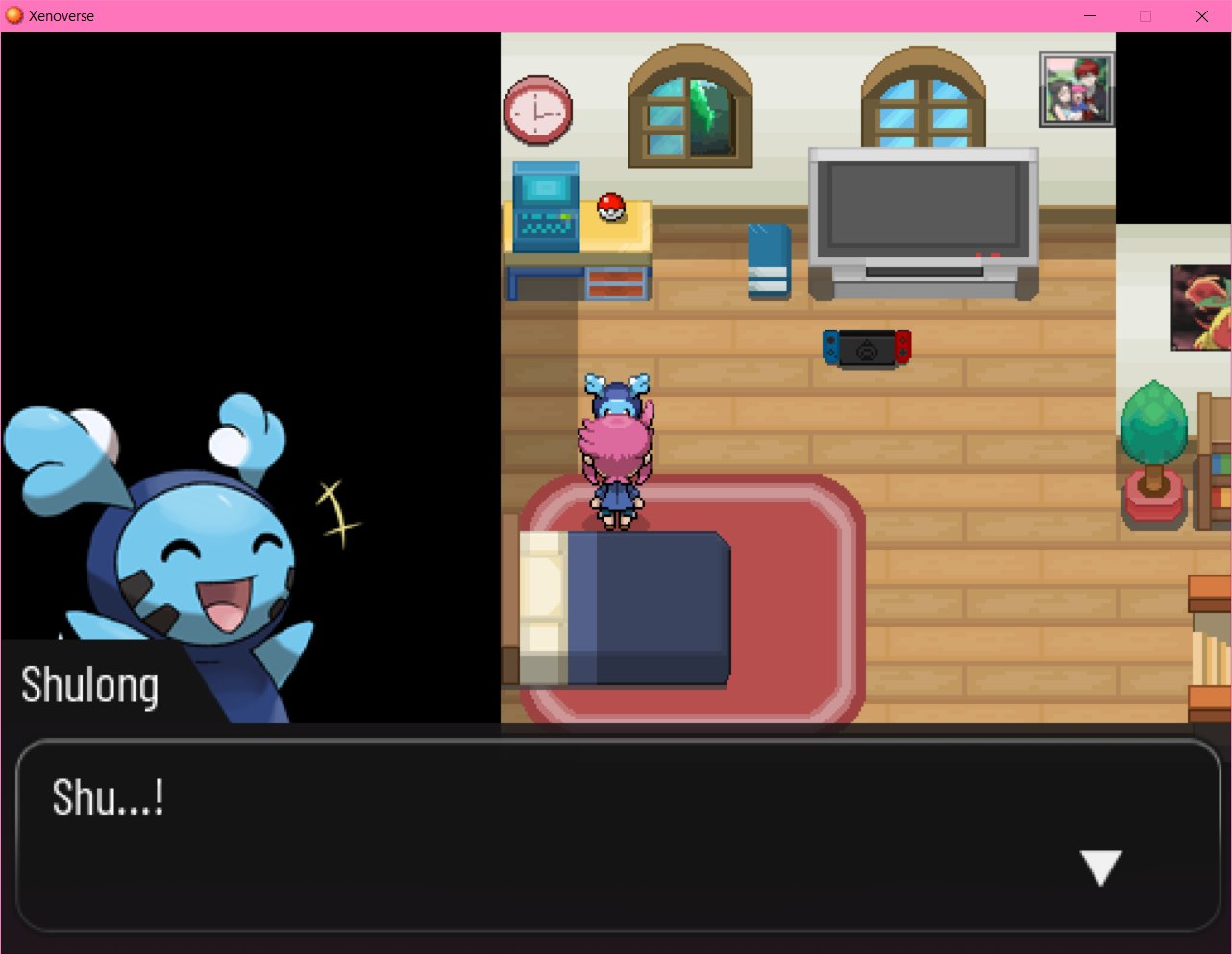 With a story that seems a lot like the story of Fallout 3 , you go on a Pokémon Journey that is not like the others. Though sharing similarities with Pokémon Uranium, the pokémon Gym challenge is an afterthought here, a means to an end.  Everything is part of a bigger narration. Most gym leaders you defeat because you need a favour from them, even if it's only the right to pass trough their town, sometimes you require their insight. All gym leaders in this world have second jobs. Most of  them like Drayden are the leaders of their respective town, yet others are the sheriff or even hiphop icons. It allows your journey to rely on them much more and give them much more characterisation. The same goes for  your rival who may turn out to be an actual love interest.  The same goes for the pokémon professor, who like Sonia in Gen VIII has a much more personal journey in this story and the champion whom you meet very early in this game so you can really grow to appreciate his strength.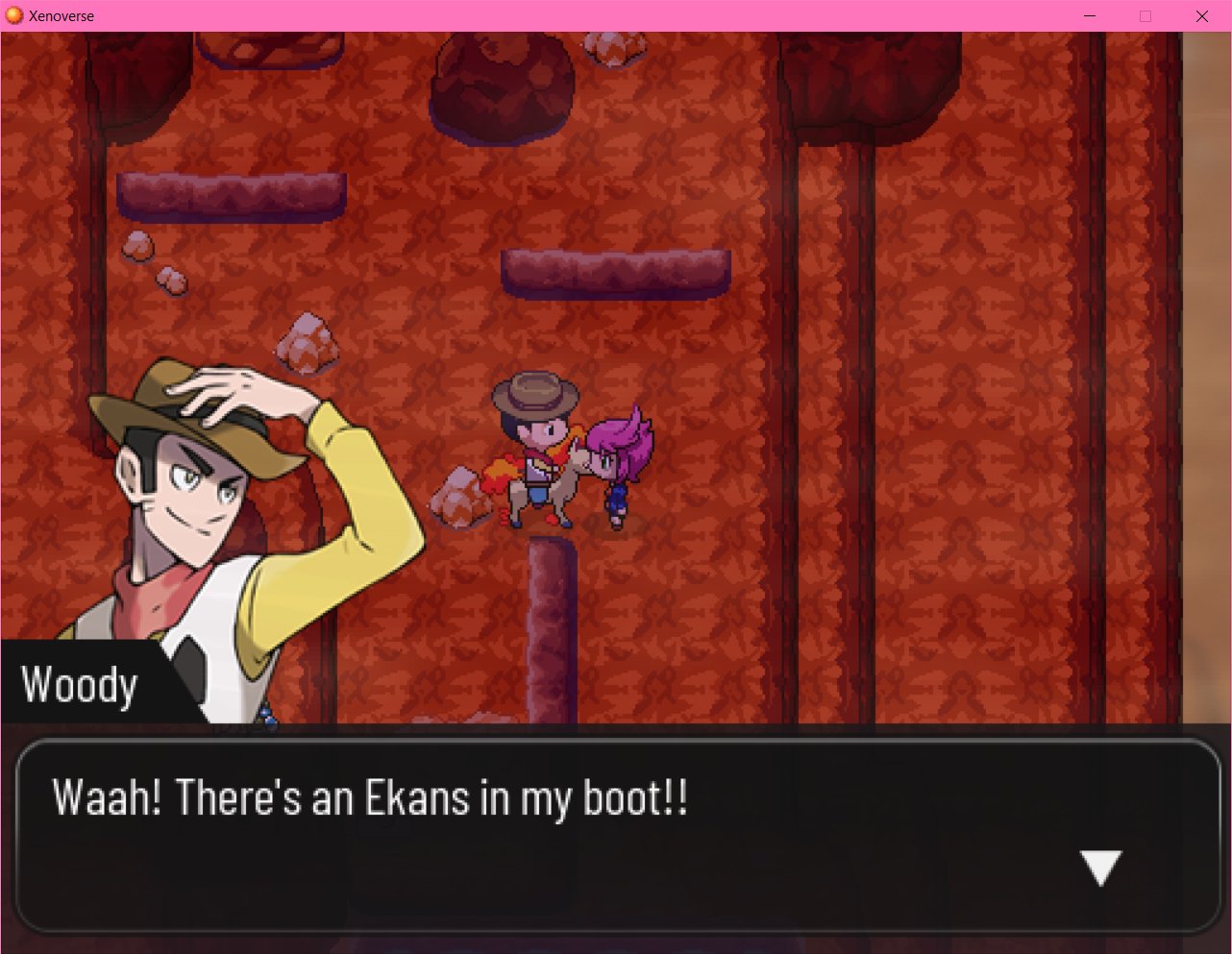 This game feels like an anime, and I don't mean the Pokemon anime. I mean this feels legit like an exciting anime story, a story that can hold itself on it's own but is increased 10 fold in efficiency if you have played through at least  the Kanto and Johto region stories. This game is a tribute to Pokémon and much more Geekiness.  The fact that beating  the Champion gives you the Plus Ultra! Achievement already will tell you something! Yet you will encounter so many colourful characters that many of them could hold an anime show on their own.. like the Pokémon variant of Ghostbusters "Geist" Or the Hiphop Gym Leader Wallace Daddy, who adopts a lonely Pokémon even though it ruined his big concert. There are so many great characters in here… and what is even better, the Fakemon are also great.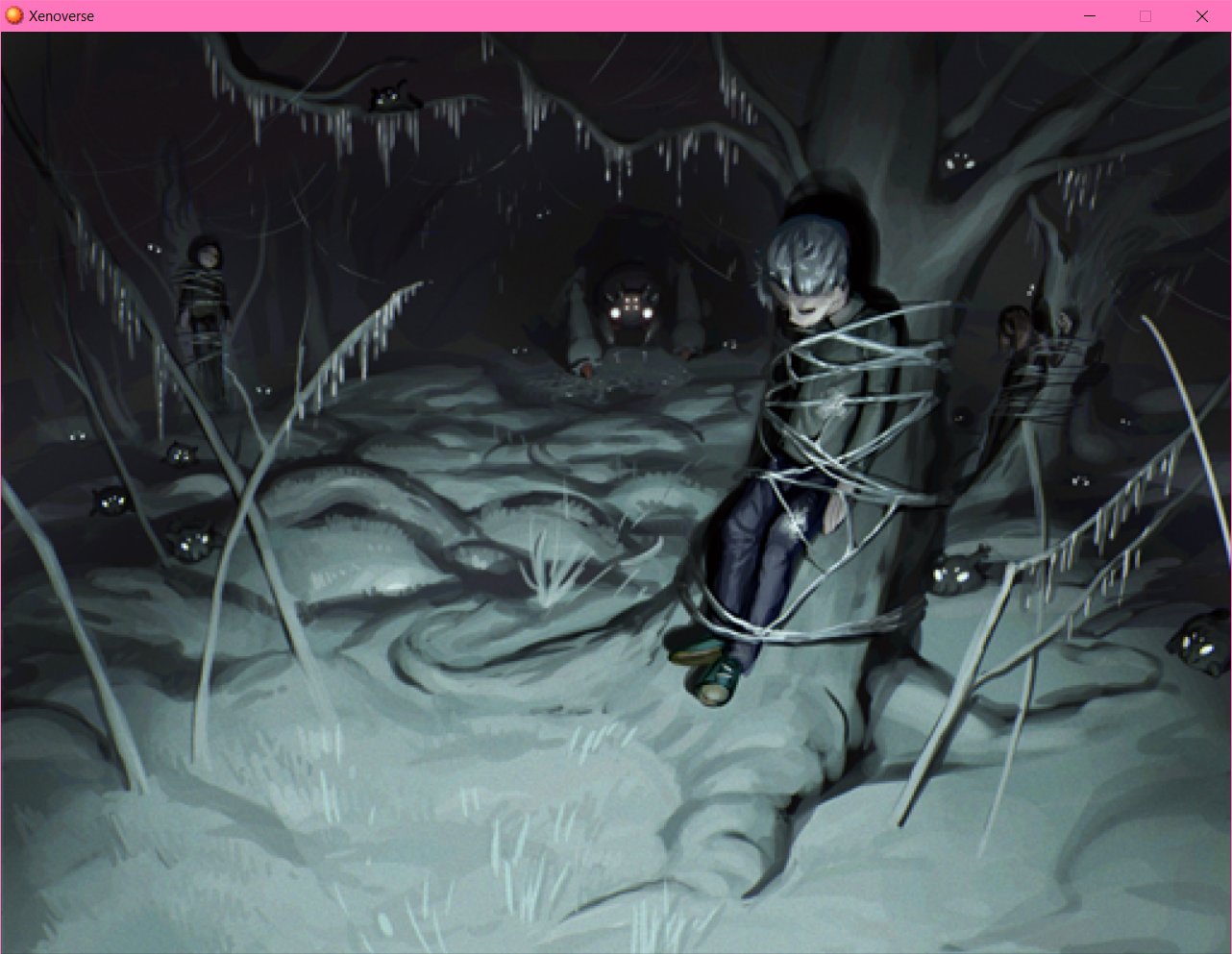 Fakemon is the official term for fan made pokemon so do not think that the term is derogatory or anything. In fact I think these are the best starters since Gen III (excluding Rowlet). There are a lot of clever ideas. How about a Habanero styled Pokémon that is a Grass and Fire type or how about a Hercules Beetle that is a Sumo Wrestler.. as it is a chunky warrior beetle from Japan?! It is awesome! How about a Vulture that also takes design elements from the Grim Reaper?! There are great ideas in this game troughout! It also offers Xenoverse variants of certain types.. like Regional Variants but often a bit beefed up to be more relevant as well. Like an Ice Type Galvantula or a Ghost type Sharpedo. Well over 75% of them looks truely amazing with very little stinkers in the entire lineup. And this game has 3 separate Pokédexes so that is an achievement. If you do not like using fakemon, there are plenty of pokémon in the game as well, but why would you use a Pidgey when you can use a Bremand. A pokémon that is actually four pokémon all based on one of the Town Musicians of Bremen…all carrying my wished to be real "sound type"
Mechanics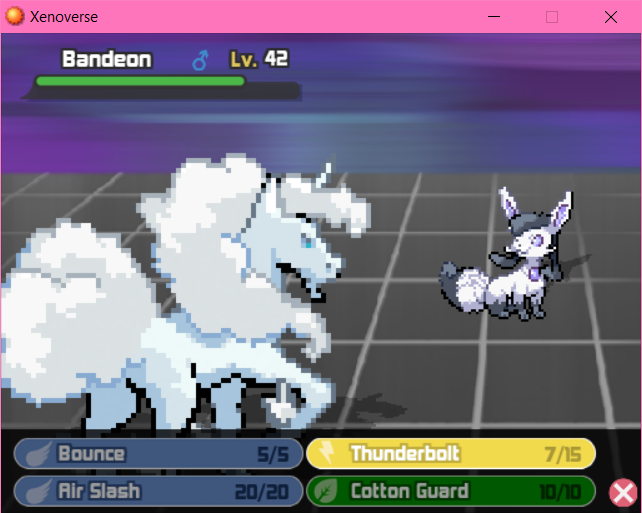 The game is not afraid to introduce new mechanics and it does so on many levels starting with this new , and by fans desired, sound type. And though I do not like how the typing is flavoured and the new moves lose the ability to bypass substitutes it does really balance the game out pretty nicely. The sound type is super effective against water, flying and fairy types, while being weak to Dragon and Electric types. This gives us a tertiary typing core. After Water, Fire Grass and Dark , Fighting, Psychic we now can build our teams around a Fairy , Sound and Dragon core. It gives Fairy types a bit of a nerf which isn't a bad thing and boosts Dragons up a bit again. The Dragon Typing has become a bit of a dud since the introduction of fairies. A lot of classic pokémon that now have the sound type appear in the game as well. Jigglypuff, Ekans, Drowzee, Loudred and Chatot just to name a few.  Really giving the usage of electric types a boost as well!  So while the typing makes much less sense then it could have, the way it works makes the game really smooth and balanced to play!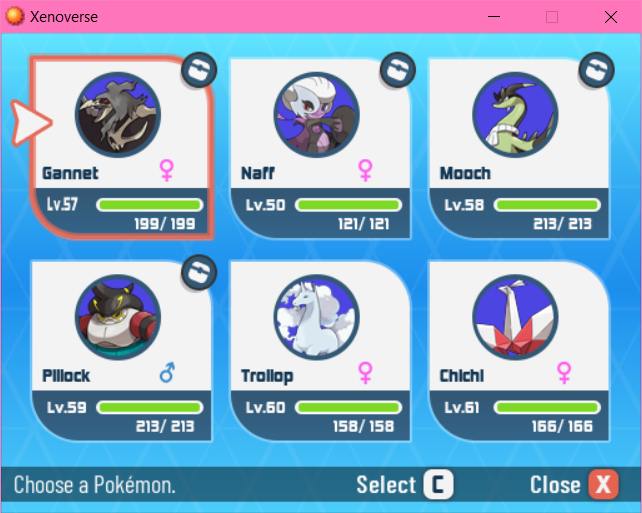 From the beginning of the game you can choose to use the old individual experience thing or the newer party experience style. I chose the latter because frankly I wanted to have this game beat by the time New Pokémon Snap Rolled around. Plus I want to see as many Pokémon as possible…and Fan games tend to be a tad difficult so I did not want to do needless grinding. As a result I always ended up somewhat overleveled, yet because the typings are so smooth and the movesets Pokémon learn great moves and Tm 's are so plentiful it doesn't matter much either way. Individuals will give you more of a challenge , but I found myself in tough battles anyway. Your lead Pokémon gets more experience as the rest so I just had fun by going with more creative movesets rather than pressing the super effective button all the time.. and I had a wonderful time with it.  There were times I really needed to step up my game.. but I was also allowed to use a team I really wanted which is great.
HM's have been replaced by holograms you summon from your gloves, fishing at times can be a minigame and other cute things like that can really enhance your gameplay experience. You can play as you like with whatever monsters you like. This is how modern pokémon games do it and this is how it should be. It allowed me to bond more with my team.. and for the first time since a long time… I super bonded with my starter. This game FORCES you to use your starter all throughout the game. Because much like you, your starter is involved in the story. It's as much it's journey as it is yours. This is shown in the fact that it can enter places called Den's , these are puzzle rooms your unevolved starter can access throughout the game, here you play your stater trying to find treasure or switches and avoid being kicked out by the den's owner…. but how can you play the cute little guy if your starter evolves? Well the truth is your starter doesn't evolve… it digivolves…. well kinda!
Presentation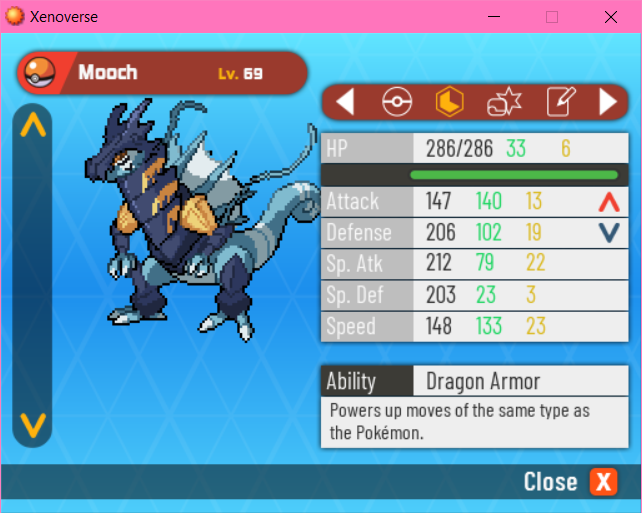 It became clear to me that your starter could not just evolve from the get go!  That is because your starter is involved in cutscenes, not only does it's model show up on the overworld sometimes, it also has a portrait in dialogue. Everyone you talk to does, making the dialogue in this game feel much more like a visual novel in terms of presentation. This makes dialogue a lot more present to read. Important characters show expressions making dialogues seem dynamic. Like your starter padding it self on the chest to show it is brave! Or give it a worried look on it's face once the protagonist is struggling.  It would not make sense that they would draw all those portraits for all evolution stages for your starter at the beginning of the game right? Yet SmallAnt or another Pokétuber would just grind it out jut to give it a try! However this game makes the briljant choice to "evolve" your starter .. narratively.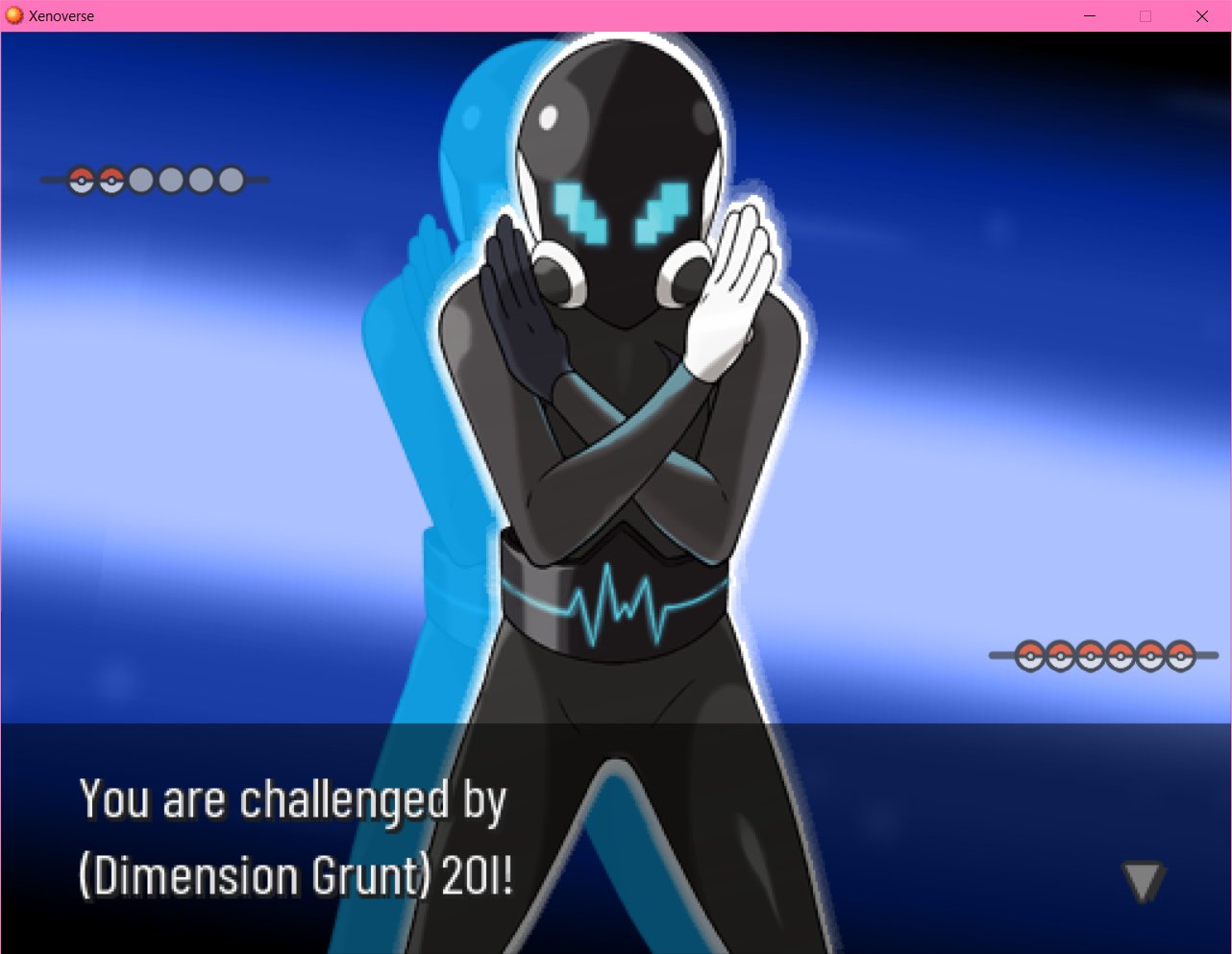 The evil team of this universe is called Team Dimension, which is basically the sequel to team Rocket, but since they lost so much influence they use robots instead of criminals. These robots take on Daft Punk designs (even their theme does)  but when facing their elites, you end up getting washed. Faced with inevitable defeat a passion burns inside you as an item you found suddenly overflows with energy, and equipping it's sister item to your Pokémon allows it to transform shapes. It's a sequence that feels extremely much like Digimon. The fact that your starter does not just happen to have 3 forms  but 4 enforces that Digmon feeling even further. Your Starter can go back to it's base form by losing it's item.. so if you enter a den with your stage 2 shulong you just take it's ring for a moment and send the little guy for a adorable stroll. This does mean your starter has to be on your team for all important story moments and those dens… which  makes the bonding so much stronger. 
The game goes for a Gen IV like look, much like Pokémon Uranium, but it does an even better job at it. The Eldiw Region has a very spiritual aspect to it. A religion differently then Arceus, one that feels much more in line with nature worship and a lot of villages you visit seem to be based on ancient times. There is a medieval Fairy Town, with knights in Pink Armors and a Gym puzzle where you have to entertain and host a tea party for a princess. There is an ancient egypt area where you have to bring down a false god and the gym puzzle is to explore a pyramid, and there is a Wild West style area where you have to clear a haunted Saloon and where the gym puzzles involve hunting some criminals as a deputy. It all feels unique and much more deep. Every town plays a role in your story, every location has a story line and routes are often much longer and less throwaway than in official Pokémon games. Not all Pokécenters look the same, they blend into their towns, every time zone and area has unique wild Pokémon battle music to fit it's current theme.. and so much more, the presentation of this game is truly sublime.
The Flaws
Of course this still is and always will be a Pokémon Fan game, which means it is not as polished as a main Pokémon game…even though we do not get floaty trees. The game can crash so it is important that you save often.  The English patch is not flawless and on four or five separate occasions I found characters suddenly speaking italian in half of their text to me as some dialogue simply was forgotten to be replaced. Awkwardly it happens in one of the final battle scenes against the dark forces, yet otherwise it's not as bad.  The Daycare guy does it repeatedly but most times these are just one offs. Nothing too horrible. It is just these tiny things that made me remember I was playing a fan-game.. and if these did not happen along with some slowdown (which you can reduce by playing in the old engine by clicking on settings in the launcher)  I would have probably crowned this my favourite Pokémon game. 
It does have some flaws that did actively annoy me though. The first one is the inventory system.  For some reason the bag has been given separate controls of sorts to flip through. Being Q and W , which just doesn't feel right to me! I hated using stuff in my bag during the entirety of my run. I never fully got used to it. The second issue I have with this game is not even a gripe as I can fully understand WHY they did it.. I just do not like THAT they did it.  A great many Fakemon in this region do not evolve by level up, which makes sense given how easy it is to actually level. However since the game is moderately hard, using unevolved pokémon will not get you that far. You need the power. There are a LOT of stone evolutions and a LOT of item evolutions in this game. Vroombug for example only evolves if you give it Spare parts, while Eevee can evolve into its new Eeveelutions Scaleon the Dragon Type and Bandeon the Sound Type by learning its Sound of Dragon Pledge moves. You hear the rumor from one guy while having to find the other guy to teach it the move.  If you want a fully evolved team you better talk to everyone!  There is a Wiki that tells you how pokémon evolve but it's Italian only… I luckily have an italian friend who helped me or I would be one Pissy Princess.
To make up for that you have to talk to everyone though , they really went all out to make all dialogue interesting. If characters have boring things to say their names are oftenly references like Peach and Mario being two scientists that establish some world lore. Yet there are also some references that go very far. For example in one house I saw two couples at a table. A girl named Robin sat next to a guy named Barney who said his favourite Pokémon were Legen……wait for it ….dary.   While on the other side of the table Lilly set next to her partner Marshall, who was bummed out his friends made him give up his beloved hat.  While Upstairs I saw a depressed boy named Ted , wondering if he will ever find a special someone… on his desk, without explanation and without the model EVER being used elsewhere in the overworld was a Pinap Berry. Which is a reference to a very specific How I Met Your Mother episode. 
These references are everywhere, for example in an ancient temple I encounter Jojo's Battle Tendency's Pillar men!  That does not change the fact though that the evolution system gave me some anxiety. You can buy evolution stones fairly late in the game and by then you might have fallen in love with a new Fakemon and that other one never gets to live up to it's potential, what if I missed a house and missed how to evolve my favourite team member. This anxiety was also there surrounding the crashes and the bag system felt like treading a needle at times… but if you play the game with google translate  and google to look up the evolutions you will have a blast. This is a pokémon game I would recommend to anybody! Even if you do not like Pokémon and just want a nice story based/anime esque game.. this is great!  This is the ultimate pokémon fangame and I honestly think that it shall hold this title for years to come. It might face some challenges, but through challenges it becomes stronger. Per Aspera Ad Astra.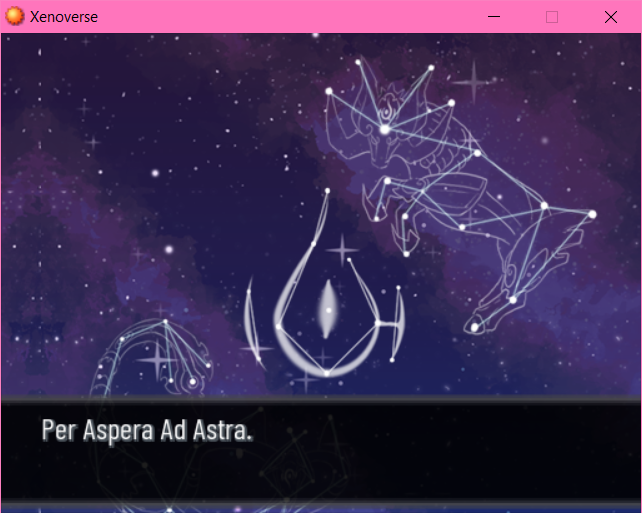 This genuinely is the best fan game I ever played, and since it is free, if you haven't played it but like playing Pokémon I absolutely MUST recommend it to you! Just be sure to turn on "use old engine" in settings. This game really is THE pokémon game I always wanted. What is your favourite Pokémon Fan Game?! Have you played any?! How do you feel about Fakemon?! Tell me in the comments or dream about your ideal Pokémon. Because remember my sweeties! Friendship is magic but dreams are even more wonderful! Oyasumi!