A boop on your snoot little monsters! Nice to have you reading this post
Another Monday , another Mon-Day. Time to discuss another little beastie in depth.
Today I have chosen to pick at least one that is at least a favorite of one of my followers, but I do think there will be more fans out there. The pinnacle of human creations, Mewtwo.
Dark Origins
Mewtwo was the first "final" pokemon in our games, the anime and movies connected it highly to team rocket, and since at least in Europe we got the anime before we got the game, Mewtwo has always seem very ominous, but with a few misconceptions. Many believe that Team Rocket has created this Pokémon, but this isn't true at all. The true creator of Mewtwo is Mr Fuji and his science team. Mister Fuji is that nice guy , you meet in lavender town, who ends up giving you his Pokéflute after you put Marowaks soul to rest. He has shown great care for Pokémon and even orphans in general. However, it turns out this sweet little old man, at least in the past, wasn't that nice after all. He was involved in some shady business. Going on an expedition to capture mew, to obtain it's dna and from it create an embryo , which they would genetically alter to create the ultimate pokémon. The story here gets a bit vague as we have come conflicting sources, some claim that Mewtwo was grown in a testtube some say that Mewtwo was grown inside Mew, the manipulated embryo being placed back inside mew so it would carry it's altered child. What we DO know for sure is that on the 6th of February Mewtwo was born.
Research Disclaimer
Before I move any further, a little explanation on how things will be compiled. Only sources set in at least a remotely similar world to the game will be used. Humans and Pokémon both have to live there, with pokeball technology being a thing. Any lore from for example the mystery dungeon universe or the mobile game Pokémon Quest..alongside any fan made games, are not taken into consideration. Conflicting variations will be reported, however for the sake of cohesiveness we will not consider alternate timelines. If the anime shows something that isn't explored at all in the games, it will be the only thing we go on and use it to sketch our profile of Mewtwo without constantly mentioning which source says what. That would not make this a fun read, nor would it tell us much about mewtwo if we only use one source. So let's drop the judgment hammer and just enjoy a cool story about a cool pokémon.
A living weapon
Mewtwo is a bipedal feline-human like pokemon of extraordinary power. It's coloured in a pale gray and purple colour scheme, it's fingertips being balled as well as an appendix connecting his head to it's lower back give it an alien like and ominous appearance. The shiny variation of mewtwo holds a military/natural green colour similar to the shiny colours used on many purple Pokémon, Espeon possibly being the best comparison. Both purple and green looks succeed in giving mewtwo this incomprehensible, what the frizzestick is this kind of look. You know when you see a Mewtwo something is not 'right' about it Which is completely true. Mewtwo in it's very core has been designed to be "not right'. It was just designed to be the ultimate pokemon battler. This meant it had to be modified , to not have any compassion. That is exacyly what Mr Fuji did, he created a pokémon with remorse or compassion, so it would never lose focus at the task at hand.
They also killed Mew's free roaming spirit from it's design. Where we see Mew as something that likes to play and fly around in swirls and loops and the likes, Mewtwo was modified to not move when not needed, to conserve all his strength for battle.
Think of it like designing a chicken but instead of making it happy it can walk, it just sits there focussing on laying eggs. Any offspring it would create it would not care for..because it's detrimental to what it was actually made for… making eggs for consumption. This is basically what Mewtwo is designed to be ..an emotionless, organisms only designed to deliver a product, in this case..battle victory. A weapon, that may live, but never was meant to have a life.
Evil eliminator or misunderstood antagonist?
One would say the difference between the game and the anime would create the biggest lore conflict, however this is not the case when we try to understand Mewtwo's story. Though the manga depicts him as much more gruesome then the more commonly accepted media, that is a style spread throughout the whole series. With Pokémon death or trainer death actually incurring on a semi-regular basis. The world in the anime is much more gruesome and everyone is adapted for it. Mewtwo as well, but though he may completely destroy Blaine's arm, Mewtwo's motivations seem to stay fairly true at the source. Mewtwo is NOT the person who we Westerners believe him to be. He actually isn't THAT evil. In the first Pokémon movie we see Mewtwo trying to destroy humanity with a large storm, his nihilistic cruel outlook on live , making him a classic archetype villain, the likes of Frieza from dragon ball Z for example. Only to have a change of heart when Ash dies.
However if we look at the "first" first Pokémon movie, we can see that this is actually not true.
'But Pinkie, Mewtwo was the first first Pokémon movie!' Yes.. dear reader you are right, however there is a MASSIVE difference between the japanese version, which outdates the western version. In the original version Mewtwo isn't as evil He is a much more naive and conflicted pokemon that simply fails to feel any positive emotions, who is acting based on what he has seen so far. His motivations do not come from a deep hate of humankind, it stems more form a hate for those who harmed him and intents to stop the hurt people but pokemon trough. By force of course because that is all he knows.
Human DNA
It is theorised that in order to make the ultimate Pokémon, it was infused with human DNA. The fact that Mewtwo looks a lot more human than Mew and the fact that there weren't many other human like pokemon, let alone in their league is pretty compelling evidence towards said theory. People also use the fact that he can speak "human" as evidence for the theory. However that last one is poppycock! Mewtwo talks to people through telepathy, one can easily argue that when you project an idea in someone's mind it will always be in the language you speak..because your brain would translate the electric pulse into ideas for you.
Pokemon also seem to understand humans extremely well, since Ash can tell Pikachu to sit on a bench and do three somersaults, with the latter actually proceeding to do it. So it makes sense Mewtwo can project the language regardless.
However if we go back to "good guy mr Fuji" and a deleted scene from the movie, once more evidence arises. In this scene we see Mewtwo floating in a tank alongside clones of the Kanto starters. In yet another tank however there is a young girl, mewtwo speaks too with telepathy, or at least is implied too. The young girl to be Fuji's passed away daughter who he is trying to clone back. However the other clones deteriorate and die, mewtwo being the only one to survive. Heh, I wonder why they decided to cut this scene from a kids movie.
From this scene however it is clear that human dna at least was present in the experiment making it plausible at least. The final evidence comes later into the series, when Mewtwo Y was revealed as the first mega evolution. However Mewtwo was able to evolve himself, while everyone needs a human for that. Perhaps because it is part human?
The power to defeat a god.
Speaking of mega-evolutions, when Mewtwo obtained the power to go even further beyond he became more mighty than the god of the pokemon world itself. He outclassed lord Arceus himself. The potential of a pokémon in the games is expressed in base stat totals. It's a number to reflect how much stats a pokémon has without the meddling of any IV"s and EV"s.
Though not fully correct,due to how IV's work let's compare this with, how strong are they without a trainer. Regular Mewtwo's base stat total of 680 was rarely matched, let alone surpassed in the games. However when Arceus was introduced it had a base stat of 720, and for the next few years Arceus ruled supreme. When Callum and Serena (protagonists of X and Y) found Mewtwonite X or Y, it all changed. Mega Mewtwo became the first pokémon to surpass the god. Nowadays only accompanied by Mega Rayquaza at a grand total of 780.
This would mean that a wild Mewtwo can take Arceus in a fight. Arceus arguably does have access to all types, and thusly would be able to play the type advantage game to keep the fight balanced. However here is where it gets scary. If we consider it's human DNA, it would potentially mean that Mewtwo DOES have access to EV's. Because only trainer owned Pokémon are able to get them. Mewtwo functioning due to its dna as their own master. Eliminating IV's for the sake of.. he would not be able to reset himself, it would only grant him the ability to use the additional 510! (this is why EV training is important kids) stat points gained from EV training. Effectively that COULD mean that should a fight between Mewtwo and Arceus ensue, Mewtwo comes in at a power level of 1290 versus Arceus 720. Mewtwo being nearly TWICE as strong as Arceus in that case. If Mewtwo really does have human DNA the implications of a monster without sympathy being out there could be truly terrifying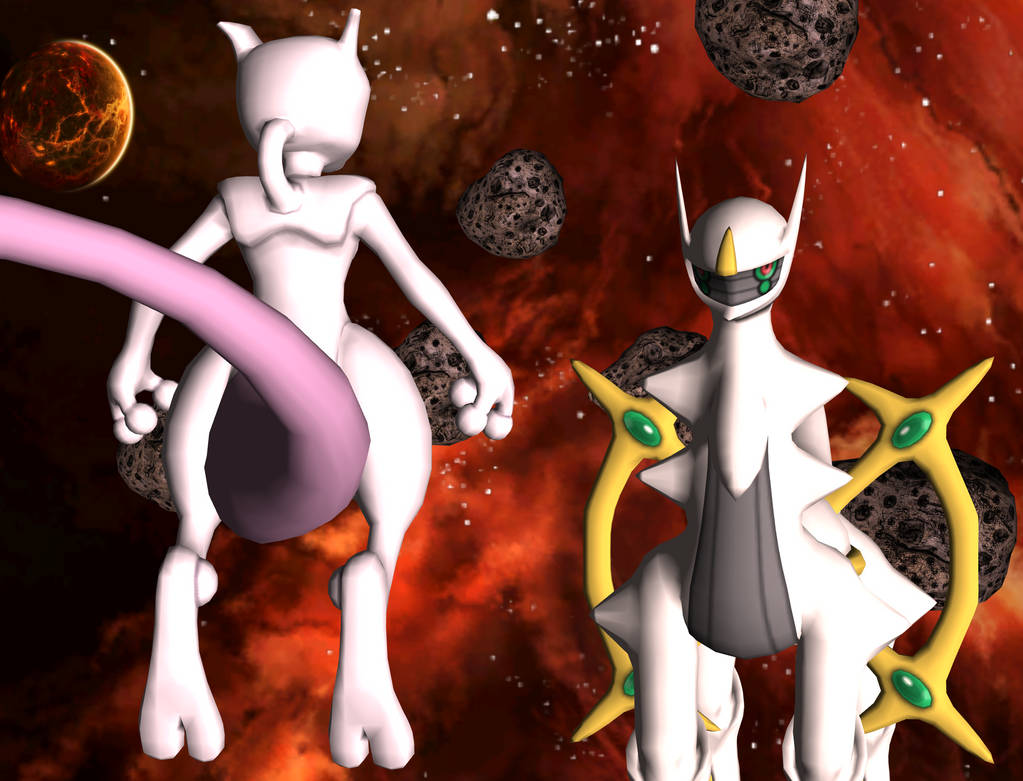 It's not alone
If you ask people what their favorite legendary Pokémon is, they would most oftenly say Mewtwo, though Marshadow is bound to get plenty of votes as well, its soooo good and super cute. Though technically still correct, it turns out Mewtwo might not even be a legendary pokemon. It would have to be the only one of it's kind for that status in my book.
'Well Pinkie there is only one..the one that escaped from the Pokémon Mansion on Cinnabar island' No it's not. The detective Pikachu movie , shown another Mewtwo being made in Rhyme city. Even if we don't consider that particular mewtwo, even though it's strongly implied to be set quite a few years in the future from Red and Blue, the anime and even the games imply there is more than one. The Mewtwo captured in Kalos is never claimed to be the same one Red would have captured, given it's lore and the fact that Red would know how it is, it seems rather unlikely he would release a monster like that anyway. The anime as well also strongly implies there are multiple mewtwo's, both in the movies as in the tv series itself. Since it's a perfect clone it doesn't seem too unlikely that people who still have the research could try it again, someone recreated it or even Mewtwo itself made more of itself to fufill it's ambition. Who or whatever did this is unknown but there is very likely more than one godslayer out their, their name is Mewtwo. All thanks to that kind Mr Fuiji
Number 150 is to interesting to talk about in general to discuss battle sets and the likes, hes's pretty much banned in each battle format anyway. If you do want a good build for Mewtwo you are always free to ask in the comments. What Pokémon would you like to see in the spotlight?
Please leave a like to make my day a little better and don't forget to stay pink.
X