We haven't been feeling all that nicely lately.. a bit sick.. though that isn't unusual for us it really made writing a bit difficult, but hey at least I Chibi Pinkie got to catch up with a lot of games I needed to play. I really managed to get some progress in the Pokémon Masters game as well, and even though we haven't completed the story yet i'd say I've played enough to give you a good first impression of the game.

The Disclaimer
For this review , no money will be spend on Pokémon Masters to see how playable it is without spending money on the game. Any money I might invest will be kept out of my verdict. For the story playthrough I will only use trainers I acquire through the game or that I farmed with free credits. Keep in mind though that should I have gotten any duplicates with payed credits it could level up my free partners so there might be a SLIGHT difference in difficulty. At the same time I will not tell you about my monetised pull because I can not do a lot of them, therefore until I see more online content about them (which I haven't seen to much) there i no way to tell how lucky or unlucky I have gotten. I will not be reviewing the multiplayer.. right now the game is not available in my country so my friends don't want to download it .. so I can not try it. I might bring that to the table in my re-review. Finally, even though there is a stigma on mobile games still, I will not talk about if this is a good platform. I will evaluate it like any other Gacha Mobile game as well any other Pokémon game but we won't talk about if Nintendo should just focus on Switch of the sorts. Hence it will not be marked down for being something that promotes microtransactions as that's part of its DNA.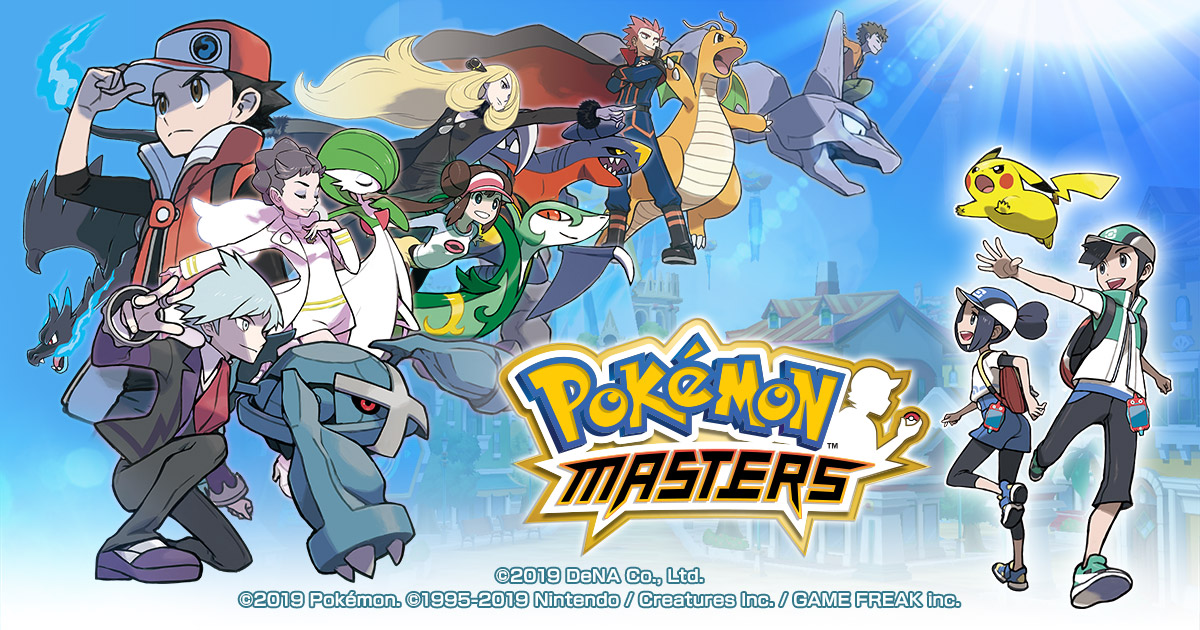 The Concept
In Pokémon Masters you "create" your avatar by picking a gender, hair colour eye colour and skin colour. Like in Pokémon Go the model of your hair is set, but unlike it's older brother for now there is no way to customise your avatar further. The protagonist version of you, you just made travels by boat to the Pasio Region. Where the PML will be hosted. The Pokémon Masters League. A tournament where the great of the greats gather to compete to be the strongest of them all. However in Pasio , there are no wild pokémon to capture nor can participants bring their entire team of Pokémon. In Pasio you fight only with your partner pokémon. Since this would be unbalanced and the super effective typing would always win the PML is fought in teams however. PML teams can consist out of hordes of trainers but in official battles you can only fight three on three. So you will have to build creative teams from trainers and pokémon for each stage and setting.
Trainers and Pokémon share a four set movepool, with the Pokémon dealing damage and trainers being able to give out buffs or healing.  After battling alongside each other trainer and pokémon have build up enough energy to unleash a devastating Sync Move, which to those in the know are basically a lot like Z-moves. The game tells its story in a almost visual novel like style, but very simplified, with some simple branching dialogue options here and there. You can encounter three types of stages. One being the story stages, your basic exposition scenes with dialogue options mentioned before. The combat stages speak for itself, you get one or two encounters to get trough and you just have to be the very best. The last type are the investigation stages. These are a bit of a mix of the two earlier ones, except you can look around freely on usually about 4 different screens to look for additional lore and some items. In doing so it puts on a much more cinematic concept compared to other gacha games. With a lot more focus on exploring facets of the pokémon world rather then just forcing you to pull as many units as you can.
With Pokémon Go being a simplified version of catching and raising Pokémon, this game can be described as a simplified version of the battling concept of Pokémon. It puts on a charming narrative with each stage providing a logical step in your trainers journey and a lot of fanservice…..in the nostalgic non lewd kinda way.  It's quite the happy little game that does drop the ball on some occasions. Badgeholders you defeat usually end up tagging along with you.. because there are others that hold the batch as well, and the rules of the PML would allow them to. That's just odd to me. I mean I love Flannery in my team but I would have much rather seen for example narratives of Flanery trying to take Blaine down who was the gym leader and after you done so .. she decides to follow you. The fact that others hold the same badge just harms the world building just a bit for me.. getting a badge is no longer a sign of overcoming a challenge..but that you find the weakest gym leader. The fact that the story gives you free gathas (pulls) that are usually helpful in the next part of your journey though I can only be happy about.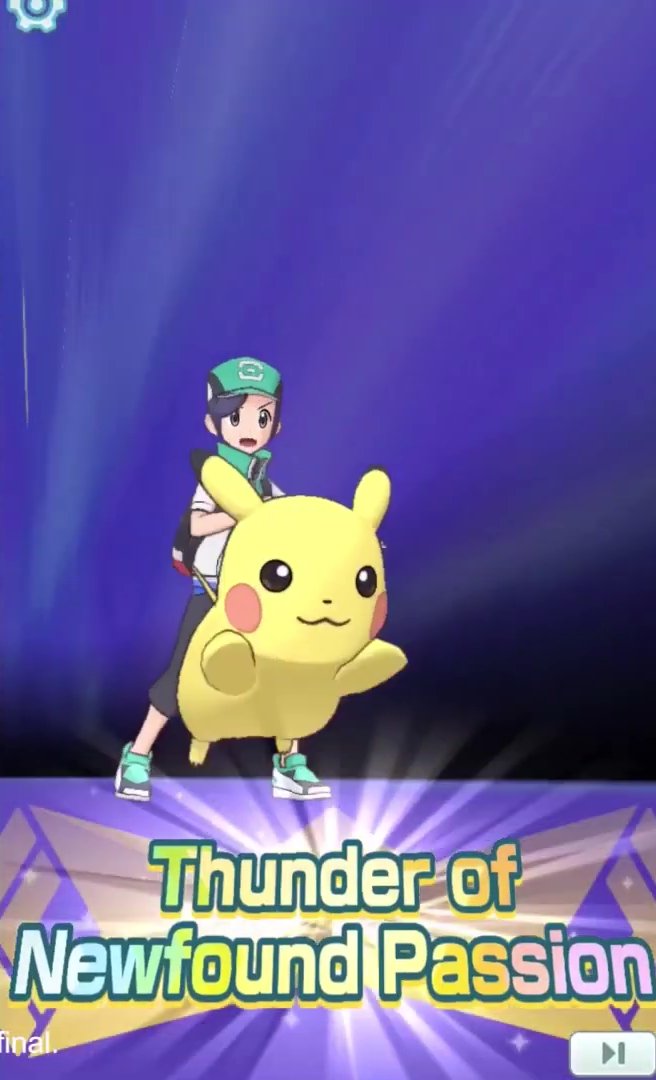 The Atmosphere
By far the games strongest aspect is the atmosphere. Pasio is a beautiful place that comes alive through the spot on visuals and nicely remixed tunes.  The Pasio Pokécenter is a place where you are going to spend a lot of time managing all your stuff. It's design is neat and feels vibrant with all your collected team mates as well as people you battled showing up, with plenty of cute dialogues. tips pokémon lore and more. As a result your 'home' feels super comfy. For fangirls like me it's a delight to see Whitney show up talking about herself being so cute, or Korina giving you an empowering speech. I do hate when Crasher Wake shows up though.. but that's personal.. he is kind of intimidating and I got him in a free pull… now his swoll bod keeps blocking up my screen all the time as he shouts and laughs like a D&D dwarf. It's not really a negative.. his personality pops out and I don't really like it so he annoys me.. in a way he feels alive. Every character has these typical japanese style voice acting bits where they aren't fully voiced but have 'emote' like shouts they usher at certain emotions. They also introduce themselves when you pull them and such.  Because of that I do recommend everyone who played the games to use the english voice setting. Though not all voice actors are as good as the japanese ones it really doesn't scratch the same nostalgia itch to see Misty introduce herself as Kasumi.. it doesn't line up with the text either. The english dialogue is ..passable enough but taglines can get a bit annoying on extended play. Whitney and Rosa for example have higher star rates, and thus higher maximum levels, on free play it means you'll use them a lot and Whitney's : Ain't I a cutie can get obnoxious when she tells it to you for the 46th time.
Of course you can choose not to read the dialogues in the center .. but they are often so cute and charming you'd be missing out.
The music is nice even if not very memorable, this to me is a good thing though. The game can be bit of a grind meaning repeating stages are bound to happen. I never got annoyed by repeating music throughout any of my grinds so that's a good thing.
Though the story unfolds in a visual novel like style, the models are all 3d-ish models who can show a lot of emotions. Not just the humans but the pokémon as well. Little choices like how a pokémonon delivers it's cry oftenly when their trainer talks about them makes the world feel even more alive. In fact it's so alive that I'd say just talking to the trainers and finding out about the bond with their pokémon would be my favorite part of the game. DeNa the developer provided me with a perfect chance to enjoy this in the form of Sync Pair Stories. Cute little stories all over the island featuring the many characters and their most beloved pokémon in the pokéverse have gotten to know each other.  Lucario is no longer a static pokémon that by level we know to be Korina's ace.. no we learned that in the beginning they did not really get along that well at all because of Korina's personality. We see Liza , one half of the psychic gym twins, miss her brother now being seperated for the first time but finding solace in her pokémon. Characters never feel reinvented these people we see moving and emoting now like we never saw them before we knew them already and this is not a new model wearing their skin they all keep their old personalities and their development. Barry is still fining people millions of dollars for each thing they do wrong in his eyes.. but now we find out why. The game presents everyone in nice and rich colours which make the pokémon blend in really well.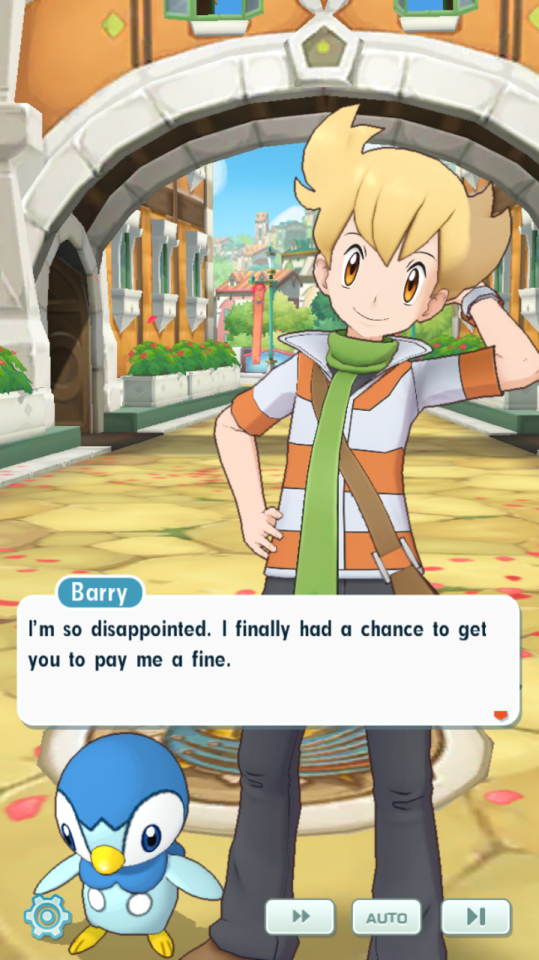 Now onto the negatives of the atmosphere, and note this is not a gripe to me,  which is a bit difficult to explain. DeNa (I am not using the emote in the name because wordpress turns it into a smilie)  clearly loves the POkémon games there is so much reference there is so much that is spot on from the games. Every single character IS the one you encountered in the games. Now for those who don't know anything about pokémon this will result in the game having a lot of fluff dialogue. Barry saying that if you don't show up in time he will fine you a million poké might sound serious or you'll go like.. what the frizzlesticks is that blonde kid going on about. Flannery being shocked that she will have to face gym leader Norman is inconsequential. These reactions and dialogue arcs are catered too those who have played the games. While the main story is enjoyable to both old and new players this is definitely a legacy game and a lot of story elements are a lot better if you know the games. Secondly this game loves the games, not the anime or the manga.. but the main line games. This means Brock and Misty aren't anything like the shouting red-head and the lovable goof you might have seen on tv. Brock is focussed determined and tactical, Misty is bubbly and happy and somewhat naive, she respects Blue though hates his arrogance. Brock and Misty are also designed after their more recent models so they don't even look like their most know counterpart that much. For a lot of kids who saw the show or for those wanting to pick up Pokémon again this might seem a bit confusing. So as alive and good looking as this game is you REALLY need to keep in mind where it's coming from, for those who really know nothing about the game should wonder if they should start with a LEGACY game.
The Technical Thingies
Though apparently there were a lot of troubles for Android users, i can honestly say I never really experienced any trouble. While a little over halfway through the game I did not encounter majors bugs weird glitches or anything. My game crashed only once and that was on busy hours during an event. I found the game plays nicely, the controls are smooth and your input is accepted accurately and quickly.Technically it's quite a solid game , though I wish some things would have been made differently. Most of these gripes are in the form of information provided towards the trainer. For example to upgrade your trainer's stars you need items much like any other Gacha.. but unlike most of its peers never does an item state where or how you can get it. Other games I play like Dragon Ball Legends allow you to access stages to get required material with a single button press. You just select your character tab it to level  and select the item you lack going straight into a mission after which you go back to the upgrade menu. Back in our game, if you want to upgrade Misty's passive ability you first have to open your sync pair dex, select misty, click on the little plus to find misty's role, back out go into the training stages, find the right training stage for her role that's in a tab within a tab , grind it out, move towards the trainer select abilities, move to passive abilities and than purchase it.
The game however , half way in never even told me about these roles. They do tell you how to upgrade your attack, but never mention there is a second tab there , easily to overlook. When learning an offensive move.. the effect of the new attack is hidden until purchase. Now these effects are the same as in the main game so I am fine with that but I doubt every pokémon player in the world, let alone every pokémon masters player knows what the move close combat does.  It means rookie trainers could spend resources into upgrading an attack that is not really worth it. Never is it explained that the burn stats halves strength stat of it's target.. yet it does. There is a FAQ section and a trainer tip section in the menu to help you…but once again you are never told about them.
What they they do do right is how they communicate what pokémon to bring. Each stage has two advantages types. The most advantageous in the first slot the supportive in the second. If you follow the advise stages are quite passable. I intentionally played a bit worse than I could (not focussing on abilities I know would work well together but on what superficially seems okay)  and the stages are quite clearable. Grinding is going to be needed but it's kind of fun the game chose to not have an energy system .. so this actually feels like a game. It's just a game that if you want to play it properly you might need to do some reading up on.. because the game doesn't tell you a lot and from a kid friendly game we might not expect that.
The Gameplay
Overall I find the gameplay enjoyable but to do this properly I will divide the gameplay in a couple of main aspects. Battling your way through the stories, interacting with other characters, leveling up and training and finally collecting new trainers. Incidentally there are also events. We shall discuss these one by one.

First let's talk about the combat , the main selling point of this game. While I do not agree with the entire combat system I do feel it's a rather unique interpretation that does feel like pokémon and trainer are battling together. It feels close enough to the core series gameplay while still feeling fresh enough. For example Dragonball Dokkan Battle is a bad game in this regard, it feels very little like dragon ball and the collecting itself feels like a main part of the battle gameplay. Though team members can sometimes boost each other and it might be smart to create synergy in between your trainers, it's not always needed nor possible. Marley for example uses an Arcanine as her trainer and her abilities allow to boost everyone's speed which is neat. Rosa is a grass type trainer who boosts everyone's special attack. You would think these go well together but in truth not that much. Rosa's special attack buff is neat.. but Arcanine prefers physical attacks , so he doesn't benefit from her boost.  Marley's speed boost is not very effective alongside Rosa .. because she has the ability to cheer and energise everyone.. (which makes speed a bit unneeded) .
Even with their conflicting abilities however it can be advantageous to have both on your field due to type advantage.. or in some cases even with type advantage you are better off creating a different team because it's really specially resistant or something. What I mean to say is, unlike most Gacha's there isn't a perfect team, the game encourages you to swap.
You can play with the highest rank trainers all you like.. if they lack the abilities or typing you need it might just be better to swap it out for lower levels. Yet the game never goes that brutally difficult that you can never bring your favorites either. Unlike plenty of other games in the genre
Battling works quite simple. On the bottom of your screen you have an energy meter which contains 4 ,  but upgradable in quantity , blocks. Each attack of your pokemon costs an amount of blocks to use. For example energy ball costs two energy and ember costs 1.
Each attack has a base damage and an effect, the higher the cost the more damage, or the better the effect. The speed stat of your pokémon determine how fast your energy bar fills. Trainers can use their actions without spending energy but each trainer action can only be used twice. These usually are items from the games in the first slot you get.. like potions. x attack/defence/etc (all or single) full heal's or dire hits.  The second upgradable spot usually holds a big boost like how Rosa can fully bring your energy meter to full. Opposed to normal pokémon, every pokemon only has one weakness, for you as a trainer they are set, for npc's they can vary per stage. In one stage Swanna is weak to electricity in the other it's weak to rock.. all so you can see different type of pokémon.. and softly urge you to make some pulls.
The alternating weakness is something I do dislike, Swanna in reality is quad weak to electricity, I do feel with 926 pokémon to choose from if you design a battle where they want you to fight with rock and grass, you pick pokémon whose primary weakness ARE that, not let you attack with better options available. I do get why they chose it to be this way as not every battle is just three pokémon but it does feel super weird to me when a swanna takes more damage from a Torkoal then from a Pikachu. Resistances do not exist. All in all it's an adequate battle system that feels comfortable and simplified enough for new players, yet at the same time there is so much for the fan present in the other aspects that it feels a bit unnatural but that is only if you know the type system by heart…so in actuality it's fine… this is just weird for fans like me.
Interacting with other characters is to me the most fun part of the game. People react like they should and are given the depth they lack. I love their stories and they are nice to follow. I do question some of the dialogue options you get though. At times people will ask you 'Will you help me?'  sort of questions. The game decides to give you the possibility to answer at times but a lot of times they are only an illusion of choice.. quite obviously. 'Will you help me?' at times can be answered by either 'Yes' or 'Sure' alternatively. One might be read a bit more enthusiastically but in the end there's a lot of choices like this. 'Tell me how you met' .. 'so how did you two end up together?' It feels a bit to samesy to me. I do know in Japanese there is probably more tonal distance but still. Ever since Nugget bridge your choices did not matter in a pokémn game so this might just be some odd wink. Other then an occasional odd eyebrow raise i really love this aspect of the game. Except for Crasher Wake… he's so swole!
The leveling up and upgrade characters is done okay. It's behind a bit of a grindwall, but an easy one at that. Experience quests give a lot of leveling up items, even on the easiest level. Need to raise a character too about level 50 is easily doable in a few minutes. From what I have seen so far the higher levels will never be painstakingly slow. Do note that I absolutely hate grinding so me saying this is definitely saying something. If you have still new characters to watch sync move animations with it can even be fun to knock some experience out. Like I said in technical thingies already though, finding the correct items initially can be a major slog. Trainers with a fist Icon need items from the Strike Course in training, trainers with the exclamation mark are those of tech quality and those who bear the symbol of a heart belong to the support role. Strikers get red tonics, Techies get green and Supporters get all the blue drinks. Grinding these out is less fun and not as fast. Finding enough megaphones (which bestow moves)  can be even trickier. Though it requires some searching eventually you can easily overcome it and once your a bit familiar with it leveling up is kind of a breeze.. except from starring up. Which is a lot trickier.
Pulling for characters is a important part of every gacha game and doing that for free in Pokémon Masters is absolute Trubbish. This is where the game falters… BIG time. Daily Discounts ..are only available with PAID credits. Guaranteed Pull banners… only with PAID credits. Yes this game has paid and unpaid gems/credits for pulling. A decision I have mixed feelings about. I do not think it's that bad of an idea to reward those who decide tro pay for your free game. In fact I'd be all for it if buying credits wasn't as expensive as it is. A multi summon (10 scouts) is 3000 diamonds, mid game I gathered up a little over 5000 I'd say.  To buy 3200 diamonds costs you 30 euro's .. probably 30 dollars as well respectively. For 10 cards spend 30 dollars. Now truth be told.. undiscounted this is about the same as Dragonball Legends with the latter only being 3 euro's cheaper. But we would not talk about money today.. grinding out the credits in the latter is a whole lot easier.  Plus you can get the summon discounts on free credits. I played Pokémon Masters for a week.. and managed to pull a multi scout once.. alongside some single attempts on the Blue banner to find out. On my free banner, I managed to boost Whitney a Four Star a bit.. but other than that.. my free pulls were really bad. I spend a week.. only to make my Crasher Wake my most powerful three star. Swole….
The Verdict
In my re-review where I will come back to see how this game has developed in awhile I will discuss on if events add something. So far the game brings a lot to the table and definitely is in the running to be my favorite gacha in terms of gameplay. It's the absolute winner in terms of charm and feeling and it's quite a solid pokémon game. Would it not be for the low level cap on three star units and the lackluster information provided I would definitely love it… well there is one thing that makes me rank it down as well…as far as as a collection game… this one is the worst I've ever played. Gotta catch…just enough so I can finish the story.
Whoops got a bit carried away by this one! I mean.. uhm oooh no Crasher Wake made my post swole as well. There just was a lot for me to tell. Still I haven't said everything I wanted to say…so if you play maybe we can be friends in the game!  This blog was written on saturday but pain prevented me from finishing it. There was little news to report on anyway after my thursday post. Next week we are going to try a more liberal schedule for our content. You can expect to see a lot of Chibi Pinkie next week, a trainer profile about myself and a Sunday Special where I talk about lovers in Pokémon for OWLS. Hope to see you there.
The pinkest pokémon trainer is signing off again!

XO
Pinkie.