Hear ye hear ye! Princess Pinkie has returned with a new Geeky Lifestyle and Blog-tag post
Greetings my loyal subjects and guests, Meg from A Geeky Gal tagged me for the Tagging Stories with Colour Challenge.  Be sure to check her blog out if you haven't already! She is amazing!  Truly an inspiration to the blogging and vlogging community!   Her let's plays on YouTube are very entertaining, she has cute doggo's AND she can decorate her house very well! By the rules of this  tag I have to fear her superiority.. so I HAVE to make this post worst then hers…luckily I think I can do that. I think I was also tagged by Anime Rants for this a long time ago..or someone else tagged me , but back then I was going trough major burnout and writers anxiety… so whomever tagged me in this before! I am very grateful and let me know it was you so I can pay you some tribute as well!
The Rules
Share your favorite stories—movies/books/anime/manga/drama/songs/games—by classifying them on these seven colors' traits (listed below).
Send this challenge invitation to at least one of your friends. Let them fear your superiority, as you—decide their fate.
Link back to the original post here! And, enjoy!
red: passionate, exciting, invigorating
blue: peaceful, calming
pink: romantic, caring
orange: warm, motivating
black: mysterious, thrilling
green: fresh, unexpected
white: random
The Colours
Since I do movies, games, anime and stories on my blog I will feature them all in here. Pokémon is an odd one to place as it isn't really known for it's storytelling. I would place Pokémon Snap under blue, but it really doesn't have a story and I haven't progressed enough in New Pokémon Snap to tell you much about that story. Shadows of Almia is a funny and light story which I could place under white… but I talked about that in my previous post. So let's focus on more story driven stuff for this one and I might do this one especially for Pokémon if I ever get tagged in it again.
Red is for Mirai Nikki
Passion at least in the lustful sense is an emotion I am severely lacking! I am passionate about things… but I don't think we are talking about that kind of passion. So today I am talking about Future Diary. I think the series is exciting as well but the story from Yuno's perspective is one of passion. It's not a romantic series by any means but the lenghts Yuno goes trough for her Yuki is certainly some kind of passion! Sakura Trick is another very passionate anime.. but a bit too slurpy for me. Since I do not really relate passion to the physical , the actions of Yuno to me embody trough passion.. overly much so but passion non the less. She is willing to bend reality itself for her to be with the man *cough* she is passionate about. There isn't even that much connection throughout their entire time together.. but sometimes the heart just wants what it wants and that to me is why this story is definitely red.. the blood helps a lot as well, and made me fantasise about a yandere girlfriend!
Blue is for Stardew Valley
So I know that Stardew Valley might not really be relaxing for it's story! Yet sometimes.. the true story is the one we create ourselves. So while I could say that the story about Stardew Valley is the story about a kid, inheriting their grandpa's farm and they have three years to save some pear like alien creatures called the Jumino's in order to prevent your grandfather's spirit being eternally everlasting disappointed in you, that is not the true blue story of the game. The true story is about you…or your proxy moving to a rural place.. building a farm back up, and finding your happiness in this new little lifestyle. Stardew Valley is that game I can play when I am super sick and lack the strength to do anything else. Stardew Valley is me living a life without worries, a blissful state of being. Me romancing Abby, who apprantely is very stinky… or Lea , the artist who punches her old love in the face because she likes me better. It's about me helping my neighbour make some jam by giving him 3 apples I kept in a crate for 4 years. Stardew Valley lets you be who you want to be.. if you don't want to be a farmer you could be a dapper adventurer…if you don't like working the land you could just have some cows… or become a full time fisherman! It's about something we have lost.. a bit of simplicity and it will always calm me down.
Pink is for Bloom into You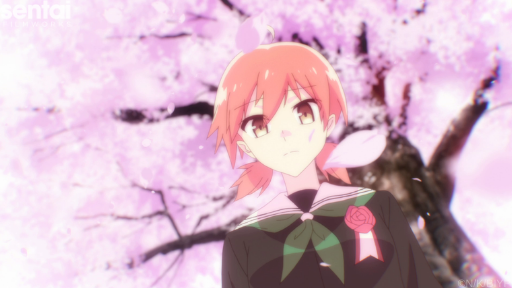 The biggest problem with romance is .. it is over romanticized.. which is weird.. and sounds close to me saying that pink is too pink… But it is true.. the idea most of us have about romance is way to fairytale esque it's. Love is great.. but it is not the beginning or the end of anything. One anime which got that wonderfully well was the anime Bloom into You.  A girl discovers she isn't romantically attracted to anyone and feels alien. When she discovers a girl who is like her, that girl falls head over heels in love with her and lusts for her. While our protagonist doesn't really mind most times and does appreciate this person… she can not feel that amazing feeling we all describe as love… yet trough the little things we do see her care for this other person, we see her struggle with expectations versus reality but trough it all there is this connection that shines through.. and I do think that is true romance and love.

It isn't about candle light dinners, it isn't about roses between your teeth. True romance is knowing things aren't perfect.. but knowing that this other person makes it good enough!  To be it is a perfect pink as well.. it's not the red of passion..but the cooled down version! Also this series has my main anime waifu… so how could I not mention it.
Orange is for School of Rock
I love Jack Black, not in the Pink or the Red form .. but in the Orange form! He is extremely typecast, and he basically just plays himself. When School of Rock first came out I thought , this is going to be a super generic movie. In many ways it is.. but is something warms my heart and motivates me. It is movies like this… This one in particular. It's about finding skills outside what is conventionally acceptable, it is about having fun in what you do and it is about being you even if it's a bit odd. Too me , being kicked out of his own band for being to much him didn't just provide Jack a lesson to learn.. it also showed it was a place where he was not appreciated. While by the end he did leave the spotlight to his kids rather than himself.. it doesn't matter anymore because they already appreciate him as their teacher. That to me is what is motivating.. sometimes we are forced to move down a different life path, but that doesn't destroy everything! Sometimes changing lanes allows us to find what we are looking for in unexpected places. That sounds like an orange story to me!
Black is for Layers of Fear
Horror lends itself perfectly for mystery and thrills, and many games lends themselves perfectly for exploring this. The Silent Hill series has some very good examples like with Silent Hill 2. Yet there is a strength in experiencing this all in first person! I love these types of horror , where you solve a mystery through your own eyes. Few horror games impressed me as much as Layers of Fear,a very artsy game in more than one way, where the house you traverse is constantly shifting , you do not trust your own senses, did you really misremember or are the game playing tricks with you. Building up this sense of dementia to a grande conclusion that is great yet very subtly told through hints you find yourself. If you do not figure out enough, the mystery will consume you. While the story itself isn't all that earth-shattering sometimes a story doesn't have to be. Sometimes what matters is HOW you tell a story and it can completely shift how we experience it.. and because of how we experience it in this game I opted to make it my choice for Black.
Green is for Kyousougiga
In essence Kyousougiga is a story about family! A very strange family! It is a story about how everyone is so different from each other that they often drift apart. It's also about classic buddhist mythology and Alice in Wonderland blended all together in a very strange mix. There series has some action elements but also some weird slice of life'ish mentality. It's also an Isekai with buddhist mechas and two episodes that are kind of a travelling show with real people, voice actors showing you all locations they used in order for the mythos to make sense or be appreciated more. So it's super strange and silly while deep and philosophical at the same time. There is very little rhyme or reason to the plot and there is no 3 act structure here. Not even the Kabuki 7 style structure. This tells a tale whose episode 0 begins at episode 4 then moves chroniclogically back up, makes some twists and it ends with a girl falling trough all sorts of worlds while her mother kisses her kinda in a way a mother should not kiss her daughter. Well it doesn't end there stuff happens in between..but in the end all that matters is that family finds it way back together again.. and this was a very interesting way of telling us this.
White is for Curse of Strahd/Ravenloft.
I am not a big book reader anymore, I want a broader experience and though I love making things up and imagining a fantasy world before my very own eyes, books don't always do it anymore for me.. but there is a kind-of-book-like medium , that I reallly like. That is D&D , both homebrew as well as modules.  One of the most iconic D&D stories is. Curse of Strahd.  Otherwise known by the name of Ravenloft. It is this D&D module that actually serves as the inspiration for the Castlevania video game series.  I had the pleasure of playing trough it once, and the characters that are there, the side stories and the twists and turns truely were amazing.  In Ravenloft , a group of Roma, known ast the Vistani task you with defeating an evil in the great country of Barovia.. a nation you find yourself trapped in with endless mist. By finding relics and traversing the region you discover the secrets behind Strahd and his castle and of one of the coolest vampire campagins ever! I love vampire stories and because of the D&D format the story is yours to give shape.. like a blank sheet of paper.. Which is white! 
The Tags
And that my loyal subjects are the colours of the rainbow!   Now I have to tag a minimum of one person, but do a few! 


Iniksbane is the first person I will tag. His website has featured me a great many times! I used to do this with my sunday posts  but do summaries anymore..because I heard people might not be wished to be associated with bloggers at times. Though  in honesty chronic migraines and large energy dips made it tricky for me to constantly browse the blogosphere anyway. I read a lot, but I might hurt people by thinking someone's post is better than another. What I am saying is.. I really respect what he does, and even though I can't do it myself anymore I want to show I respect him as a writer and think he can turn this tag into a clever story! So even if I can't repay his kindness directly, maybe this will help.
SushiRainbow is a website that deserves more love! It has a lot of very personal style updates and that is actually my favourite style! I don't interact with Sushi enough because when I read their posts it's always on mobile and WordPress won't let me interact on there properly! Same goes for a few other people, the ones that are part of my morning routine. I guess I gotten my life long dream, Sushi for breakfast.. anyway with Rainbow in the name, how could I not tag them.
SpaceWhales is a blog WordPress won't let me follow without e-mail subscribing. I thought I subscribed but you know how techy stuff works! I haven't seen much blog tags from them before, so I wonder if they take them on but I would like to give it a try!
Winst0lf is an amazing blogger that loves video game stories and I think he can turn this tag into something neat that is a bit less on the anime side of things! He deserves it and he comes over to shuffleboard on Paradise very regularly…the only problem is he always brings along Barry Manilow! So maybe by giving him this tag we can talk less about Copa Cabanna and more about his answers!
Naja is someone who I just know will nail the pink and the red colour… but are there Otome games that follow the other colours! I am curious! Of course she could go with a different route and answer those questions with anime or other stories…but then I will forever be left to wonder if there are those who meet the colour requirements.. so I challenge her to a special version of this tag with otome games only! Of course is free to ignore the challenge, but it would be a fun way to see the tag be used.

Olive Unicorn shall be my final tag! She is a make-up blogger that is pretty geeky herself! So I would really love to see her take on this. Maybe it will help a few new people connect more and we can expand our community a bit beyond just staying in our niche! Olive often has fairly similar tastes , except she looks quite a bit better in bright make up! Yet I would love to see more of the person behind the make up! What stories touch her! That would be a neat thing to behold.
Tag done! Princess fatigued! Time for you guys to make yourself heard about my picks in the comments! What is your favourite colour, would you like to see a pokémon edition of this tag? I'd love to talk to you about these because remember! Friendship is Magic! But dreams are even more wonderful! Oyasumi!  *Quack*