Ladies and gentlemen it's sunday again. Time to find out what announcements you might have missed during the week.. as we leave the month of August today it's time for a brief edition of Pink-Poke-News.
Pokémon Masters is LIVE!
The new mobile Gacha-game  Pokémon Masters is now available worldwide.  The highly anticipated three versus three pokémon legacy game launched earlier this week. Due to personal circumstances the reporter however was unable to acquire a copy for reviewing. When finally getting back into the swing of things, it turned out that Pokémon Master would not be released in the Netherlands and Belgium because of their strict laws against loot boxes However should YOU live in the Netherlands or Belgium yourselves a bit of research has allowed this reporter to find a work around. Trough using a so called APK file you can download an app that is not available in your app store. Since this reporter is about as technically apt as her D&D 5th E characters, she is utterly unable to tell if a site is safe or unsafe. She just clicks and hopes for the best. Therefore there will not be any links to sites for a APK and the reporter asks the readers interested in playing this game to google it themselves. "How to play Pokemon Masters in (your country)"  worked as wonderful search prompt for me.. of course in your native language. Our copy of the game has been handed over to Chibi Pinkie for a review which will follow as soon as she makes it through a bit of the game. Pokémon Masters also have revealed that their first event will feature Blue. He will most likely be obtained through this event with his signature pokémon Pidgeot.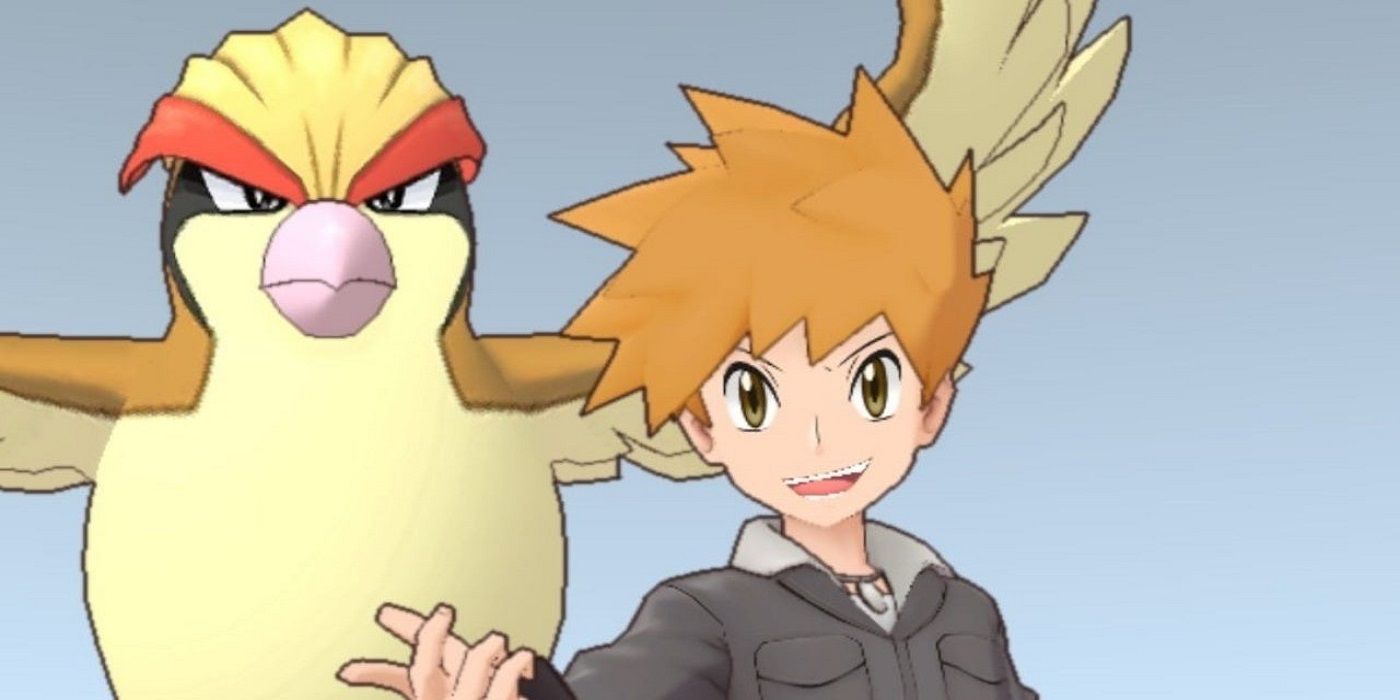 Once more we unfortunately can't go into details due to massive system updates in the beginning of the game .. taking their sweet while. However finding out about the game yourself can also be quite fun and discovering how to unlock mister "smell you later' can feel rewarding on it's own. Pokémon Masters launch has been quite successful , though on launch day there where a few crashes and log in problems, this sooner testifies of success these days as to failure because most of these errors were caused by it's sheer popularity. Quite like pretty much every Blizzard release. The new game is already the most downloaded app in over 25 countries, even though it already was downloaded several million times during pre-registration.  The player count thusly being very healthy at launch and reviews are mostly quite positive, which for a mobile game is still a win. People are praising the gameplay and looks but are all complaining on how expensive it is to spend money on pulls, yet since everyone seems to agree with this statement most reviewers also feel this issue will be solved in the future. 
Pokémon Go shoves more Eevee down your throat.
We at Pink-Poké-News have made it pretty clear that we aren't big fans from the direction Pokémon Go is currently going. However the announcement of Unova Pokémon coming soon has rekindled some hope… this week Niantic snuffed out that hope again by announcing the september breakthrough research. By doing our dailies like a good loyal player in september we can get.. Floral Crown Eevee.  This is an Eevee with a flower stuck on it's head. What makes this event Eevee..somewhat special is that it can evolve into all of it's seven eeveelutions. Once more proving that Niantic is not interested in letting you fill up your pokédex.. they just want you to fill up your box with faux unique pokémon. Adding a flower to Eevee means players who want to collect everything are forced to allocate another 16 bag slots to fill get every possible variation. Floral Crown Eevee, Flareon, Vaporeon, Jolteon, Espeon, Umbreon Glaceon and Leafeon.. as well as all of their shiny counter parts as well as their shiny variations.  Currently a standard box in Pokémon Go can hold 300 pokémon, for upgrades you need to spend money or coins that takes at least 4 days to grind up. No matter if you grind or pay each upgrade costs about 2 dollars for a 50 pokémon upgrade, not a whole lot but still annoying. Now.. let's see how broken Pokémon go has really become to the true collector. The game currently features 394 ish.. pokemon. So already.. you can't collect them all without spending money… you can still complete the pokedex though.. but that isn't were the game caters to anymore. Currently you lack about 100 slots to fill your box with everything. Now there are 32! (Maybe more if there was another headgear Eevee)  possible Eevee combinations to currently collect. There is 38 shadow Pokémon that also have a purified version meaning that is 76 additional combinations to add that do NOT really contribute to you catching them all. There's 8 spinda forms .. which also has a shiny meaning there is 16 Spinda to collect. Since Pikachu has a noticeable gender difference between male and Female.. as well as having a shiny there is currently 44 Pikachu's to collect, most hat forms can evolve or hatch into a prevolution.. so there's (rough estimate) over 100 pikachu evolution line pokemon. 100+ Pikachu line , 76 shadow pokemon with their 38 regular counterparts, 32 eevee's 16 spinda's.. that's already 262 pokémon for you to fill you box with that equal  51 legitimate Pokédex entries. That's over 5 times as much! Niantic is inflating their Pokémon count to force players to spend money on getting the same pokémon over and over again.
We aren't even that salty about it as it seems like smart business strategy.. but just LAST month we had an event where you could get floral crown Eevee AS well. Rehashing the pokémon in this period makes it feel like creative poverty. It marginalises tradability by rehashing event pokemon over and over again until everyone has them .. just like how community day has killed the values of shinies… as well as filled up my box. I would not nag about how unfair Pokémon Go is treating their player base if they at least launched a new variation that is unique to playing in september. It would force us to trade again. They marginalised raids by putting former raid pokémon and cramming them into the field research as well.  Sure it is nice that you can get some pokémon the way you want to play but it feels conflicted with how they initially meant the game to be played. Everyone can get anything if you wait long enough and rather then come up with something new .. or at least keep something unique to a certain aspect of the game they just rehash and repack so everyone can fill up their box space as soon as possible to spend their money on upgrades.
This game used to have a soul but Niantic is quickly selling it out for an easy buck. We will admit we understand why you cater to the hardcore and new players.. but me as a casual high level player feel completely forgotten and forsaken by niantic right about now.
Hidden Fates and Cosmic Eclipse
Now that I finished my rant how about a rave! Pokémon Hidden Fates launched last week and it's slowly becoming available throughout the english speaking world.  Hidden Fates is a translation of the long time japan only GX Ultra Shiny packs with a twist. Unlike Japan we do not get guaranteed GX's in our packs.. but we pay a lot less as well. It uses a few more modern cards from recent sets as well to make it more relevant. What makes this set so special is that it features a lot of shiny pokémon. Both as GX's as well as some regular holographic ones. Unlike the japanese set.. HF comes with a lot of set unique GX's that though lackluster in battle strength feature some nice close up art. One of the unique cards in this set is Articuno Zapdos Moltres Tag Team as well as a shining Charizard of course. Hidden Fates much more a collectors set than a battlers set though. There are some very good cards in the set still but you'd sooner by this set to collect rather than to play. This is reflected in the prices a card can fetch. Shiny Charizard graded will most likely fetch a few hundred dollars, while even the quite oftenly pulled legendary trio of Kanto fetches a few bucks. Pull rates for this set also seem quite well, that being said we mostly saw the promotional blister box being opened which admittedly does have some better pulls than your more conventional booster box or elite trainer box.The set is gorgeous and expansive with plenty cards for the true collector. However those who seek to build a deck would be better off with unified minds or unbroken bonds. Quite possibly even the last Sun and Moon set that will ever be release Cosmic Eclipse.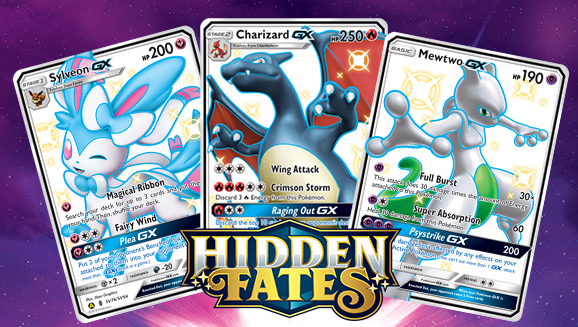 The Pokémon Sun and Moon card sets have decided to go out with a bang. Around the 10th of November.. just a few days before the release of Pokémon Sword and Shield.. the final card set from the series will arrive. and boy will they deliver some goodness.  For those who don't know.. as soon as a new series begins generally all cards from the older generations become tournament illegal at least at official games. (With the exception of like the last two sets.. if they haven't changed those rulings). Since Hidden Fates is a legacy set.. it will most likely mean that besides some good supporters you from HF Cosmic Eclipse singlehandedly has to close the gap between  the new V cards and their own generations Tag Team cards.
While we got the gist of what will be inside the packs , the specific content was only teased at.  The set will contain 9 new tag team cards, 7 additional gx's and well over 20 supporter cards and a brand new form of special energy. New in this set will be the so called Tag Team Supporters. A supporter card featuring two trainers liked "Red and Blue'  as well as "Cynthia and Caitlin' How these will impact the game remains to be seen. Other than that.. two new triple tag team cards where announcement. The Sinnoh Creation Trio: Arceus & Dialga & Palkia GX as well as the ultra cute pink card Togepi & Cleffa & Igglybuff GX. These were briefly depicted in the trailer for the Sword and Shield set at Pokémon worlds but now.. they are finally rolling of the press. I bet you guys can guess which card this reporter will be pulling for.
Pinkie's Pokemon Reached 50 followers.
Now existing for about 2,5 months Pinkie's Pokemon has reached 53 subscribers at the moment of writing. Once more I would like to thank everyone who has made that possible. Blogging about a niche in a niche we never expected things to grow this fast. With plenty of content experiments planned in the near future like Trainer Profiles.. where I turn you favorite character, blogger  or celebrity into a trainer. Little crossover stories of your universe of choice .. mixing it with Pokémon as well. We will delve into some material deeper by providing you tutorials for it then later discussing it in depth referring to these base posts amongst other things. Still we all wonder what YOU'd like to see on this site.
What would make you frequent it more and what would you like to see added.  Here at Pinkie's Pokemon we would love for this little community to grow and ambitious as we are there is a certain other pokémon blog whose way of bringing content I am not a fan off that I would like to surpass one day. Though our next milestone is simply 100 subscribers that will not be our final goal. Pinkie's Pokemon wishes to properly showcase passion and love for her fandom in her own unique way without resorting to copying and pasting tweets and calling it a post. Yet Pinkie is not the only one who makes this blog.. it's everyone reading as well. So tell us what you would like to see. I'd really love to hear more from you all! I might be the Pokémon trainer of this blog.. my readers are like my Pokémon.. I would not be anywhere without them.. so what flavor poffin do you like best? What's your nature and what would raise our friendship?! Tell me in the comments or look around for if I finally manage to knock out a content page on my actual site! For some reason I can not do a contact form so I will have to be creative. I am happy that I can grow you all helped! Thank you for making Pinkie's Pokemon possible!

This concludes week 35's edition of Pink-Poké-News.  In the following week you can expect: Professor Pinkie talking about Arceus, Pinkie returning to the what if Ash was a girl story, a Pokémon rendition of "Star Wars a New Hope'  (Part 1 of Part IV) a review of Pokémon Masters and more! Do let me know what you'd like to see on this site yourself so we can grow. Thank you all for your support during my difficult time last week and for following this blog! Remember
I am not weird, just very pink!
Until we read again!

XO
Pinkie