Hear Ye Hear Ye, Princess Pinkie has Returned with a new Pokémon Post

My sweet loyal subjects, as you may know I love theorycrafting and coming up with my own concepts for movies and games! I already designed concepts for about two Pokémon games..but non of them were about me! Now that I am a princess , I think we should change that. Sure we have Alola as a tropical region! Yet there were no gyms! You were the first Pokémon Champion ever.. it did not feel like the big leagues! It felt.. like a vacation! Yet what if I were to make my blog and it's backstory into a whole new Pokémon Region and Pokémon Game! What would we get?! Today I will answer that question for you!
The Map
First of all we will need a general design for our region .. and that can be tricky! Hoenn has too much water for many while yet other people do not really like the whole circle motion you follow in Unova and Kalos. However Game freak really does seem to love this type of movement as you do it in Galar and Alola as well.. although a bit more disguised and tiered.  Luckily Paradise has gotten a map recently that we can use to give both the game designers as well as the pokémon fans what they like. You see Paradise is a heart shaped island, with the resort entrance lying in the tip of the heart and other things being located on the beaches around it.   The heart of the island is set for the pool area, everything seems to flock a bit around that so for our journey we will make the pool area our Pokémon League.  Since we already had a Hawaiian theme.. let's make this one Mediterranean mixed with cuban elements. Latin..tropical! So let's call the final city we visit Piscina City.. It's pools after all.
By taking elements from our island we can easily make elemental towns! The starting town would be called Registrase which is a rough translation of check in! All around the heart we have some elements that can be adapted. My castle can be translated into a fairytale town, along with a fairy type gym!  Kaiju lake could be a lake filled with mysteries.. which in Pokémon games.. means ghost types.  The Bar or the restaurant could be converted into a fire town, while the docks obviously are the place to go for water types!  While we would be following the shape of the heart  we sometimes can move land inward for some new adventures.. or even go out to see for some water based minigames, or to investigate some strange events with gym leaders or other characters. The gardens could be thick jungle.. boucy ball beach could feature a roadblock pokémon that you can avoid by navigating trough half submerged caves. Plenty is possible, but as an idea we will scale our island up 100 times or so and turn all of our existing elements into towns.
Legendaries
Any good generation game has two box art legendaries and in this case it will be a Unicorn and a Duck legendary. A Fairy Fire type for the Unicorn, and a Water Dark Type for the duck! The Unicorn stands for Passion and the Duck will stand for Desire. We all know one can have a burning passion.. or a burning desire.. but in this case, that desire.. is when one pushes too deep. Let them be swallowed/consumed by desire.. let it be all around them with nothing else around.  Like a dark ocean.  The Unicorn we shall call Passiocornio and the duck will be called Patadeseo!  Both spanish portmanteaus of Passion Unicorn and Desire Duck respectively. Of course the duck would look really cool.  Plus words like Passion and Desire would fit really well in a tropical theme.  Of course to sell the games we need to avoid the word Desire so the games would be called Pokémon Passion and Pokemon Conviction.
Unlike other Pokémon legendaries who have been attributed to Pokémon life, we find out that Passiocornio and Patadeseo guide humanity, they have the ability to "speak"  through humans through a sort of voice in their head. It keeps the world of humanity going forward. It keeps humanity progressive, without these Pokémon humanity surely would lose the will to go on and become great pokémon masters!  So  you as the trainer will have to find a way to protect both these Pokémon from the evil team. Compared to other pokémon journeys that would have come before.. This journey would focus much more on what it means to be a trainer and dive into the human aspects of this world. Why do pokémon follow humans that closely, why do pokémon grow stronger when working with humans?!  Questions like these will be answered through the story with the legendaries as we really take a look at our part in this symbiosis. 
The Evil Team
Since I brought up the evil team just now I think that is a good next step to take in creating this world. This time the evil team would take the form of the FBI like people. "Agents" who feel the world is better off with them in control. With them policing over the world.  Events with them would be them selling Pokéballs with tracking chips to people, breaking into a tower to turn around the signal so they can use the radio to eavesdrop on people and potentially them wanting to shut down Pokémon Laboratories because they do not feel 10 year olds are ready to have Pokémon yet.  Yet outside these evil deeds, we also see them volunteer to find every missing kid or help out with other problems in the Pokémon world.. as long as they receive praise and status. I will call them team Mahan. Which basically is a reference to the "The Man"  which is often used for government instances. I feel like having a red white and blue colour scheme would get me in trouble.. so let's say they wear all black and look a bit like the agents in the Matrix.
The Leader of the evil team is called Orwell and while having a legit reason to be the way he is he will be among the more evil villains in the series. Orwell's son.. George once took of on his trainer journey much like the player before him. Orwell did not want him to go.. but there was this passion in the boys out and Orwell knew he could not stop him.  Yet on his journey George met an untimely end.. Orwell tried to warn humanity to abolish kid trainers or even children having Pokémon.. but no one would listen and that's when he realised humanity was stupid! It could not take care of itself… he would have to protect them against themselves.  By Capturing both legendaries he can link everyone's Passion and Conviction and complete .. the Hive Mind.. a machine he can use to pierce the subconscious of all humans, this way he can protect them from themselves and enslave mankind .. free from it's whims. Such a theme will be chosen because it meshes well with what Paradise and me are about.. but it also ties in nicely in the exploration of humanity story that is this game.
The Starter and the Rivals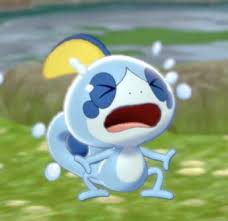 That is right I wrote rivals as a Plural, so this means we are going to have multiple rivals in my game! Symbolising the variety of content you can get on Paradise. However this game will not feature all rivals such as Sword and Shield or  Kalos or any other multiple rival game.. no this game will only have one of them, you will have two.. but who they are all depends on your starting choice.. where in lies the biggest difference from all Pokémon games. You see I do not think we need more pokémon persé. With a Biodiversity of over 920 species we don't need THAT much more. I'd rather see some extra regional variants to make old pokémon more relevant again maybe with an evolution here or there but I do not think each generation needs 100 extra pokémon. In my opinion one of the most toxic things about new games coming out .. is the starters.  People are SOOOO ungrateful when it comes to new starters.. and we have taken that whole grass water fire thing far enough! People are never really happy anymore.. which is why I propose a radical change in how starters work.. I will make a more in depth post about that some other day…maybe!
My idea is that instead of just being asked what your preferred gender is, we also get a question about what your favourite typing is. From that question you will be assigned a pokémon of that type as a starter.. as long as it follows a few parameters, such as knowing an offensive move at level 5 and learning an additional one that gives a Same  Type Attack Bonus by level 15. You can get ANY Pokémon from that type in the game.  Which makes it a much bigger surprise and will make replaying your game feel more fresh. Your rivals would also change at least in my game.. they are bloggers based on your strength and weakness.  I'd pick fairy for example so my biggest Rival would be A guy everybody loves that uses steel type Pokémon and who is very friendly and loves doglike pokémon. 
My weakness Rival would be this busy bee girl who specialises in fighting types but also carries a gardevoir as her magical girl. She lloves to lift weight and talk in length about her Pokémon on Radio Shows. Two very nice behavioured rivals, but say had you picked the Psychic type, one of your rivals would be the mysterious man with a one letter name who would use dark types and act all mean.. even though it is just an act. He wears a tophat and talks with movie quotes a lot. This would also impact the story at least in an illusion of choice kind of way. Where my steel rival with golden eyebrows happily tags along you to defeat Team Mahan, a certain anime blogger for example has much less time..and is probably drunk.. so instead she rushes ahead.. only defeating half of the trainers.. leaving you with equally plenty experience to gather from these trainers…but the with your battles unfolding somewhat differently.
The League
The Paradise League would feature 8 gym leaders like normal, and they would be based on characters I have on my blog albeit less stolen. Instead of Nakiri Alice as my chef, we'd get a cook, that is also a chemist that loves cooking with his fire pokémon. His gym puzzle would involve gathering ingredients and applying some science to it to produce the correct dish. If you fail.. a clean up crew comes along.. they are annoyed that they have to work now and will attack and battle you. The fairy castle town will feature Chibi Pinkie as a Gymleader dressed like a jester! She wants you to give gifts to the Princess subjects.. they give you a small description of their desired gift..and if you give them the right one.. they WILL honor you with a battle. If you give them the wrong gift they get sad and Jester Pinkie will be angry and become more difficult in battle. Other gyms would work in similar ways with gym puzzles involving a chore or event that is tied with Paradise actual location.
The Elite four is very simple!  It's my writing Staff. Indigo would be a steel type user with Bisharp as his ace, Kuro would be a ghost type user with a Regional and better Dusknoir as their ace. Sunny would be a water type user and his ace would be a shiny Milotic that you see raise him from a Feebas earlier. The most ugly fish now turned beautiful is a great metaphor for Sunny.  Periwinkle would be a Dragon Type user.  Dragon's symbolises his need to put obstacles in his own way by playing super shitty games! His team has a lot of Outrage users and he is an elite 4 leader with a twist. His Pokémon are of a higher level.. but they function like they don't always obey him.. much like traded Pokémon of to high level.  Periwinkle's Pokemon are so powerful he soldiered through.. but you need to take advantage of this by using paralysis and confusion tactics to fight him.. it's not just sheer offence!   His signature Pokémon would be a Druddigon to symbolise this character best.
The Professor of the Region is a part of this gym journey as well, she is a female professor called Professor Palm. She looks a bit like Palm from Hunter x Hunter as well and her gimmick is that she is massively socially awkward. She represents the geek in all of us, and while she can passionately talk about pokémon… each time she becomes aware she is doing it she freezes up!  She is the polar opposite of professor Sycamore and talks in a very stuttery wayl She is actually a woman of science and has that scientist nervousness! She isn't a people person and is a bit awkward around children. She will be a fun addition to the Pokémon professor family! She truly is a scientist who dedicated her life to Pokémon. She will utterly be able to talk to the main character and then introduces us to the follower Pokémon mechanic after which she speaks to you trough your Pokémon. "Bulbasaur Tell Pinkie that this Pokédex can register all types of Pokémon" Kawaii!
The Champion
At the end of your journey you would face the champion of Paradise and that would of course be yours truely! Throughout the journey you encounter me a few times. I'd follow a princess theme! So I'd be dressed regally like Iris and have mannerisms that hold in between Cynthia and Diantha. An Amalgamation of the best elements of every female champion. I'd be the ruler of the island as well but this time we will show a person in power is actually not evil! I am sweet! During the game I will use several teams but always carry my Sylveon with me. I will mention that I use several pokémon so all my friends can go out to play. When I support the main character I will carry a team of five pink pokémon, mentioning I have a sixth but people would go crazy if they knew I had it! Early in the game you can find me adopting a lost stuful!
My champion team would fit a princess theme as well. I would have a Kantonian Rapidash to symbolise my unicorn. A Sirfetch'd would be my knight  and Bewear would be my teddy for tea parties.. speaking of tea parties , I'd have an Appletun and Polteageist to be the sweets and tea of a princess party. My final Pokémon would be my Ace Sylveon! I carry that everywhere I go. I know I said Rapidash isn't in the Pokédex.. and it is not!  It is mine and mine alone! It will help simulate the bratty part of the princess. In My rematch team I use a hybrid of my pink team and princess team. Chansey with Toxic as a lead, Sylveon as an Ace, Bisharp instead of Sirfetch'd for coverage.the teapot would probably still make the team as well an Ariados would make the team for more toxic stalling options and finally I would have a Mew.. which we would give a new form, cause we gotta make some sales! And that  is how Paradise became a game!
And that is how I'd imagine Paradise as a Pokémon Region/Game. How would your blog look as a Pokémon Region?! What would your champion team be? Do you think my team fits me?! Let's talk geeky, though I might be napping! Because remember! Friendship is Magic, but dreams are even more wonderful. Oyasumi!
If you want to help me fund this game.. ..but realise I am joking here and you just want to support me.. consider helping me out by buying me a cofee.. or as I like to call it .. A Royalty.. once again Oyasumi!