POSTCARDS FROM PARADISE
My eyes shot open.
I hear gravel cracking under tires outside my hut. I look at my alarm clock. Three thirty in the morning. I see the red glow of brake lights through my window shades. I hear a car door open up.
*Quack Quack* *Quack Quack*
I know whose Jeep this is. Only one person on this island drives a custom Duck Jeep. Complete with matching Duck Quacks as a keys-still-in-the-ignition-alarm.
I hear another door slam. Then palmate up the drive. I dress quickly. What could it be this late at night? Was it something I had done? Something I had said?
*Knock Knock* Two raps at the door.
Cookie sighs, rolling over on the couch trying to catch some ZzZz's. Some Gaurd Seal he is.
I open the door somewhat guessing what this late night meeting could be about.
"Princess?
Princess Pinkie hands me a shovel and strolls back to the jeep. I examine the shovel and she turns around at the Duck Jeep. "Well? Are you ready?"
Not soon after we're driving through the sandy roads of Paradise in the dead of night. We pass by occasional bonfires and coconuts enjoying their night. I, blink twice as I see Sunny hanging upside down from a tree. I, shake my head. I have to lay off the drink.
"So if this is about.." I start
"It's not about anything. Granted you haven't been showing up for your duties but Paradise is accommodating. The only reason I'm calling upon you now is because I may have found something that would interest you."
With my interest peaked I gaze over towards the driver side as Princess Pinkie holds up what looks like a dirty old map. She keeps her eyes on the road ahead as I take the map from her hands.
"What is it?"
"I think it's a treasure map."
"Here? Treasure? On the island??"
"If that map is true. We should be approaching the spot soon" As we pull up to a secluded beach across the island. The sun not yet risen painting the sky a lighter shade of blue. We exit the vehicle and see that there is already a red "X" painted on the sand. We look at one another and shrug. I throw the shovel into the sand and only have to scoop one shovelful of sand up to uncover what lies beneath. It is a copy of the PlayStation 2 game, Pirates: Legend of the Black Buccaneer…
We both look at it on the ground. "Do you think that's it?" I ask. Pinkie seems just as disappointed. "I mean.. shit. I don't know."
"I'll try digging a little further"
"Yeah do that" she says as I scoop Pirates out of the way and continue digging.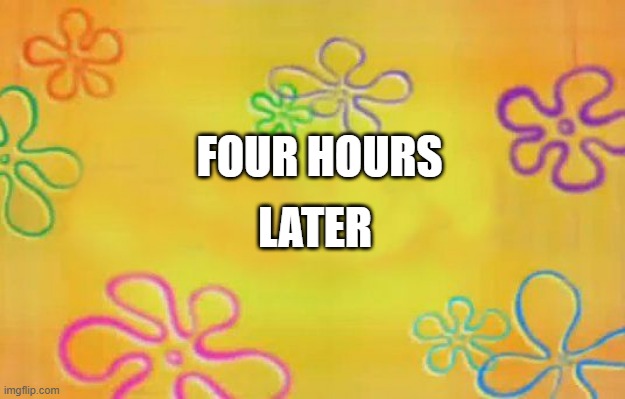 The nine o' clock sun is beating down on both of us collapsed on the beach. Hours of digging. No dice. The treasure is unfortunately the PlayStation 2 game, Pirates: Legend of the Black Buccaneer. Defeated we both rise and walk over to the Jeep. Arriving at my hut only a short time later Pinkie tosses the game on the seat after I get out.
"Maybe you were meant to play this game."
Looking down at it. "Yeah…sure."
I close the door.
So this game arguably has the longest trailer I have ever seen. Especially considering the average completion time on Howlongtobeat.com is around four hours. Which four hours really doesn't seem like a long period of time. It's only 1/6th of a day. 1/2 of a good night's sleep (does anyone ever get a full eight?) no, four hours doesn't seem long at all.
BUT THIS FOUR HOURS IS A VERY LONG TIME
So.. arguably part of this is my fault but mostly it's not. Let me explain.
Back some time ago in my early 20's I used to work at a Gas Station/Pizzeria type place. I don't know how most of Europe works but I'm pretty sure you guys have the same idea – in Dublin I ate at some Irish McDonald's knock off that was way better at a Petrol station. So people liked the pizza at this place and every summer – it was right down the road from where they held the county fair.
Now this county fair is a big deal. Every year. People really dig it and every year it'd usually be the same touring carnival staff that really dug our food. So working there while the fair was operating afforded you the chance to meet a lot of colorful personalities. But there was one particular person I'll never forget because there was a part of me that envied him. I think.
This was at the height of the Pirates of the Caribbean craze and there was a man that would adorn himself in full Jack Sparrow attire and make up and well… he was quite a hit. Twenty year old me would watch as people surrounded him for photos as I pushed out pizza dough or made subs. Watching quietly from afar thinking things like:
"Wow… that guy probably gets a lot of tail."
And
"Pirates of the Caribbean was the best thing that's ever happened to this dude."
What the hell does this have to do with anything? Well… it does sort of help explain my misconceptions of pirates and piracy in general. I, a relatively unpopular and lowly pizza boy saw this Johnny Depp look-a-like crushing it. And I should add a fun loving and mischievous, Jack Sparrow cosplayer that was melting the hearts of moms the world over while everyone else swooned.
As I sat there changing our fryer baskets I glared at the local star. As people gathered around I thought to myself:
"Probably never sailed a day in your life, you fraud!"
But neither had I AND there is absolutely no sailing going on in the deceptively titled, Pirates: Legend of the Black Buccaneer.
In fact, if you missed the five minute video at the beginning of the game you probably would have no clue this is a game based on pirates at all. There is no sailing, or drinking rum or singing songs. All you do is shoot monkeys in the face and fall to your death.
The story's premise is sort of cool, if not a bit confusing. During the height of the slave trade – there was a slave ship on its way to a Spanish Outpost that found itself ravaged in the storms of the Bermuda Triangle. Where as legend will have it the legendary slave, La Borgne commanded a slave army that waged war on the nearby Spanish Outpost. They destroyed all that was in their way because well.. they were understandably pissed off. The Outpost was deserted and in nautical lore the island was considered cursed and dangerous but also of course, a terminal for lost treasures and riches beyond your wildest dreams.
At last, hearing nothing from the outpost for quite a while the Spanish Crown sends its most decorated captain out to learn the fate of the doomed ship. The revered explorer, Dominic Roberto De La Cruz (shout out to my friend, Filipa 🤗) As legend would have it De La Cruz would land on the island and battle La Borgne and her army of slaves but the outcome of this struggle is lost to the sands of time and De La Cruz was never heard from again.
Here is where you enter – as Francis Blade. A nobody rogue who finds himself as the sole survivor of a ship wreck marooned on La Borgne Island. It is here where apes and orangutans attack you for no reason whatsoever and you'll spend hours upon hours swearing at your television as the game's inconsistent and slippery controls fail you over and over again.
There is an interesting element (one that I don't like and I don't really think it makes a ton of sense) but after a little bit of gameplay you come across an Amulet. An amulet that gives you the power to morph into the "Black Buccaneer". Whom confusingly looks like a mix between Baron Samedi and the Hulk. The artwork on the old screens are very heavy with the Baron Samedi aesthetic as well without any real mention of Haiti or Voodoo culture whatsoever.
One could argue that it's not necessarily the developer and writer's jobs to spoon feed the gamer every single detail but it sort of seems like a missed opportunity when you're dealing with subject matter as fascinating as Baron Samedi and Haitian culture as a whole.
I like the idea of an escaped slave raging against her colonial captors through the use of brute force and black magic but why not run with it? It feels like a decent idea that was never fully realized. Which is basically the entire story of this game.
If they would have just tightened up the controls and upped the story a little bit you could have had a memorable adventure but instead they ended up with confusing plot accompanied by infuriating controls.
SHOP TIL YOU DROP
I mean .. yeah .. it's bad but it's still worth more than one cent. Buy it if you see it for one cent.
DESERT ISLAND SONGS
I mean will any other song written about a pirate ever compare?
PERIWINKLE'S LOW HANGING FRUIT PUNCH VERSION 2.0
2.) Shameless Voodoo Face Paint