Yay it's time for Chibi Pinkie to play again! While this post goes life I am at playing the dutch theme park the Efteling with an amazing friend of mine, this week has not been so fun for Chibi Pinkie. Not only are we a bit sick I also have to review the worst Pokémon game ever made. Fun and me had no fun with this one. By far the most horrible and unplayable Pokémon game of them all. Hey You Pikachu!
The Disclaimer
Hey You Pikachu never got launched in Europe. However trough having a big friend who is working for an even bigger international  gaming company, as well as having known (past tense) retro game dealers I managed to actually play this one and even finish it. However I do not own the game I just played it knowing full well the material is not optimised for us. Some of my gripes will be a result of that. Prior to this review I brushed up on the game however by watching several playthroughs and I noticed plenty of people had the exact same gripes (just a bit less tedious) This game got very mixed reviews and ended up with passable grades on Metacritic so I do guess this doesn't apply to everyone. If this game  works for you, good on you but I very much hate this 'game'
The Concept
When Pokémon Stadium was a big succes a people  aid bucks extra for a peripheral to transfer their beloved poképals to the N64. Seeking to do something similar they designed yet another attachment for your controller. they could charge you extra for, this time you would be able to talk to your Pokémon. In this game you play the nameless and even shapeless protagonist this time that once more gets hired by our good old pal Samuel to do yet another form of research. This time his newest invention allows you to befriend wild Pokémon and gaining their trust. The concept is a stroke of brilliance, this could have been such a great game if it had been designed better. The idea of winning a pokémon's trust and actually focus on the budding bonds between a human and a singular pokémon is something that in these days I would crowdfund immediately.  This is what I would have wanted Tamagotchi to be. The Pokémon you encounter of course is Pikachu which is arguably a bit uninspired, but don't worry that wasn't no where near the only uninspired thing in this game. By talking to Pikachu you can go on , sort of adventures with him to collect leafs, catch fish toss a ball and suchlike things. All in order to win that Pikachu's heart and earn the most horrible ending in a kids game ever. bit but more on that later. Pikachu can buy stuff from a store, you can pick up items while Pikachu follows and of course you can talk to your Pikachu and it can respond to you. Unfortunately it listens about as well as a Lvl 100 Missingno traded to you before you have any gym badges, whilst you try to operate the menu blindfold would in the main games. Oh right and you only have moves with like 50% hit chance… and your pokémon is confused… and paralysed. Commanding a Pokémon like that just about is the feeling that this game will give you.
The Atmosphere:
Pikachu lives in Viridian Forest which basically looks like it copied the textures of Ocarina of time, which at least in Japan launched at the same time. Making the looks feel adequate on intial glance. Because saying positive stuff is fun i'll say the area's  the game is set in are charmingly mediocre and pikachu looks and sounds cute. Pokémon have their names as cry which brings some charm to this and that is where the positives end. Regretfully I am not only talking about the atmosphere… this is it for the game. It's cute to look at and see Pokémon do their thing. Pokémon Snap however can do that for you as well however and so much better.  Where you have 7 very different locations on that one… this one is just grasslands .. sometimes with a bit of water. It makes sense because it is set in a much smaller area but jeez some fauna would be much appreciated. By far the WORST sin in terms of Atmosphere is how the actual 'levels' are designed. Item placement is so random it looks like Michael J Fox with a mouse was in charge of placing them.  On a grassfield with no bushes or trees at all you can find 12 strawberries laying around, just scattered around. Pokémon to interact with are treated in a similar fashion. Guys I know you made this game for kids but does the term world building mean anything to you? Pokémon tend to group together. this would be the ideal game to show that off. Have a family of Oddish fight over some strawberries and let Pikachu bring them a few! Awesomesauce. But no.. the Oddish are scattered and don't interact with each other at all.  Fishing for Seaking or Goldeen's will produce super tiny fish which don't have an appropriate size. Items show up with no rhyme or reason and the laws of the world make no sense at all. At one point Pikachu can shop with money while for remainder of the adventure it is just a pet, mixing the Pokémon Mystery Explorers world a bit with that of one similar to snap feels odd and non-cohesive as everything else in the game. Though flour and eggs, milk sugar salt. love and sprinkles could make a wonderful cake together when combined properly, just tossing some flour eggs and sprinkles in a pot and baking the living shiitake mushrooms out of them and then cooling it down with milk you had a lovely day with, does not result in the same thing. Hey You has the ingredients of a game, even a decent one at that.. but the elements don't gel into a cohesive product..we end up with just some ruined ingredients.
The Technical Thingies
Dear Arceus who art in better games. If Tommy Wisseau could write and design a more cohesive world, the game designers of Big Rigs over the Road Racing, could have made a more functional game.. it would be close but at least when you play that game you are winner. (And yes I written that correctly) Let me be straight with you.. this game doesn't work.
It starts and you can finish it but it doesn't work. It isn't prone to crashing nor is their something really broken about the game… it just doesn't work.  Voice control is atrociously bad, thus there is no gameplay. When you make a sound there is a 1 in X chance Pikachu chooses the word you want it to hear. Mechanically wise this basicly results  in gameplay mechanics that are akin to roll a 3 on a d6 to progress. A one and two will result in something cute , 4 5 and 6 may even hinder your progress or will annoy Pikachu. Progress is possible it's just up to a matter of  ever so slightly manipulable chance. The game works as follows, you read some dialogue and examine some items and everything in Red Text or Blue Text can be recognised as a command. For example Oddish, Pikachu, Throw or Thunderbolt. Simple enough should work but it really doesn't With my accent it's a total no go while these are really simple words.  Trying to make Pikachu buy the middle item in a shop failed so often I almost cried in frustration while the Oddish level is a showcase of bad design. Think about it's 20 years ago and voice technology is still really coming up and there is a plethora of issues. In one level you have to make Pikachu water a radish to let it sprout as oddish.  The voice command would be "Pikachu Water a radish".

Issue number 1, Pikachu has to hold the watering can but he will snag about everything else you hold in your hand as soon as he gets to close.  Annoying but overcomeable, now when you water a radish it becomes an Oddish… which is also a separately recognisable word. Voice tech isn't that great so as soon as the first Oddish sprouts out of the ground, you have about a 50% chance from Pikachu getting the next "radish" command right.  In the entire rest of the map you only find strawberries. which is again a word. "Water A' and Strawberry are kinda similar in sounds once you pronounce them vast enough. So now at best.. you have a 25% chance of actually being able to execute the task, and that is if Pikachu even choses to recognise the words at all.  Since the voice is basically your only option to make Pikachu do anything it kinda gets frustration when you end up with about a 10% accuracy in your commands. Compare it to playing Mario but 9 out of 10 times the A button doesnt work. Doesn't that sound delightful. If Pikachu holds an item and he gets frustrated because he doesn't understand you… he oftenly tosses it, depending on where it flies of too (the physics are rather extreme)  you might not be able to get that item anymore that day. Yes thats right I said that DAY , the game that listens to you 10% of the time… has a time limit.
This game does not work.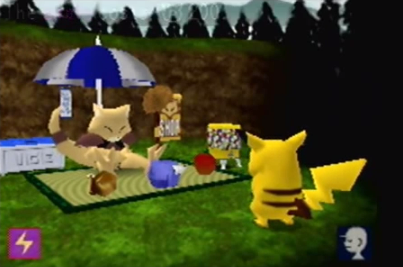 The gameplay
To describe how this game plays I am going to use a comparison. Imagine taking one of those children that feature in those supernanny shows too a foreign museum of modern arts. Now imagine that kid drank about two liters of red bull prior to this event. Now you are given the task to keep him in check whilst learning yourself about some artwork that is made of random stuff stuck in a oversized plush  torso. and I mean random stuff like.. red dyed drainpipe.. and straw bundles with LED lights in them. The kid keeps asking you to tell him what to do Dora the Explorer style. This would be about the same experience as playing Hey You Pikachu. The latter having the advantage that you can rip out the cartridge and toss it out of the window… but still, Sans would be surprised how bad a very bad time could be ..should he put his hands on this  game. This is made worse by Pikachu's horrible walking speed. It's cute to see him waddle, that genuinely still made me happy, but seriously he is slower than any windows update. When you make Pikachu walk from place A to B , Disney will have released two new live action remakes by the time he gets there, oh and have I mentioned the game has a time limited. Those two go together super well. Now Pikachu CAN run… he just rarely does it. "Pikachu picked up a A STRAWBERRY, It wants you to guess what it is holding"  is the text prompt that follows when I decided to just move to him'
'Strawberry' I say. Pikachu nods! I guessed correctly! Wow.. so it can still work. 'Pikachu eat Strawberry' is what I say next. Even though the word is not in this game Pikachu clearly must have heard, Pikachu YEET Strawberry' as th Strawberry wizzes past my ear.. it's gone.
It looks upset because he wanted to eat it. The day is over…. isn't this fun.
Now the game is still cute to look it, so cute even that it might have been enough if not for the horrible way this game ends. Mass Effect 3 had briljant choices compared to this.  You know those "it was all a dream endings we pretty much universally hate?"
This is worse.
So you are a kid without a pokémon of your own over the course you befriend Pikachu and it even follows you home and sleeps on your bed as your bonds grow.  You have yelled at Pikachu , cried in your pillow of frustration that it doesn't listen and even considered giving up on being a gamer because this just isn't fun and this isnt working at all.  All your hard work will be worth it in the end right? You get to capture Pikachu and use the voice commands to have a battle with it right? How amazing would that have been for an ending! Unfortunately we do not get such a cool ending… nor does this game just fizzle out like Pokémon Snap kinda did.  In the end, you release Pikachu back into the wild!
The game ends with you saying farewell to Pikachu and it cries as it runs off into the forest knowing that it will never see you again. The only reward you get as a player for stomaching trough this yank as frizzlesticks game is another punch in the gut.  All your progress is nullified, that bond you earned is severed and Oak has some research that has never been used again in the entire world of Pokémon. At least that kid you took to the museum MIGHT say thank you for the nice day Miss Pinkie.. or insert your name. It is nice and consistent though, you get punished for playing , you get punished for finishing it oh and of course you get punished for buying this because you had to buy that microphone for it too.. that no other game used. This game is like an inverted stress ball. I legitimately have a bad heart and this game frustrated me so much that I actually noticed it harming my rhythm. 
The Verdict
The title and the rest of the blog have pretty much made clear that I will give this the lowest score in my ranking system. This is a cute-ish game to look at and that is the best credit I can give it.  There is no effort in designing a stage and items have randomly been placed just to cater to the extremely young and it's to frustrating for them . This game should only be played if you do not care what actual happens… which kinda defeats the purpose of playing a game to begin with. Seaman which released earlier is the better microphone game.. much weirder…but he at least reacted a bit. Pokémon Snap is the cuter game to look at and let just run. A pikachu plush is cheaper and less frustrating and about as interactive.
When it comes to pokémon, you gotta catch em all, however when it comes to Pokémon-Games you can easily Leaf this one alone.
Now unless the creepy jester of the Efteling kills me , I harm my back and neck even further than I already have in the rides or if I get sick from the theme park food, we shall be back tomorrow where we will answer the questions of our Sunshine Blogger award finally! Keep following me for that one! Leave a like, follow the blog, make a witty comment and remember:
I am not weird just very pink!
Until we read again
Wait Pikacchu what are you doing to my room?!