Good day loyal subjects!
Yugi Muto might be the king of games but I am the princess of Pokemon TCG..somehow that is better believe me. Noble as I am I do not participate in tournaments to give others a chance at the title as champion is a step down from princess anyway. Pokémon TCG is big business, in the Netherlands Yu-gi-oh packs are becoming increasingly rare while Pokémon is standing strong with new expansions just behind the horizon. When a trading card game is healthy, it does mean people actually like to trade cards giving value to these little sheets of paper. The five cards we will talk about today.. fetch quite a high price.
The Rules
Now there are many ways to do this top 5. I could rank based on rarity here and put up a list of cards that are most likely valuable and that are among the most desirable. Yet anyone who has ever seen a pawn show knows that with exceedingly rare items.. prices are all very relative. For example Yu-Gi-Oh has a card named TYLER THE GREAT WARRIOR a one of a kind item that was given to a young cancer patient way back in the day. There have been offers made that allegedly have 7 digits yet the card is not for sale. Maybe Tyler drew on the card when he was a kid, maybe he even lost it? Perhaps it's still gem mint in a sealed case. Stuff like this would put the value of the card between 0 and 10 million or so and that's a bit too wide of a range for me to operate on. After all I am a princess I am right! That's my whole thing! So for this list we will only deal in hard cash. Cards that are out there WITH a price tag. Of course I could just put a common pikachu card out there for 12 million and take the top spot myself but I doubt they'd sell, maybe if I get more followers and become a pokémon icon, so if you haven't yet.. please subscribe! For this post we will use cards that have been put on sale and either sold or are likely enough to be sold for a 'fair' price. Yet due to the nature of how this list is made.. someone might offer them a bit cheaper.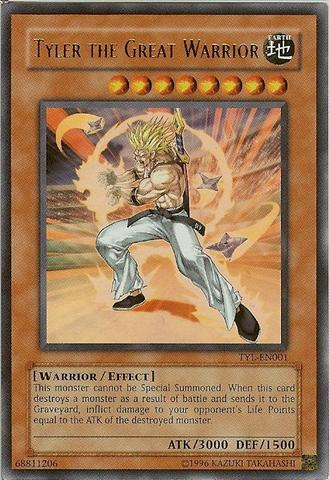 Number 5: Tamamushi University Magikarp Trophy Prize  (PSA 9)
Cards can be graded on their quality, the most common standard is the PSA. It stands for Professional Sports Authenticator and like the name suggest they are best known for authenticating and valuing sports cards. Yet they also grade nearly any trading card game, even those who can not be played in a sports like setting like amiibo cards and the likes. They grade a card from 1 to 10, 10 being gem mint fetching the highest prices.  In 2017 a PSA 10 version of this card sold at auction for about $2150, yet this PSA 9 is on sale for quite a bit more. The lesser quality PSA 9 is on sale for $48.978. That seems rather unrealistic right? Well the price of this magikarp has recently skyrocketed beyond belief. In 2018 the same PSA 10 card sold again but this time for $10.000 dollars. This year PSA 7's of the card are selling already for $8000 and are selling out. There is a big gap in what people are willing to pay for a PSA 9 and a PSA 7. In general a PSA 7 in terms of more affordable cards sells for about as much maybe even a tad less than an ungraded one.  A PSA 10 can turn a 200 dollar card into a 1000 dollar one and the right PSA 9 can do the same. This particular card was handed out to a small group of Japanese school children who were selected to participate in a contest in Osaka. Only the winners of this contest (divided on several age groups themed around gym leaders) where awarded with this magikarp that knows the move dragon breath. The asking price for this card is bordering a bit on the iffy side of the spectrum..but hey magikarp has always been overpriced.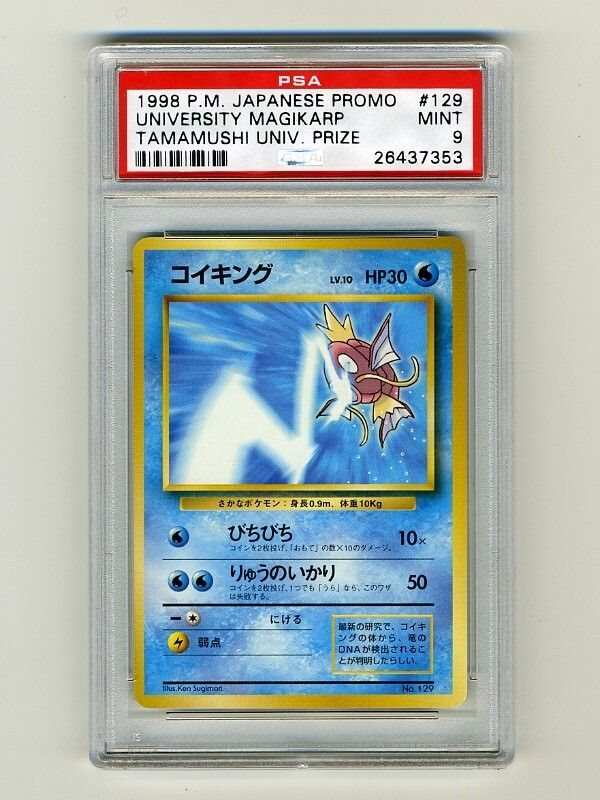 Number 4: Albino Zapdos
When there is a printing error on our card, the border is not neatly aligned or if it's been cut sloppily cards loses value as quick as a Honey Boo Boo can make people lose faith in humanity. However if there is a misprint .. people totally go ham over these cards. One of the most famous mistakes are the so called Albino Pokémon. A type of misprint where one colour would not be printed. Quite oftenly just a detail this Zapdos had the 'misfortune' of being on a card where yellow ink did not find its way to the 6.4 by 8.9 cm piece of paper. When it became sealed in a pack the card that was only worth a few dollars otherwise suddenly became a $49.999,99 dollar card. It's been marketed for that price for a long while and it's commonly accepted that the card is worth that amount. Unfortunately recently the lucky german who pulled this card was forced to settle for a lot less. Ending up costing the new owner only $14.999,99 this would knock Albino Zapdos down a few spots.  Yet the $50.0000 zapdos was quite commonly accepted as the actual price and worth of the card.You can be the judge on that one.. but to keep it fair for the cards that have not received offers yet we shall list it under it's commonly known asking price. It's actually worth? That's a bit of a grey area.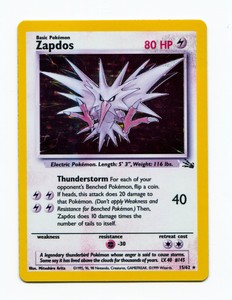 Number 3: Shadowless 1st Edition Base Set Charizard Holo 1999 (PSA 10)
This is the most famous expensive pokémon card and most likely the least unique on on this list. This is basically something you could have owned as a kid.  Nostalgia for the card that was super popular back then has pumped up the value as a kid. Also as we were all kids who took that card everywhere the good quality ones have dropped of  the earth faster than basic human decency in Jersey Shore. This combination made this one of the most coveted cards out there. Every collector wants this one while most of the other cards are much more unique this one has a power over people. 'Hey guy I got a albino zapdos card' can still be met with a frown and a look like 'dude what are you talking about'.. whilst if anyone says 'Dude I got a holographic 1st Edition Charizard'  they will KNOW that is something impressive. I've seen lesser versions sell at auction in the $30.000 range. This australian man might be pushing his luck asking $68.725 dollars for it but recently the Charizard cards have all been picking up in price again. With about 15 views per hour..for a pokémon card that costs as much as more than decent car about 150 months of my rent this one still is likely to sell. The value of this card is quite stable as well so it might be a good investment if you have some cash to burn.
Number 2: Trophy Kangaskhan Parent & Child Tournament 1998 Pokemon Promo Card Japan (PSA 10)
Can you imagine sending little Buta to school in japan, he picks up a magazine and comes back all excited saying if you enter a pokémon tournament together you can win some neat prices. So you decide to enter, letting little brother Bosu participate alongside his mother as well. Bosu and mom are out of the competition quite fast. You never had high hopes for that kid anyway. You and Buta make your way down the ladder but end up eliminated after a few wins. Hey you still did well enough to receive a price. A Kangaskhan card… neat.  It has a symbol that it's special but hey.. it's just a piece of card so Buta can keep it. Now 21 years later you are reminiscing those memories sipping your green tea while checking ebay to see if you can buy that card again. Buta .. being a kid lost it.. but now that they have moved out you want it as a memory. You see the only copy currently on sale is in the hand of the British and it's being sold for $98,126.85. You curse as you realise now Bosu has to become your favorite kid. I am sure this must have happened to at least one japanese father. Who could have expected that the little card you won by playing card game with your son would grow out to be one of the most sought out pokémon cards ever. Not even part of one of the most prestigious tournaments and more just a fun promotion. The design and story around this card has made it amongst the most valuable of them all.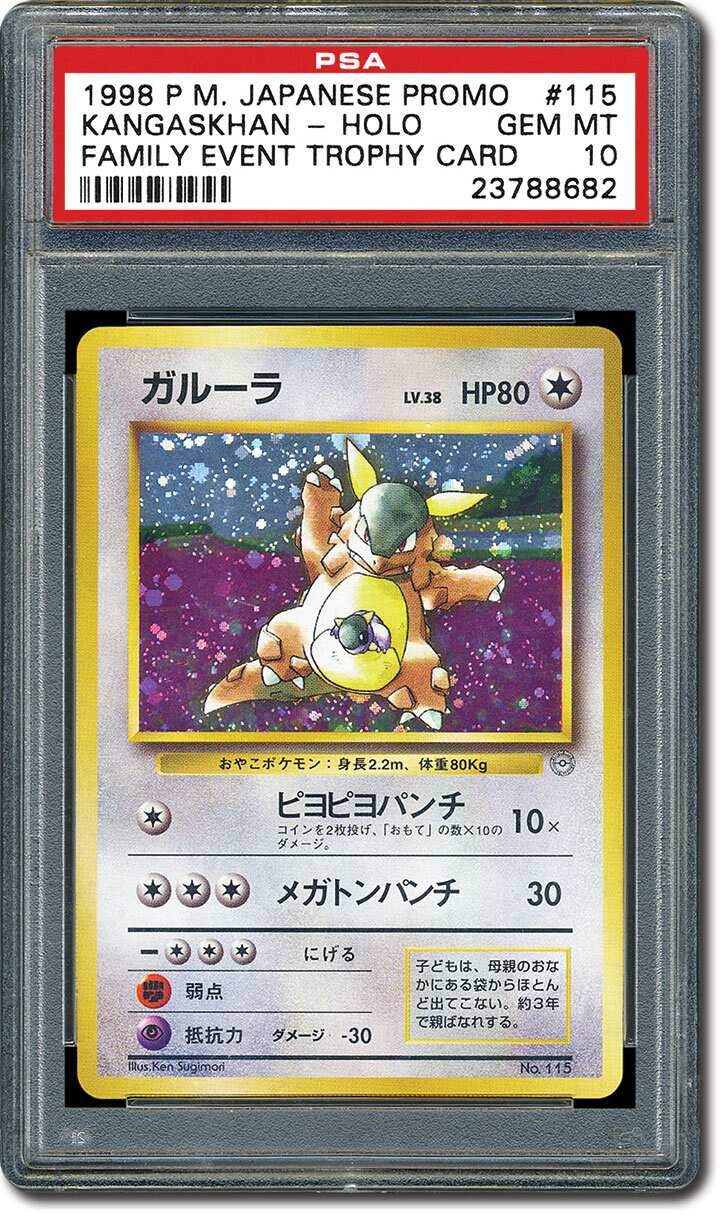 Number 1: POKEMON 2001 TROPICAL WIND TROPHY CARD
(PSA 9)
Psyduck in a hammock, along with a igglybuff and smoochum. In the background a Executor is riding a boat. This card was only handed to winners of a tournament and no visitor version was ever handed out. Since there were two age classes back then.. this card by all means should exist twice only. The seller on Ebay prides himself on having the highest rated of those two copies. There will never be a PSA 10..he holds the highest rarity of one of the most rare cards in existence in Pokémon. So what is that worth? NO ONE ELSE IN THE ENTIRE WORLD OWNS THIS PSA 9 CARD!!! Says the add. While about as subtle as a 90's comedy or action movie it does hold true.  So if you ever want to spend half a million dollars, that's right this card costs $500.000, on a Psyduck in a hammock.. this is your only option. At least unlike the Kangaskhan and the Magikarp you can get bragging rights with this one! This one at least belongs to the champion of a semi-prestigious tournament rather than just a fun event. So hey that's worth 400k right? I mean not for me, I am already prestigious enough so I will not let my staff bring out a bid on this one. If you want to donate it to me though.. I would be fairly appreciative. I'll even get you your own hammock.. and a real duck to go with it.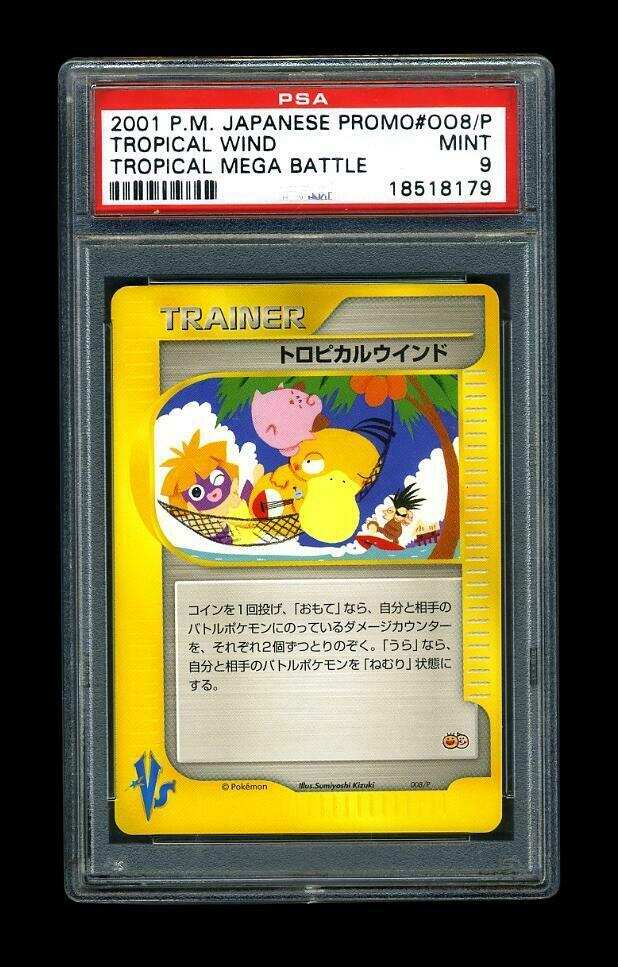 Now that we wrapped up this post please do not take the attempt to donate the card to Princess Pinkie seriously of course unless you are a billionaire who's all like 'Oh that sounds like fun' in which case you can go right ahead. What is your most expensive Pokémon Card.. or even other collectable! Let us know in the comments and if you are new don't forget to follow this blog for more Pokémon content ..most days!

The Pinkest Poké Blogger is blasting off again!
XO
Pinkie