Hear Ye Hear Ye, Princess Pinkie has returned with a gaming post!
Salutations, Loyal Subjects and Sweet Island Guests. One of the hardest things of a content creator is content selection! Now as I grow more discontent about reviewing, I decided to spice them up a bit! I wanted to do Reviews on Random content! Even video games! I love Retro Games and the way I used to play games in the past is go to your local video store and rent some video games! Only back then there was no internet! You randomly picked a game and played it! Zero idea on whether it was good or not! To relive that experience I found a randomiser that spits out a random classic console game! Today we played Time Lord on NES! But first.. my totally "original" intro lyrics.
<Disclaimer>
For the purpose of this format an emulator has to be used as many games on this list will be to obscure to obtain physically
<End of Disclaimer>
Song intro
♫She's Gonna Take You back to the past!♫
To play some random games really fast!
No walkthroughs! And No reviews! This is gonna be a blind playthrough!
Some games are good but most are bad!
She will play things she wished she never had!

She is the most random gamer, without much luck!
She's the Random Nintendo Duck!
She's the Random Arcade and Sega Duck!
♫She's the Random Video Game Duck!♫
Time to play Time Lord
Time Lord is a platformer game on NES! The game was released in America in 1990 and fairly limitedly in Europe in 1991.  It was developed by Rare LTD and Published by MB Company. MB standing for Milton Bradley! Which is like the most 90's sitcom character name ever by the way! The game is classified as a Platformer, but feels more like an early beat'em up, like River City Ransom. After playing through the entire game it is a bit of a mixed bag of reviews, with most people really liking it and some very much hating it! Once again I find myself a bit in between! Though I severely vere to the dislike side of things! One should note that I do this from the stance of a blind playthrough! I will admit that replaying this game now would make it a much more digestible experience but the first experience is …odd to say the least.  No walkthroughs, No Nintendo Power! How manageable is the game?!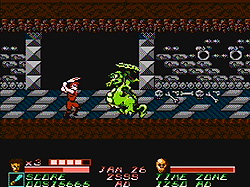 The goal seems rather simple! Each stage holds five time orbs! Collect them all and you beat the level! Travel through time to delete the influence of evil aliens on the space time continuum. And yes that is also the entire story of this game! You are told this and while I have no idea WHY the aliens have put 5 time orbs for you to function as a tutorial they did!  However the tutorial is in no way similar to the actual game experience!  So in stage one we gather five time crystals in our current time to hop back in time for the first time! And that is when the Dodo Doodoo starts to show up for me!  The controls are fairly tight though instinctively it feels as if I am jumping with the wrong button and punching with the wrong button! That might be a fault on my end though! The game looks okay.. but kind of bland for a game that game out fairly late in the NES life span.
The Good, The Bad and the Clam!
If you read my blog and actually remember what I say, some of you might know that Turtles in Time is one of my favourite SNES titles out there and this game is VERY  similar to that one!  Just less advanced. You beat up enemies, travel through time and each stage has a boss!  The time zones you visit are varying , you play through the future, medieval times, the wild west, the age of pirates, world war 2 and the future again! Every stage but one.. has a fitting boss (but more on the odd one out later)  for example in the medieval times you fight a Dragon.. which feels like something aliens could put there to mess up time!  Or in the Wild west you face a gunslinger with better weapons! Pretty good stuff!  The stages look distinct and all have their own music. Controls feel okay, but could be a bit sharper. Having Select switch weapons is a great thing I wished to have seen in more games! The game is highly functional which given that I am going to play random games for the foreseeable future already is a big bonus! So I would not go as far as say that this game sucks donkey sausage or I'd rather eat a skunk's rotten defecation exit than to play this game, but going as far as saying that this is a good game?! I 'd rather not go that far either.
This game has 4 major flaws that really and I mean REALLY spoil the broth for me!  Let's begin with the biggest gripe!  Like most NES games this one can be finished a a manner of minutes.  As long as you know what to do that is! The game only has six stages which is fair. which will take you about 20 ish minutes to beat! Which is a good thing.. because if you play the game for 24 minutes and 34 seconds and still have not reached the ending.. you will hit a game over! No further edits, you have to play the game from the very beginning! Which isn't THAT big of an issue since the whole game can be finished in about 20 minutes…on paper. Now there is a problem in the main time zones! As this game requires you to SEARCH out the HIDDEN location of the time Orbs.  Some of these orbs locations are REALLY cryptic as well.. such as having to pick up 20 mushrooms in the medieval level..or ringing the ship bell three times in the pirate level. So playing this game without hitting a game over blindly is practically impossible! And that already design wise is a chips load of fudge!
This goes hand in hand with the second issue of the game!  Many of the orbs in this game.. need to be picked up IN ORDER! Which doesn't seem to bad but 3 out of the 6 stages make you do some serious backtracking! The worst offender of this is the World War II level who places an Orb right at the start of the game but you can only collect it last. So not only do you need to familiarise yourself with the location of the orbs, you also need to find the easiest way to get from A to B as you basically are forced to speed run this game.  Some of the orbs found in the game require trick jumps to pull off and I haven't been able to consistently do that even if I know how the controls work!  Other orbs require you to make leaps of fate down a pit.. but since the game is in 2.5d  you can still miss an item because you are to much in the foreground or background Climbing back up takes you about a 30 seconds to a minute, so if you mess up a few times to get the perspective run, you will inevitably hit a game over. 
The third issue is that the game is rather stingy with lives! Enemies keep constantly respawning  based on where you are in the level, so the backtracking will drain a fair bit of health! Especially in the later stages, where you need weapon upgrades to take down enemies without punching them a million times, your first run to get the items, which means you will get hit, then you have to backtrack to find all orbs which means you will take damage. If you arrive at the final boss with less then at least 2, 5 lives left  I dont think there is a way to beat it! It's damage is nearly unavoidable, which is only amplified that by the time you arrive there you will have just a few minutes left to beat it. So you will play sloppy! Other bosses can take away huge chunks of life as well.. but they can't hit you at all if  you find their golden spot and move in depth a bit while you can hit them no matter what plane you are on , they can only hit you if you are dead center.. if they hit you though you lose like half a life bar. The World War 2 boss i particularly hard and pretty much you will never make it through a stage in one go!  
The fourth and final issue is that the final boss does NOT feel like a final boss! It feels like a scrub thing you encounter in castlevania! It's three alien skulls on brains that spit birds at you! I knew aliens were my enemy but these don't look like big bad guys! This looks like the guys R2D2 and C3PO take care off while Luke slashes at the real thing! I got really frustrated that a Mid Boss was kicking my ass.. until I finally got past it.. and realised I had beaten the game! It is not the worst boss though! The worst boss is in the pirate stage! You may wonder .. How do you fudge up a Pirate Captain?! Well it's not a pirate captain.. not even a pirate! The villain in the pirate themed level… is a clam! And like a clam it doesn't really do anything! You just throw daggers at it until it dies! Why would a CLAM be the thing aliens use to disturb time! I mean it's a big one.. but why not give blackbear a lightsaber or something.. that would seem more effective jeez!
Chocolat and Clam covered Steak
On my last run, the one I knew I was gonna beat the game on, I had a fair bit of fun! The game isn't bad, it's design is just fundamentally wrong! To beat the game you basically are expected to run into 6-ish game overs at least. It isn't all that difficult to navigate through these stages but the clock pursuing you punishes you for inexperience. You are literally unable to complete the game from inexperience! You can play flawless and not get hit YET still you will be forced into a game over.. because .. who in their right minds would try to pick mushrooms until a red orb appears in a beat em up game. Who  would ring a bell three times to make an orb appear.. especially when an earlier bell shows up that just drops coins!  Which only increases your score..but cost you time to get so why would you?! The core gameplay is fun.. but it is not rewarding to play as a gamer and goes against my gaming instincts of fairness.
I want to lose a game because I suck at the game! I want to get better! Just simply learning the map doesn't count at getting better at the game! If I hit a Game Over because I hit the bell on the pirate ship too many times, I don't feel accomplished if I skip it the next time around and DO find an orb in the next bell. I feel robbed! I don't mind getting a bad ending for taking things slow.. take Metroid for example! That has a time limit as well but I can still be quite content if I beat it in a slow run.. here I just die! I played about 12 to 15 times, some of which was caused by pure frustration but one of them happened by time out in the final stage! I was just too slow in killing the World War 2 boss to get to that monster with as many lives as possible! As I believed he was a mid boss! That was very annoying!
This game is like grocery store steak and store bought chocolate mousse and take away clams.  As separate elements they are super passable and enjoyable!  We don't always need fine dining and store bought can still be fine!  The steak is seasoned pretty well, the clams while not the freshest and some taste a bit funky are still clams! It's hard to fudge those up and the chocolate mouse is a great desert that most people would not say no to! The problem is this game just throws it all together. There is no way to enjoy your steak without tasting the clams and the chocolate mouse as well.. and it just doesn't combine! 
I wanted a pirate boss! I love pirates! Marine is probably the VTuber I would make my wife!  So the fact that I could have fought her in this game but I got a clam instead annoys me!  I know I am into clams as well but NO! This is not a good stage boss!  Who ever thought that was a good idea!  This is clearly made by people who understood games and marketing.. yet the thing this game fails to understand is the gamer!  That is why I would consider this game a failure! Speaking of which.. since this guy is supposed to be a Time Lord, where is his phone booth?!
Next installment of Random Video Game Duck.. we will launch a Sega Master System game? Will it be good? Will it be bad? I do not know! All I know is that it will be drawn at random! Any NES game you'd like to see me play?! Or do you hope I land on a particular Master System title?! Let me know! Oh dear.. the song is hear! I gotta go! Stay random!
♫♩ She's the Random ………..Video Game ………Duck! ♩♫