Hear Ye Hear Ye  Princess Pinkie has returned with a new gaming post!
Salutations my loyal subjects and island guests. As you might know I love retro games and especially the SNES era of gaming. I have done a fair few reviews in the past! Recently with Covid rules becoming a bit more lentient I have been meeting with a friend to play some cool SNES Co-Op titles using my Nintendo Switch Online subscription. Today I will talk to you about a game we recently beat! A game that is about shouting cowboys and giant robots. Steampunk meets Cyberpunk in the SNES cult classic. Wild Guns!
Clint and Annie's date at the Saloon
Wild Guns was one of those SNES titles that saw a very diverse release date. Released in Japan in August 1994, the US in July 1995 and finally in Europe due October 30 1996 Wild Arms is a classic game in the very obscure shooting gallery genre. While the game has an incredibly arcade feel Natsume developed and published it exclusively for SNES. It would not be until 2016 and later that a "remaster" was released on anything else but a Nintendo platform. But nowadays a four player variant of this game with new characters and new stages is also available for pc and playstation 4. Of course the updated version is also available on Nintendo Switch. Wild Guns Reloaded is available on steam for around 13 euro. While I would love to play as a dog on a drone (which is an reloaded exclusive character) I will talk about the base game.. because if you pay for Nintendo Switch online it's free!
I have no idea what the story is of this game! I don't remember if I skipped it or if I needed a manual to read it .. but in the base game you play Clint .. a gruff classical looking cowboy or Annie a blonde in a pink dress and a fancy hat! Guess which one I insisted on being! Each character comes with four colour variations which also change your crosshair. I played better as Blue Annie then Pink Annie because I lost track of my crosshair less! White Annie I found unplayable.. but that might just be me! The game has 6 stages of which the majority consists of 3 parts. In the end you have to defeat.. some chinese/japanese looking guy. The stages and subsections are pretty varied and most enemies are unique to each stage.. though the classic SNES colour variants show up. The game features 3 difficulties and a versus mode, so there is some replayability.
My friend and me started at the normal difficulty, which had Clint and Annie already die quite a bit. The first stage is themed after a saloon. With the first part being a shootout against cowboys outside the saloon with enemies shooting at your from windows or behind barrels. It was pretty neat and the cowboy vibe clearly can be felt. The way this game work is basically as follows. The first two subsections of a stage you fight against a clock, you have to survive against an onslaught of enemies until the timer runs out after which you face a mini boss. If you score enough points you can earn more lives , better weapons and screen wiping bombs to make the rest of the stage easier, so you always have to balance how much risk you take killing people versus. Risking how much you want to upgrade versus how much you want to live. Which is easier said then done.. because this game comes at you , guns blazing.
After you have survived against your first wave of cowboys you have to face a giant robot cowboy with machine gun arms which  tries to mow you down remorseley. Luckily Clint and Annie have some sort of spider sense and they will tell the player to watch out and make them dodge when projectiles fly their way. In their jump they are also near invisible. If you listen to your character you have a good chance to survive , and with a bit of learning you can take down this first mini boss pretty easily. Clint and Annie beat this stage after only one game over. The second bout of this stage takes place inside the saloon!  This one is already a bit more tricky, not only do bullets fly your way, there is also dynamite to deal with.   Which limits in what directions you can block.  Jumping into an explosion will end up getting you killed and if you do not kill enemies quickly they will keep piling up turning the game into a true bullet hell.  
It took us two attempts.. but when we found out we can use a Lasso to stun dynamite throwers, while the other would gun them down we cleaned out the saloon and took down the wimpy Miniboss. The final area of this stage put us on the roof of the Saloon where we take down a Mecha equipped with a missile system that rains death from above.. and gatling guns that sweep half the screen. Playing smart we saved up a lot of our bombs which made short work of the boss. Clint and Annie finish their date at the saloon after dying only like 40 times (21 times Annie and 19 times Clint) ! Hey I have been on worse dates!
Crazy Cowboys
After this the game lets you pick one of four stages, A goldmine, a train, a canyon and an arms depot. Each stage pits you against a crazy mix of cowboys and robots. Each stage gives you a point total which you can see as bounty for taking down the boss. Not every stage has the same bounty and of course the stages with the higher bounty offer higher difficulty! Yet bounties also go up if you beat a stage, so if you are interested in score there are some tactics to have fun with… for me bullet riddled Annie, we just decided to play the stages from high to low! Only to give on medium difficulty after 4 attempts of desolation canyon. We really wanted to beat the game and play through it and despite having unlimited continues that keep track of which stages you beat, having to do all three subsections of a stage on 3 life each. Now Normal is a doable difficulty but we did not have enough practice time.. and due to the world state we can't play this as often as we would like.. so we would just try easy mode, hoping the game would not insult us at the end.
It gave us a perfect insight at what difficulty would do. The higher the difficulty the higher the health pool of enemies is  and thus how smaller your window to dodge becomes. This will also result in you having more enemies on screen to deal with at the same time, as you can't kill everyone quick enough to keep your screen rather clear.  The higher the difficulty the more likely enemies are to use their special abilities, like drones throwing their own lasso or one of those deaths from above missile barrages. All in all easy was a lot more manageable, though still not  very easy. There is a lot on the screen to manage. Powerups, your dodge notifications, enemy placement, the placement of your crosshair and the missiles falling from the sky , powerups and ground traps.  Funnily I discovered that me and my friend struggled with different things. He kept getting hit by traps and missiles while I failed to see a notification of a bullet.  Which helped us get a flow where we warned each other of one of those. 
The single player mode of this game as such is a bit tricky, there is so much happening I am convinced you will always have a weakness and there is no one to polish it out, and it is not as fun either. The action is a bit repetitive, even though all stages offer a pretty diversive, way of approaching things. The mine has enemies as tiny dots in the distance, the  train has enemies zipping past and changing positions, the canyon has a lot of enemies that can stun! So each stage is different in how you approach it .. but it is all very samey in it's pacing, which is  why you really need a friend for this.  Competing for the higher score is also a  lot more fun than getting a highscore in some random list.  The set high scores are super easy to beat.  We beat the game and already set the high score.. while we actually did pretty terrible.  So just beating high scores by yourself would not be fun at all! Maybe if you beat the game once or twice to beat your personal best.. but with how many games we have access to nowadays , no one will do that.  So it really is a game for two.
This also helps with the game's biggest appeal. Finding out what craziness is next. The enemies are really crazy and most bosses are really fun!  There is one really boring flame tank thing but there are also some bizarre bosses that are super fun to learn and face.  The mid stage bosses are fairly fun as well, though unfortunately these are the ones that are reused the most. In a way there are some similarities with Cowboy Bebop ..but without the break. Think Bebop meet's Gurren Lagann, while graphically reminding me a bit off Final Fight mixed with Metal Slug.  That feeling and craziness is also the biggest appeal. You don't play this game for the challenge , you might not even play it to beat it every single time you play it for the fun, in a similar way why you play Pacman or Tetriis.  There is just something fundamentally fun about this game. 
That same appeal is unfortunately also it's biggest downfall.  Because it has that arcade appeal it's linear/level based setting makes it less repeatable than it's competitors.  Where you can play a Pacman a bit every day, this you will put down for a fair while after you beat it. It feels more like a beat em up with guns. However where  Beat Em ups let you play another character that does really play differently as the other, here it doesn't feel that way. Because you walk on a 2d plain instead of a 2.5d plan your actions are much more set and because enemies target you in specific ways , knowing how they will  react will get you past them each time. At least in Beat 'm ups they will move slightly differently.  This makes Wild Guns a perfect game to beat once a year with a friend. I really like this game a lot but I also don't want to play it again any time soon, maybe I want to get the reloaded version someday so I can play the dog on a drone trough the extra stages! Now  I just need to hope the Dog on a drone comes with a pink skin!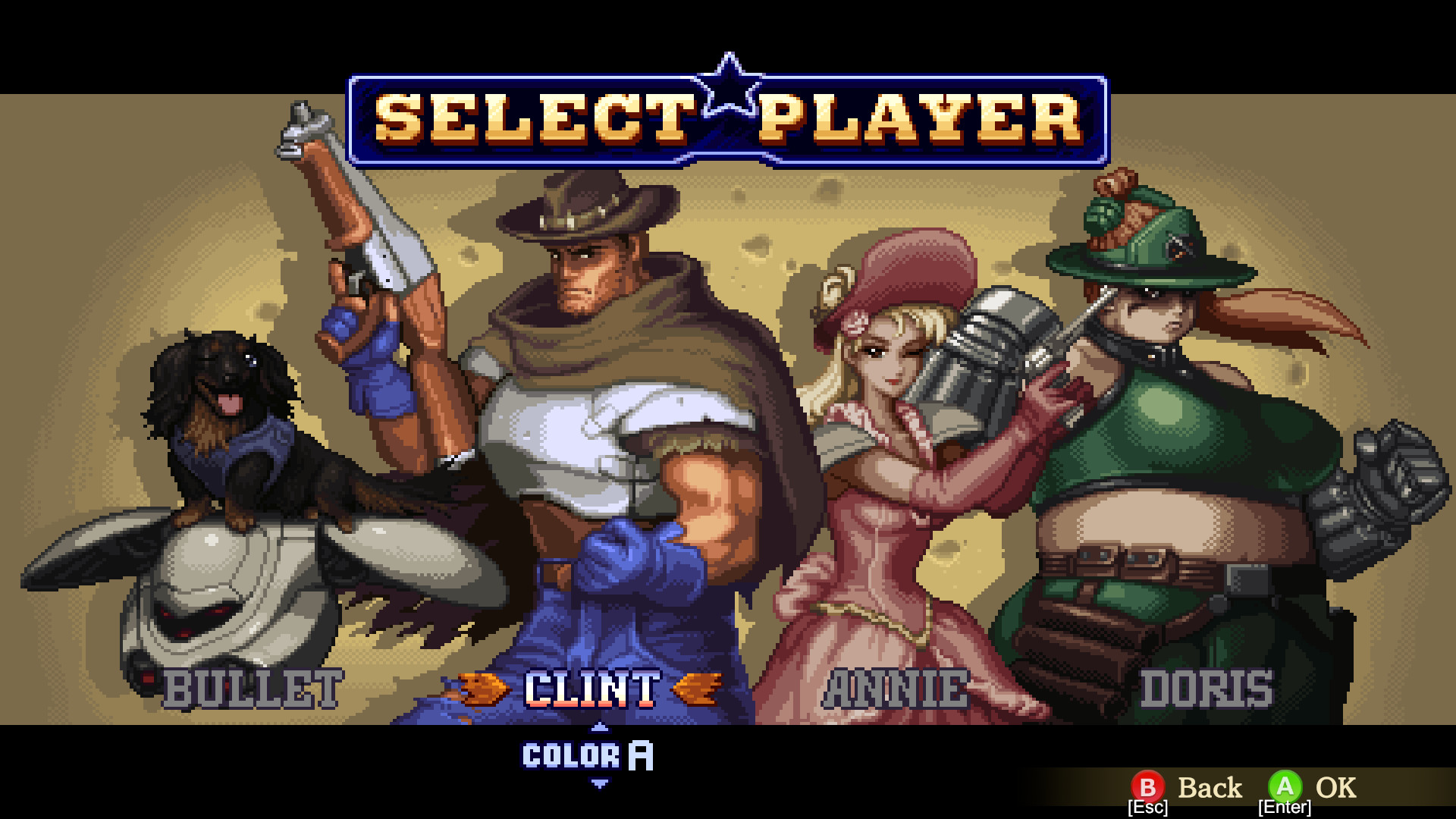 Did you ever play Wild Guns?! Do you have a favourite arcade like title? What character would you play? I have so many questions for you I might have to sleep on it! In the meantime you can already babble in the comments! Because remember, Friendship is Magic but Dreams are even more wonderful! Oyasumi.
We have a new smaller project on Kofi! Rather than try to get system upgrades we now save up for new content! If you want to sponsor that content click on the portrait below!