Hello my Little Lights, while I would not have minded keeping the Sunshine Blogger Awards I have gotten at 11, the lunacy number, McKenna tagged me in this post with some REALLY interesting questions. I won't tag new people though as I already tagged well over 50 for these.  So feel free to take my questions I post at the end and turn them into a post, no need to even make it a Sunshine blogger award if you don't want to! Thanks McKenna for the awesome questions though! Reader click on her name to visit an awesome blog! I'll be skipping the whole rule thing as well, if you need them, there are 11 other posts on my site that explain them! I really just want to get to these awesome questions.
What's your favorite dish to cook (or that someone else has cooked for you)?
I will admit that my sister is way more chefworthy then I am and she has cooked me some great food in the past, however I would not say I am a slouch in the kitchen either.  My favourite dish to cook is a grilled liver, with bacon bits, onions and carrots, in a beer reduction and black peppercorn gravey/sauce.  With big oven baked potato chips.. like Flemish chips.. and served with a spinach and mushroom salad. My blood iron values aren't always amazing so a meal like this really puts a spring back in my step and the o2 back in my blood. It's pretty good, savourey and wholesome.
It's pubfood.. but I love the wholesomeness that good pub food has to it.  I love to experiment when I cook as well.. each week I try to invent a new dish. Last week I made a grilled capsican and onion puree, with beef that I gave a crust of bread that I soaked into hot sauce before.. "Red Pepper Crusted beef I called it"  with some Broccoli and mushrooms to provide some earthy flavours. I hardly ever plan a dish.. I think about what flavours I want to taste tonight and then I think up a meal that would give me those flavours oftenly in a new way… doesn't always work out though!
What's your ideal simulation game like?
This one is tricky since I dont like simulation games all that much, it depends on what you call a simulation game though.. Do we call StarDew Valley a farming simulator?! I do love that game!  To me a simulator game has a simulator in the title OR Tycoon!  Not sure why.. but well if Stardew Valley is a sim.. it is pretty much the perfect one. If we go by my definition it would probably be something close to what Cooking Simulator is right now. The game can't take itself too seriously and has to have some whimsey, you have to be able to do much about it.
Farming Simulator is huge in germany, back when I had a job/internship in video game reporting I wanted to Cologne Gamescom and kind of had to play it … but darn is this boring stuff. I want to get in a tractor and run over my pigs..well not really want that.. but I want to be able to do that if I so choose. In Cooking Simulator I can make a meal.. but I can also just try to light a candle with a Cremé Brulee burner thing and accidentally set the floor on fire.  I can feed cardboard people and go crazy and toss all the dishes…so in short I pretty much want it to simulate the ultimate murphy's law effects of whatever I am simulating.
What should the next eeveelution type be? Feel free to choose a brand new type
Honestly I think they should make an Eevee Counterpart rather than a new eevee. Something that gets every type that Eevee doesn't have.  Eevee currently basically has every typing that has a special attacking bias, with the physical evolutions not being available to it… even though Eeveelutions bounce between physical and special themselves a bit. So I would love to see a slug-like creature that can transform into the Steel, Ground, Rock, Bug , Fighting, Ghost and Dragon Type.  However since Eevee has long since became mascotte number 2, I doubt she will ever get competition.
In which case I would love a Sound Type Eevee.  Why Sound Type.. it's a typing many of us have been asking for. It would be strong against the Steel and Fairy types to balance how powerful these types are a bit.  Sound types would be special attackers, which I think is a tradition they need to keep for the Eevee line .. to keep the dream of my slug alive.  It would evolve by turning your volume on your Switch to make.. in handheld mode when Eevee Levels up from battle.  It's name would be Symphoneon. It would get moves like screech , Hyper Voice and Perish song and function a bit as a counterpart for Sylveon.. less bulky , harder hitting, speedier.. with a design that is more cool than cute. 
Do you like bubble/boba tea/drinks? If so, what's your order?
I do like bubble tea, it isn't very easy to get here as we have very limited locations that offer it.  Though locations are popping up more and more, finding one in the nearest city isn't really a guarantee yet. If they do the flavours are limited. As such I usually save it as a convention treat. If I am at a convention I will get bubble tea and will go crazy for it. I really love the melon soda variety, maybe with some very citrusy flavoured bubbles or lychee flavoured bubbles. I'd love to see a green Melon soda with Water Melon bubbles combo if I could pick anything but I haven't seen that one yet. I have seen either or though.. so in theory it should be possible for me to get that! One can always have hope Is there any flavour etiquette for these?! I do not know I usually just pick something!
When character customization is available, do you make your character look as close to you as possible or do you change things up?
Almost never, why would I restrict myself to my physical limitations when I can be anything.  Stardew Valley is a bit of an exception and in the sims I always make a character that is like me.. but I love to walk around with twin tails in video games..It isn't very doable on the streets though. So it's more like I'd make the Sweet Lolita version of me I want to be rather than the pink wearing Otaku I settle to be. 
On occasion I also roleplay and those characters tend to create something more evil looking. I do try to incorporate some of my features though, I love it if I can have glasses and I tend to make my characters fairly flat and not the prettiest.  Keep them human..it will also help with role playing them a bit. So actually I do a bit of a mix of what I want to be plus what I am.. both in a combination to scratch an itch yet not create a toxic unlivable self image for myself?!  I create hybrid me's?! is that weird?! I don't know anymore.. but that is how I create characters.
Do you have any non-gaming hobbies that overlap with gaming
I hate to kick in an open door but yeah I do have a non gaming hobby that overlaps with gaming… It's called blogging. It overlaps because I talk a lot about games when I blog.. so I am pretty sure it counts. Healthy prevents me from picking up my YouTube right now BUT?!…..when I get back to that, that also has overlap.  I am such a huge geek that everything I do overlaps with gaming. When I go out with friends, I talk about anime and gaming. When I go to play crane games at the fair.. I use gamer tactics and when I go shopping, I love to buy pop figures.
I love gaming.. and other forms of geekdom..but all my cosplay has been video game characters..technically Megurine Luka is  a bit iffy… but I think she counts.  At anime conventions I spend a lot of time in the game room. Even one of my jobs had overlap with gaming.  When I bake a cake it looks like Pacman! .. There is no real overlap with gaming there though.. I just get the first piece before any of you can share my cake so it will always look like pacman!
What upcoming indie game are you most excited about?
I usually don't really follow  the development of Indie Titles, a lot of the stuff I like either gets cancelled or we never hear from the people again so I tend to just look at what's out there currently…early development is allowed of course. Yet there is one title I am super excited about, and it is actually a title McKenna turned me onto.and that game is Monster Harvest. This is basically a combination of Pokémon and StarDew Valley. I actively think about this game now!  It has no release date yet, but near the end of february the announced that coding was done and that seems like a good thing.. I assume that means all events are written and thus the story is finished?! But hey I do not know how coding works I just assume stuff here. I also really liked the idea of Battle Gem Ponies.. but the Demo of it was pretty terrible! I know it is in Pre-Alpha but man… if I see they have been making this for over a year I can not help but feel a bit anxious this might not be as good as I hoped.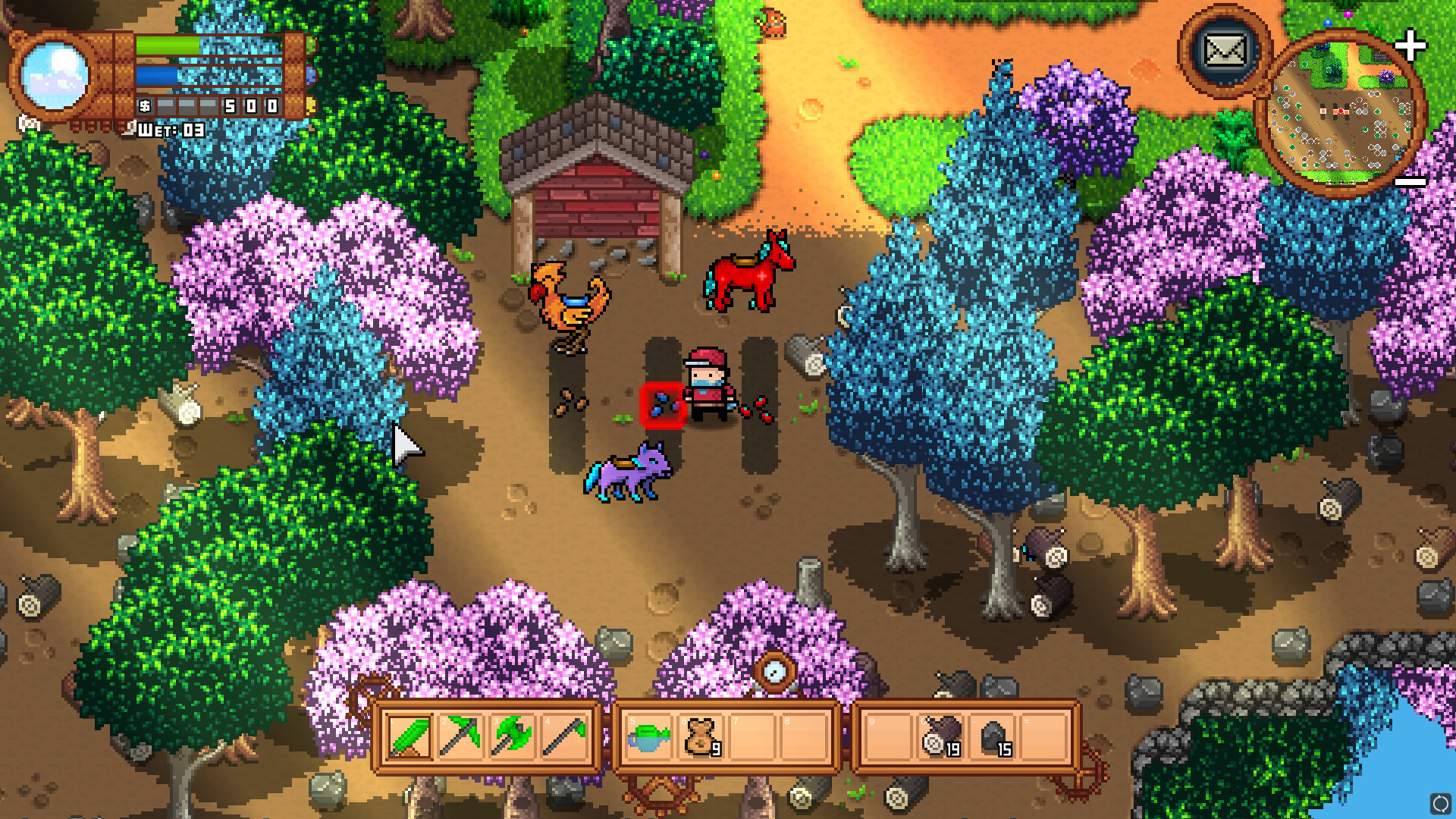 Do you collect anything?
Do Sunshine Blogger Awards count? I have like 12 of them!   Just kidding though, I haven't really been actively collecting anything recently.  I collect Pokémon Plushies and Unicorn plushies as well as other cute plushies but with a twist. I can't just buy them in the store and put them in a closet, there has to be a story to it. Say I find a unicorn in a crane game while on a theme park adventure with friends… that's a unicorn I can get. This does include gifts though, because gifts always come with a story. All my plushies come with a story , some more interesting than others but non of them were bought just because I think they were cute.  
My Giant Micro Pig Plushie, Miss Genevieve Luckybutt, I got because I wrote a post on Plushies for OWLS and I wanted to set an example of supporting your favourite dealers you normally see at conventions.  She is the closest I got to "flat-out" store buying though.   I also do a similar thing with Pop Figures, each convention I usually do buy a Plushie and a Pop but never with an intention of finding a specific one.. I always let earlier conversations or events guide me.. I do prefer weird pops though.  I have a Bob Ross Funko for example with his Raccoon! 
What color pallet represents you?
So I think you can guess this one pretty much. We start with #FF89CD pink as a basis it's a nice bubblegum like pink  in the center of my pallet,  to the left would be white and to the right black.  Then in between it's basically just shades of pink with the  #ff89CD towards white side of the pallet, dealing with some pastels, while the right side towards the black deals with increasingly "hotter" shades of pink. Pink to me stands for identity.  I spend a lot of time in the hospital and in different hospitals.. and you begin to notice how they say 'Good Morning <Miss Lastname>'  in this weird tone of utter nothingness. As if spat out by  a text randomiser almost. A translation of your patient number.. but eventually I became Pink girl… an identifier when  there are non… and so it became a trait and a symbol to me.. so my pallet is all sorts of pinks!
The developers of Crypt of the NecroDancer got to take on The Legend of Zelda with Cadence of Hyrule. What game would you like to see Cadence explore next?
Well we need a game that has some bitchin music  and maybe something that is slightly different gameplay wise to the other two games. So one of the options I would love to see is Cadence of  Mega City, a Megaman Cadence game. I think that would be a great candidate. More focussed on shooting but there is a lot of platforming in Megaman that required very specfic timing so I think that would be emulated as well. It would not be easy  but perhaps it could even be combined with the battle network gameplay.. while still being a legacy game.  I do see some options.
Another option that would make a lot of sense to me is Cadence of  Underground , covering Undertale as a game. I feel the battle system of undertale can be crossed with a bit of a Cadence style gameplay as well as it already lends itself to rhythm based dodging from the get go. Reason I am not picking Final Fantasy here by the way is because it already has it's own rhythm games and plenty of other support. Undertale, having visited Switch, would be a fairly viable candidate as people really  remember it for it's unique gameplay but it's music as well. 
What's your favorite shade of blue?
I wonder who will be the first to answer.. Light blue or Dark Blue to this!  So I need to keep track of the other people tagged!  My favourite shade of blue is Ruddy Blue.  Specifically the slightly faded variant on the Ruddy blue spectrum. Hex Code:  #8BB8E4. It is connected to the bill of the Ruddy Duck. This duck is also known as Oxyura jamaicensis, so let's please call it the Ruddy Duck so I don't have to type that again. It's latin name .. and it Dutch name Rosse Stekelstaart, refer to it's stiff tail. Rosse in dutch basically means ginger. So it's a duck that is stiffer than most and kind of an outcast for being ginger! I am bound by all my laws to love this!   I love ducks! The colour that is based on a duck is therefore an amazing colour and Ruddy blue combines fairly well with pink! So cheers for Ruddy Blue!  My favourite shade of blue!
Questions from Pinkie, to anyone willing to answer them!
So as I already said.. I am kind of dropping the tag as it's my twelfth go at this!   I can't keep forcing people into this.. so I am dropping the tag.. but giving people the option to keep it alive themselves. My questions this time will be around the theme of sunshine.

1. What is your favourite , good weather game.. or anime.. you know just something that you enjoy for the sunshine scenes and where the scenery makes you smile.
2. What is your favourite thing about spring?!
3. What is your favourite outfit to wear on a sunny day?!
4. What is your favourite drink to enjoy on a sunny day?!
5. How do you feel about that scary sun in Super Mario Bros 3?
6. Do you have a favourite crops/plant growing game or anime?
7. If you could host a picnic for yourself and three other bloggers, who would those bloggers be?
8.  What would be in the picnic basket of aforementioned picnic.
9. How would your picnic blanket look?
10. Who or what would come to ruin your picnic?
11. Who is the sunshine in your life?
There we go, use the Sunshine blogger logo if you want or have some fun with it.. and if you want me to answer my own questions let me know in the comments!  Shine on my little Lights! Oyasumi! Feel free to buy..or enjoy a Kofi for me!