As a Princess who blew up her serfs, it can get a bit lonely on my island sometimes! I know in the blogosphere I still have some servan-uhm nakama walking around.. but still! When I searched for an anime waifu.. I found Sayaka a lovely waifu.. who is kinda too young for me… but did you know most Vtubers are like MILLIONS of years old! That's perfect for a boomer like me! So now we are searching for a Vtuber bride! And today we look at the drop DEATH gorgeous Calliope Mori!
Who is Calliope
First of all let me address the fact that no one ever called her Calliope, so we call her what everyone else calls her.. Calli. Which is a lot easier to type as well! Calli is part of HoloLive EN's first generation… HoloMyth. She was the first english VTuber I was aware of.. at least actively and drew me in straight away. Calli is a grim reaper, the embodiment of death… see now my typo in the introduction makes sense huh! She allegedly lives in the Underworld but likes to visit modern day Japan a lot! Not only to reap… but to rap! You see while Calli has mixed feelings about the fires of a certain phoenix, she does like to spit flames herself. She often takes a bit of a leadership role of HoloLive En members and is by far the most cool headed of them all.
I would have talked about her debut here.. and dates.. but you know what.. google is your friend. If you care about that history enough it is very easily searchable. If you are into Calli enough you probably know already! If you did not know about her yet, then I bet you don't really care when she debuted. She is nearing her one year anniversary of streaming and currently has 1.55 million followers! That is the important part! That is quite impressive! Not as impressive as her fellow Gura Gawr who debuted on the same day and now is one of the .. if not the biggest Vtuber around with well over 3 million followers. The latter won't feature in this series though…because she looks like a kid. That's a bit of an iffy subject.. so let's focus on this much more mature lady! Calli not only streams on a regular basis , she also produces a lot of songs, some are even used for games.
Calliope's followers are called Deadbeats… you know it's funny because she lays out them SICK BEATS .. and she is death! Calli's own nicknames are stuff like CallioP to do that whole rapper thing a bit more, Calli .. like everyone calls her and Dad. Yes this pink haired woman is often referred to as dad for her behaviour and patriarchal role towards Hololive EN.. but also to chat. She also has the nickname/description of being a Tsudereaper…which I will have to adress in her breakdowns of positives and negatives which we will get to shortly! For those wanting to know who Calliope Mori is without dipping in Vtuber culture… here is a two hour podcast!
The Upsites on Dating Calli
Her voice! Her Voice!
As an greysexual mono-romantic (into female) , trans-woman I have very little urge to do bedroom games! I am not really looking for the bedroom bounce in a girl. I am looking for company and conversation! I think Calli is great for the latter! Because her voice is so unique and distinguished. It makes me feel safe and protected! I love her vocal ticks as well, she is very emotable! .. When she speaks you know exactly what kind of mood she is in, just by hearing her and that makes her easy to be around… don't get me wrong, I love squeaky voices as well.. but more in an envious way! I am jealous I don't have Wolychu's voice , I would sacrifice 100 first born children to get Nyanner's voice and I would murder all the heroes in Dragon Ball to wish for Ironmouse's voice… but Calli… well that voice makes me wanna lie on her lap.. cry and she tells me it's all gonna be okay! She has a good voice for a grim reaper and a good dad voice!
She has an amazing ASMR voice as well! She could read the cat in the hat to me… and I am NOT a cat person!
She inspires me!
Back when I was a moth and I started my Youtube channel I took the action because I was inspired by Calliope and her song about creating. In one of her songs she challenges the so called VTweeters to start creating.. and while I think as a blogger I have always have been creating, I realised that I was settling for creation! I wasn't happy with just blogging! I wanted more! I had an itch that my blog simply could not scratch and I let my fear of not being deemed a true woman stand in the way. .. when I heard Calli call me out however I was like… I should just start creating indeed.It might not be perfect.. and I might get swept up in the endless pit of Vtubers, but that should never stop me from trying because if I do I will get swept away for sure. While my time as a Moth was short lived.. I did not quite because of disappointing reception of my videos, no .. I wanted this Vtuber experience in a purer form! This was great! I wanted to pursue this without settling as much and that included my voice. I want more options to interact and create.. and while that invoked some powerful demons .. it also made me feel I am more on the right track then ever… and yes I will most likely fail as a creator.. the odds are against me to make it big.. but that isn't my dream, my dream is to try! To have done this thing… because it is me to some extend! That flame was ignited because of Calli.. and her song!
She is the best Dad (and Sheriff) !
What?! No I don't want children's! Eeeeeew! Baka! That's not why this is a plus! I'd rather have rats then children! And no I don't want no DADDY either. *Bonk* No.. I will admit I find Calli's dad behaviour attractive and that is perfectly normal! One can either be drawn in by someone like you, someone like a parent or someone that is an opposite of you! These three are the most normal romantic biasses a person can have… and while Calli is not like my dad very much, she does embody the values i'd want from that. Where Korone whom i discussed last time is more similar to me, in the attraction spectrum of things, that would lead to a relationship that is fun and cosy.. meanwhile a relationship with Daddy Calli would supplement my life. She adds an energy I am severely lacking, albeit in another role. Trough streams she has shown to embody this energy on several occasions and towards people she is romantically shipped with as well. I think the parrent-child archetype of relationship also works best for a romance that is light on bedroom stuff, as Calli would get her satisfaction out of taking care for me and I would get energy by being taken care off! I am a princess after all.. and just look at this clip and tell.. she is a great dad!
The Downsides of Dating Calli
Her Drip is better than mine!
There is an alarming trend going on in the anime and vtuber world.. and that is the trend of Drip… I HATE Drip. Why would I need to dress like some nineties Urban character with swag and golden chains and a baseball cap! But nowadays kids thing you are cool.. if you have drip.. and oh boy does Calli have drip. Recentenly Hololive EN has gotten their second outfits and Miss Mori's outfit is unashamed..complete drip! Red as well.. which isn't a colour I particularly like! I will be honest I do not like the outfit.. or the massive underground rapper act. I mean it is what it is and to an extend that is the true Calli and I accept that …. BUT it can be a bit much. It comes with this urban lingo .. you know peasant talk and as a prim and proper princess that lingo really vexes me. Like Drip.. or flaming mixtape. What is a mixtape even when it's not on an actual tape?! Spittin Rhymes or Spittin truths sounds so UGLY to me.
I like Calli best when she isn't doing that thing.. but it is her passion. I could get used to it and I will admit on her it is less annoying and kinda charming then on some other people I see try it … but you know.. if people bow to your royal highness.. that is me.. and my waifu goes.. Yoyoyo Sup Bitches… we might give out mixed signals. Besides.. I can't stand the thought of people thinking my waifu is more swag than me!
She doesn't know how a Kazoo works!
So this one might seem petty! It is not like I require my waifu to know how to play the kazoo… and by now Calli DOES know how to play the Kazoo..however when something doesn't work Calli apparently does toss it aside and just orders another one! She is one of those people who "doesn't read the manual" … now I will admit.. as a princess, I am a little bit high maintenance.. so I have a manual! Does that mean Calli will toss me aside as well when I am acting up? Chat had to tell her how a Kazoo works because she did not want to deal with figuring out how to make it work herself. She lacks a… scientific curiosity sort of speak.. that might make it difficult for her to hit it off with me. I am like a Kazoo, I am used a bit differently from similar products. I do not have all the parts you expect me to have nor does working with me come natural. I have quirks you need to play around. You can't dominate me and just force sound out of me because I will shut down.. but if you are to gentle or throw yourself at me without making me do any work.. I wont play a happy tune either. Cali luckily DOES not like people throwing themselves at her romantically either.. so maybe she would understand…but the Kazzoo makes me think otherwise!
That Stupid Bird!!!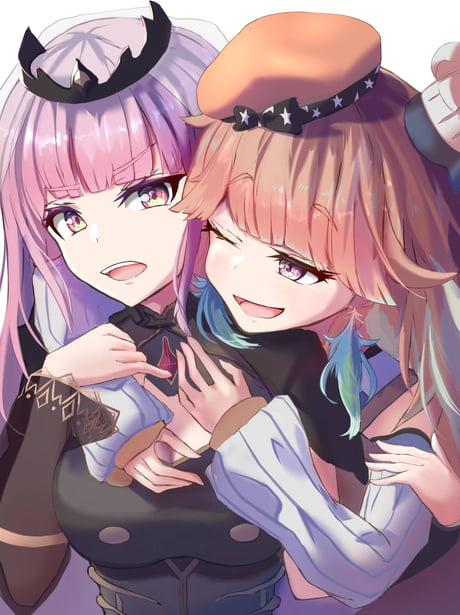 Most Vtubers have shipping partners. Korone had Okayu, IronMouse has CdawgVA. Gura and Amelia are a thing.. so it is not surprising that the sexy daddy that is Calli has a ship as well. My rival for her love would be Kiara Takanashi .. a phoenix girl who can't be killed a always revives.. which is basically the same thing my unicorn blood does for me! However Kiara is very similar to me .. in the sense that she would murder me to get Calli to be hers and hers alone. I would murder her to make Calli mine.. but in the end we would just be in an endless cycle of murder…. and I am lazier than Kiara so I would not bother with it as much! You see I would not want my outfit to be shredded… and the bird attacks with a sword and shield. I just use a polearm/lance . Which means most of the time she will have an advantage as well. That is troublesome! The bird lives into that german country that sounds like Australia as well.. meaning she lives very close by where I live and it could just get very bothersome. Kiara might be needed to networking myself into the big leagues.. so if I make her an enemy, I'd be in trouble! So I have to wonder, is Calli worth giving up my dream of fame?! Perhaps I should date Kiara instead.. I mean I have pink hair and am a bit cold on the romantic side, I live in the Nether(lands) so I do have similarities.. but she is so loud! Kiriki… perhaps if I can trap her in a vault and sink her to the bottom of the ocean i'd be fine… but Gura could just free her since they are friends and she is a shark. This might be one love rival I can not beat.. or that cost me more than it would get!
How eligible is Calli
Now it is time to look how compatible we are… and I must draw a conclusion that … I don't know! Either we could REALLY hit off, or not work at all! On the one hand I do think we are both looking for the same type of energy in a relationship, we would not smother each other and let each other do their own thing. Which is great! It could be a really healthy relationship…. yet I think it would be a very low energy relationship as well. An inverse friends with benefit type of deals. We comfort each other and support each other like in a relationship, without the lusty stuff. Which would be fine… if things came naturally! However fighting off Kiara, or for her to present next to a girly girl and me to a modern rapper girl.. would take a lot of effort on both of our parts! What we could have WOULD be beautiful and pure…but is it worth the price of admission?! Probably not! I do have a faint sense of lust for her.. but I think she is better as fantasy than as a Waifu! A celerity crush or such! That is why I give her an eligibility score of 6 mic drops!